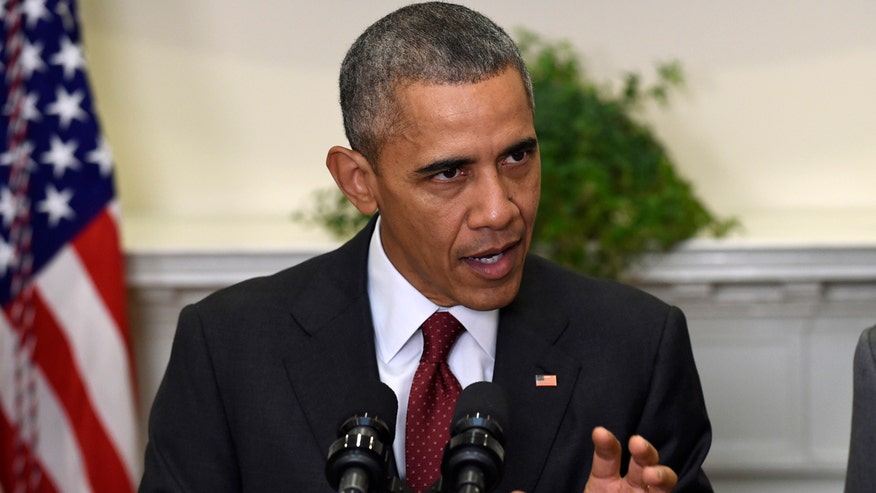 DISCLAIMER: THE FOLLOWING "Cost of Freedom Recap" CONTAINS STRONG OPINIONS WHICH ARE NOT A REFLECTION OF THE OPINIONS OF FOX NEWS AND SHOULD NOT BE RELIED UPON AS INVESTMENT ADVICE WHEN MAKING PERSONAL INVESTMENT DECISIONS. IT IS FOX NEWS' POLICY THAT CONTRIBUTORS DISCLOSE POSITIONS THEY HOLD IN STOCKS THEY DISCUSS, THOUGH POSITIONS MAY CHANGE. READERS OF "Cost of Freedom Recap" MUST TAKE RESPONSIBILITY FOR THEIR OWN INVESTMENT DECISIONS.
White House on defense as former Obama defense secretaries criticize ISIS strategy
Charles Payne: This act has gotten so ridiculous at this point. The inability to change course and admit that anything is wrong and it's a narcissist attitude that made the world dangerous. Everyone and every single person with an ounce of common sense is saying that it is not working, but we're hearing the same thing over and over.
Dagen McDowell: It seems like the White House has been concerned with what they say and the language that they use rather than how they act, right? In terms of the war on terror I go back to bin Laden getting killed and the war is over and then Benghazi comes along and it's the same thing. They will not admit ever that there's a radical can Islamic terrorism in the world. Until you do, I don't think that -- even if you have the best strategy, they're not going to get on board with it.
Ben Stein: He has no idea how it works. I do not believe that he is a Muslim, but there are many of people that do. He is a person that has no idea what it takes to fight a mass base or a certain area terrorist movement. He does not like to change anything. Everything is in reference to pleasing the main priority and the main one is himself.
Adam Lashinsky: It does not matter what you believe about his religion. As far as -- I would make the point about his stubbornness. He is criticized for not being a good politician. I would say that he is being a politician very much here. He was expected to wind down the troop in Afghanistan, and the American people supported that.
Charlie Gasparino: I don't think that's what he was elected at. He was elected in the middle of the crisis. What was interesting about this was that he was saying the same thing two years ago and he is talking to the president about this, and President Obama is ignoring him. Why would you ignore someone as good as Leon? He is a confederate, but he is good. He is vain. President Obama is -- you know I have to give credit where it's due, and this is the best description that I have heard of President Obama. It's called intellectual vanity. He believes that he is so right despite what anybody tells him, he is right no matter what evidence goes up. He is right.
Terror fears prompt new calls for tighter scrutiny of airport employees
Ben Stein: I am standing there in line and taking me apart piece by piece and searching my most private body cavities, and then suddenly this group of people wearing weird hairdos and wreaking of marijuana comes through and comes breezing through and have on little uniforms and say that they're waitresses and waiters and I am like wait a minute. It scares me to death. Everyone should be carefully scrutinized.
Charles Payne: I do not feel that they're secure. I don't want to say in confident people are there. It's so chaotic and it's a different procedure and it just feels like when you go through the screening and it feels different.
Dagen McDowell: The real issue is what ben was saying and the people that work at the airports and the evidence. There have been a number of people arrested and smuggling drugs and they're workers. You had three smuggling cocaine and gun smuggling between Atlanta and JFK. They had 73 people flagged by the inspector general that were flagged as terrorist, so they are trying to do something, but not enough in terms of screening the airport employees.
Adam Lashinsky: I think that we can though the do enough. I applaud them for saying it's not just the TSA. I applaud his work, and it's the people that put the meals on and mechanics. They're good people. We have to up the game and monitor them and they're doing vital work that could turn dangerous.
Democrats blast the Pfizer-Allergan deal; battle puts corporate tax rate in focus
Dagen McDowell: It's not Ireland's fault or the fault of Pfizer and Allergan. Let me back up. They are lowering the tax rate from 25 percent to 17 percent. If they want the companies to stay in the United States, fix the tax system. Boom, done, over.
Charlie Gasparino: This is so obvious. You have a lower tax rate and Ireland is doing what's in its economic self-interest.
Charles Payne: It should be a wake-up call to lower taxes for corporations, for all Americans. Why are we penalizing companies for making money overseas? Let them make money and bring it back. It's simple.
Adam Lashinsky: I'm for lower taxes here and for corporations and for people. I agree with Charles 100 percent in some thanksgiving weekend good cheer. That said, if they are going to leave our country. If they are going to leave our country, let's penalize them for it.
Ben Stein: I think we need the money. I would lo to have corporate taxes of zero, personal income tax of zero but we need the money. We are running enormous deficit. Yes, it's come down in the last 12 to 18 months. But we need money.
Stock Picks
Charles: Boeing
Adam: DGRO
Ben: SDY