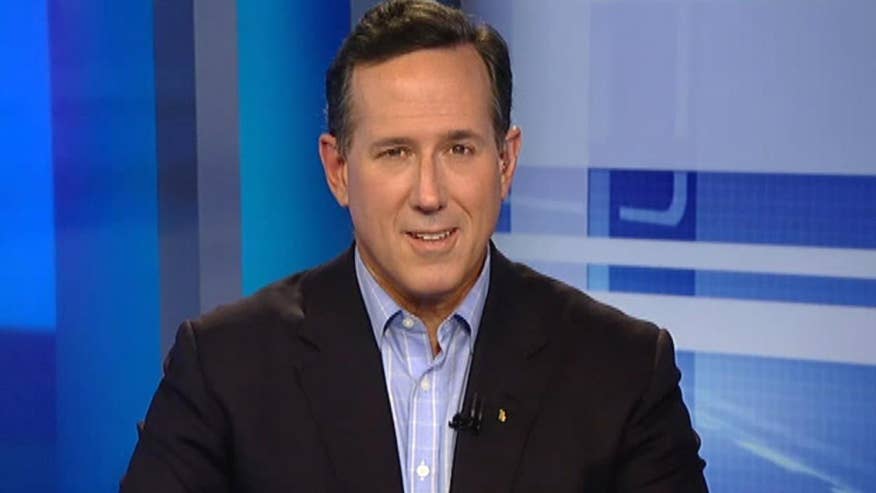 This is a rush transcript from "On the Record," November 25, 2015. This copy may not be in its final form and may be updated.
GRETA VAN SUSTEREN, FOX NEWS HOST: In the wake of terror attacks in Paris, Beirut, Mali, and Tunisia, more Americans now fear an attack on America is coming. A brand new CBS news poll finding 69 percent of Americans say a terror attack in the U.S. is likely. That's the highest percent since May of 2011 after the killing of Usama Bin Laden.
So, if former Pennsylvania senator and 2016 GOP Presidential candidate Rick Santorum were in the Oval Office what would he do? Senator Santorum goes On the Record, good evening, sir.
RICK SANTORUM, GOP PRESIDENTIAL CANDIDATE: How are you doing, Greta?
VAN SUSTEREN: Are you in the 69 percent that you think an attack is likely?
SANTORUM: Yeah. I am very concerned about that. I am concerned that we have let our guard down in the intelligence community with the USA Freedom Act that was passed. It denies our capability to track. Edward Snowden is compromised. You saw that in the Paris attack that the terrorists now know how to communicate effectively around our intelligence. So, it's very, very likely.
VAN SUSTEREN: Do you think ISIS is in our country now?
SANTORUM: No question about it.
VAN SUSTEREN: How did they get here?
SANTORUM: Two ways, come across the southern border. We have seen that. We have seen a lot of folks being captured down there who are not coming from Mexico but coming from other places than Mexico, and secondly they can be radicalized here. They can come here legitimately and be radicalized and be here and be homegrown and born here and be radicalized by a group of people who claim to be a caliphate. And if you understand Islamic law, when a caliphate is claimed, and there hasn't been a caliphate in almost 90 years. There hasn't been a caliphate, and now for the first time in the lifetime of everybody here, there is a caliphate that's saying to Muslims around the world you have to serve us.
And under Islamic law, if it's a legitimate caliphate then there are those who will be attracted to it, not just in the Middle East but around the world, including the United States.
VAN SUSTEREN: What would you do if you were President at this time, because President Obama came out today and he said basically be cautious, be on alert but enjoy your holiday. I don't know what else you can say. But would you do anything differently?
SANTORUM: Would I do anything differently? I tend not to let the terrorists win, so the answer is no. I think you should go ahead and continue to act normally and be cautious.
VAN SUSTEREN: The president -- behind the scenes, do you assume the president is doing what he should be doing?
SANTORUM: It all depends on the intelligence he has. If he doesn't have really any actionable intelligence, then I think it's legitimate to go out threatened and say there is no actual intelligence we can deal with and not concerned. Having said that, would I be more aware of the circumstances and going to public places, going to big crowds? Of course I would be, because that's the place they are going to attack.
VAN SUSTEREN: All right, refugees. What's your position on refugees coming into this country, are you with the pause, the no, or the go?
SANTORUM: I take a different stance than I think anybody else out there. I don't think we should be receiving any refugees from the area that ISIS is driving them out of on Syria. The reason I believe that is because when we receive them, we take them here in this country, we displace them from where they are. And who is being driven out? Christians are being driven out, ethnic minorities like Yazidis and, of you moderate Muslims who don't go along with ISIS. Those are the exact people we actually want in the region once we defeat ISIS.
If all that's left in the region, if everybody else is relocated to Europe or to the United States, if all that's left in the region are folks who cooperated with ISIS, there is not going to be a very pleasant place going forward. We need to relocate these people in the region, Christians, Muslims, ethnic minorities, all so they can come back and repopulate that area. Reclaim the Christian cities for what they are. Reclaim the ethnic minority areas for what they are. And what we are doing by bringing people over here is saying to them come here, and they're not going to go home which means you talk to clerics, Christian clerics in the Middle East, they are encouraging their people to stay in the region, because they need them to come back to make sure that these towns are preserved and Christianity is preserved in these areas.
VAN SUSTEREN: Senator, nice to see you, sir.
SANTORUM: Thank you very much, Greta.
VAN SUSTEREN: Happy Thanksgiving.