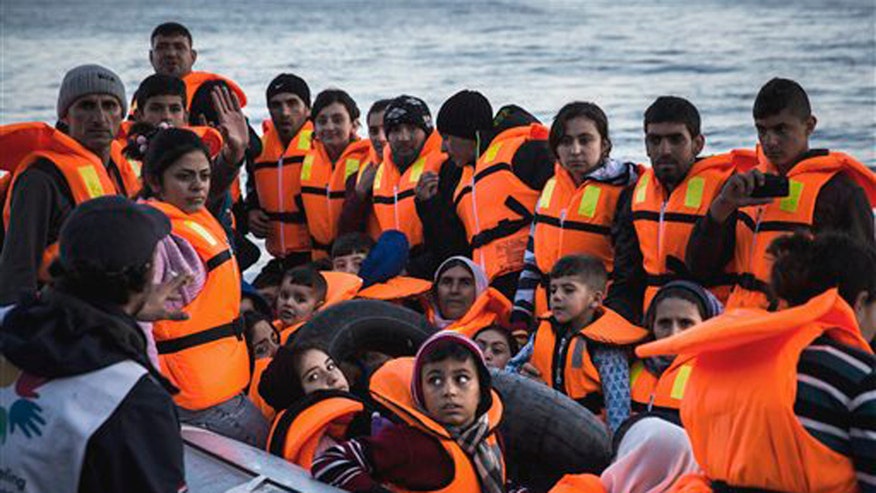 DISCLAIMER: THE FOLLOWING "Cost of Freedom Recap" CONTAINS STRONG OPINIONS WHICH ARE NOT A REFLECTION OF THE OPINIONS OF FOX NEWS AND SHOULD NOT BE RELIED UPON AS INVESTMENT ADVICE WHEN MAKING PERSONAL INVESTMENT DECISIONS. IT IS FOX NEWS' POLICY THAT CONTRIBUTORS DISCLOSE POSITIONS THEY HOLD IN STOCKS THEY DISCUSS, THOUGH POSITIONS MAY CHANGE. READERS OF "Cost of Freedom Recap" MUST TAKE RESPONSIBILITY FOR THEIR OWN INVESTMENT DECISIONS.
Multiculturalism in Focus as More Syrian Refugees Seek Asylum in the West
Ben Stein: Multiculturalism is fine if the people coming in to this country swear allegiance to America, do assimilate. We don't ask them to assimilate in a sense that they all have to be Yankees fans, and have to eat hot dogs and French fries. We want them to be loyal to the American code of conduct. Fair play, peaceful, respect for your neighbor's opinions. We don't want to bring in people who are going to want to kill us because we don't believe in wife beating, plural marriage, and child marriage. We want to bring in people who are going to assimilate to American values. If they can't do that, then go back to where they came from.
Charlie Gasparino: Multiculturalism is what corrodes the unifying nature of what this country was built on. We should point out that it was perpetrated by left wing academics who hate America. They keep shoving it down our kid's throats. It's already destroyed Europe and it could destroy this country if we don't fight back and it starts at universities. Look at what's happening at my alma mater, the University of Missouri, the left wing uprising that is occurring there and at Yale, and all these other places. The basis of this is political correctness and multiculturalism.
Dagen McDowell: This was an overt strategy on the part of these European nations and on the part of the United Kingdom where Muslims are allowed to not be integrated into society. They do not learn the language, they do not take part in the customs of the nation, and they live separately.
Adam Lashinsky: The United States for longer than any of us on this program have been alive, has had communities that were surrounded by people like them. Who ate their own kinds of food. Who assimilated slowly or quickly and there's been a wide continuum of that.
Charles Payne: I get confused on the term multiculturalism. I think America is great because of all the different cultures that are in this country. If anyone thinks that that's bad, that it should be a white only country, or something like that, that's what it sounds like. I think that's dangerous stuff.
U.S. Warplanes Destroy 116 ISIS Oil Trucks in Syria
Charles Payne: You think of all the targets that we've had over there. The idea that we wouldn't go after the money supply is crazy. Vladimir Putin said something very interesting. He said 40 countries are buying that oil, including G20 countries. Vladimir Putin said this. Someone's buying it.
Dagen McDowell: Here's what's been going on. We were striking at the oil, just the wrong place. We were striking storage depots and refineries and increasingly ISIS has not been refining the oil, but just selling the raw crude. We underestimated the damage that was done to the oil infrastructure that ISIS has built. And we also underestimated how much oil they had access to by about $400 million a year. They have about half a billion dollars in revenue just from oil.
Charlie Gasparino: All you have to know, this is a wasted -- the cat is out of the bag. This is kind of a waste of time at this point. The Italian army is involved. The Italian army is maybe the most insipid army in the world. If they're at the party, the party is almost over.
Ben Stein: I think Charles is absolutely 100 percent right. He was on to this topic a year before you and he was absolutely right. Totally right. And we have got to stop playing footsie with these people. They're mass murderers. Nazis, fascists, beasts. And if Mr. Putin is going to help us do it, god bless Mr. Putin for saying that. I have nothing but hatred for communism, but if Mr. Putin is going to be on our side on this, all power to him.
Adam Lashinsky: We should. I mean, if there's any fairness, it is a commodity, it's oil. I can see it being hard to trace the third or fourth time. We've been pretty good at this sort of thing. We inflicted a lot of damage on the Iranian economy, for example. By going after people who are doing business with them.
Bernie Sanders: Health Care Is a Right, Not a Privilege
Charles Payne: As much as the left is pulling her back she said let's put on the brakes. Bernie sanders, think about Europe. Payroll taxes. Everywhere that education is free they are at least 100 percent higher than America. Back tax. Do we want that? Two or three times more for gasoline. Free isn't free. It makes things worse.
Charlie Gasparino: What's heartening about Hillary Clinton coming out against Bernie on this is we now know she's not a total commie yet. She's almost the Trotsky but not quite yet.
Ben Stein: I don't think she's that far. Let's remember. I went to school with her. I think of her as a friend. She's a fairly responsible person. I stayed up until 2:30 a.m. watching the speech. Sanders is a joke. Free, free, free everything. Who's going to pay for this?
Adam Lashinsky: I don't need to defend Hillary Clinton. But she was a corporate lawyer and a member of the Walmart board.
Dagen McDowell: No. They are going after the "I want it and I want it now" voter. I love it when Veruca Salt got dumped in Willy Wonka and that's what's going to happen here.
Stock Picks
Charles: Burlington coat factory. A lot of upside, oversold.
Adam: XLF Financials Select Sector as interest rates go up this will benefit.
Ben: SDY Index Fund heavy on dividends