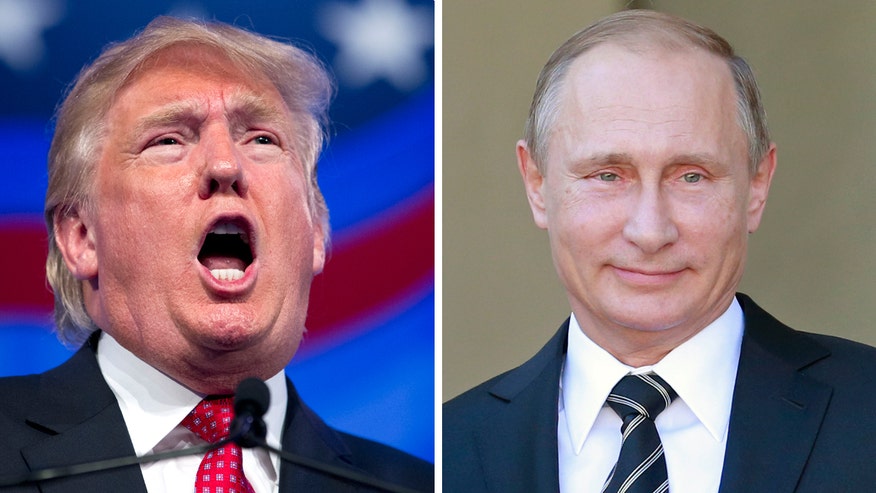 DISCLAIMER: THE FOLLOWING "Cost of Freedom Recap" CONTAINS STRONG OPINIONS WHICH ARE NOT A REFLECTION OF THE OPINIONS OF FOX NEWS AND SHOULD NOT BE RELIED UPON AS INVESTMENT ADVICE WHEN MAKING PERSONAL INVESTMENT DECISIONS. IT IS FOX NEWS' POLICY THAT CONTRIBUTORS DISCLOSE POSITIONS THEY HOLD IN STOCKS THEY DISCUSS, THOUGH POSITIONS MAY CHANGE. READERS OF "Cost of Freedom Recap" MUST TAKE RESPONSIBILITY FOR THEIR OWN INVESTMENT DECISIONS.
Donald Trump: Let Russia Fight ISIS in Syria
Charles Payne: Initially when those first airstrikes came, and it was the rebels that we backed, a lot of people said "Oh man, Trump's already got egg on his face, "but over the last few hours, a lot of folks have come around to saying, first of all who are these rebels? Just because they're opposition to Assad doesn't mean that they're our friends. Secondly, let them all blow each other up. We have to make the situation worse. Would ISIS exist if Hussein was still there? What's happened in Libya, would that be worse or better if Gaddafi was still there? It's really tough to force democracy in places where they never had it.
Dagen McDowell: You can't separate ISIS and Syria and ISIS in Iraq which he seems to want to do while Vladimir Putin is building even more power doing a deal with Iraq on intelligence. You're just gonna step back and let terror take over in the Middle East. To say let everybody kill each other, let Putin do what he wants to is essentially President Obama's policy.
Adam Lashinsky: Donald Trump could care less about this. He actually has very good political instincts. He's just saying words that he thinks will play well and they will play well.
Ben Stein: First of all, it's long been considered a cardinal part of U.S. policy to have important influence in the Middle East. Mr. Putin is trying to dispute that and trying to claim interest himself. Clearly it's unequivocal that he is going after the Democratic anti-Assad forces and not going after Assad. He is a trouble maker everywhere he goes. But Ash Carter, a very smart Secretary of Defense, an excellent appointment by President Obama said okay fine, if Putin wants to take on everybody who hates Assad in Syria, let him do it. He's gonna get into a lot of trouble and the Russians have made serious mistakes in dealing with Muslim countries. We know that from Afghanistan. I suspect that this is another mistake from them and I don't think that Mr. Trump understands that.
Charlie Gasparino: If you read more about what he says, "I can work with Putin," "Putin would fear me," I don't think he's used those exact words, but that's the context of what he's saying. It's all nonsense, Putin doesn't fear Donald Trump, he doesn't fear anybody. Donald's never going to be able to work with him. Working with him is like working with Don Corleone.
Anti-Establishment Candidates Carson and Sanders Raise Millions From Small Donors
Charles Payne: Big parallel to what we saw with that candidate that came out of nowhere, Barack Obama who raised a lot of money with small donations. We always talk about how money makes a candidate but sometimes, money follows who's hot, and these guys are gaining traction 650,000 individuals for Sanders, 600,000 for Carson. These are small people who are going to go vote. They contribute a hundred bucks and they will show up to the polls.
Charlie Gasparino: I would say this, just in terms of Obama's fundraising particularly back in 2008, he did have a lot of small donations, we know that. But what he did at first was get some key Wall Street support which provided the ground money. Various Wall Street firms provided him with the base, they used that base to reach out and do all of his events. Bernie Sanders doesn't have this, although, we did find two brokers, one guy from Merrill Lynch that actually gave the guy money, which I can't believe.
Dagen McDowell: People love Bernie Sanders because his first name can be a verb. Just like Trump is a verb, "Bern baby, Bern," "Bern it up, Bern it down," that is very effective. But, Bernie Sanders has refused to accept Super PAC money, and the thinking is that he needs big money donors, or a lot of money in a Super PAC to get past a couple of the early primary competitions. Ben Carson on the other hand, big Super PAC, big PAC money.
Ben Stein: First of all, let's put this into proportion if we may, 650,000 donors to Mr. Sanders, that's two-tenths of one percent of the population, that's not really that many. There are an awful lot of cranks and malcontents out there, especially on the left, disappointed, and bitter people and they gravitate to somebody like Bernie Sanders. On the other hand, there are a lot of Christians who feel like they've been disappointed and left out which they're distained by the political establishment and they're going for Mr. Carson. This is a huge country. It can afford a lot of money for a lot of candidates. I don't think it shows you anything much one way or the other to tell you the truth.
Adam Lashinsky: It's polling as opposed to voting in primaries. I think the better comparison here is Howard Dean then Barack Obama. Howard Dean ran this kind of campaign and he flamed out. Obama always intended to be a Democratic Party insider.
Ichan to FBN: The Fed Is Building Bubbles as We Speak
Dagen McDowell: I think that he's being a fear monger, I don't think that we will have the type of housing bubble that we had that burst.
Charles Payne: It's not the same housing market. Listen, high end art, high yield bonds, hundred million dollar apartments in Manhattan, yeah, but the housing market no. By the way, we don't have any inflation in wages and I think that's a big deal.
Ben Stein: I think we were having a bubble, I think he was completely correct about that, but as Dagen so happily said, the commodities level has burst with a vengeance. The stock market has corrected quite dramatically, although not as much as it might correct in the future. But it cannot have endless monetary ease, endless low interest rates, without it creating some kind of bubble. Will it be anything like it was seven or eight years ago? I don't think even close to it, and I will tell you as much as I respect Carl Icahn's intelligence and brilliance, if Stanley Fischer says there's no bubble, I'm gonna go with Stanley Fischer, he's a genius.
Adam Lashinsky: He's a very smart man who also happens to have a large pool of capital he would like to deploy at lower levels, so I think that tells us his thinking.
"Safe" Stocks
Charles Payne: Lockheed Martin(LMT) is a safe stock because the world is increasingly unsafe.
Adam Lashinsky: IYK, which is a U.S. consumer goods ETF, good for volatile times.
Ben Stein: SDY which is a highly diversified emphasis on dividends which keeps the price a little more steady.