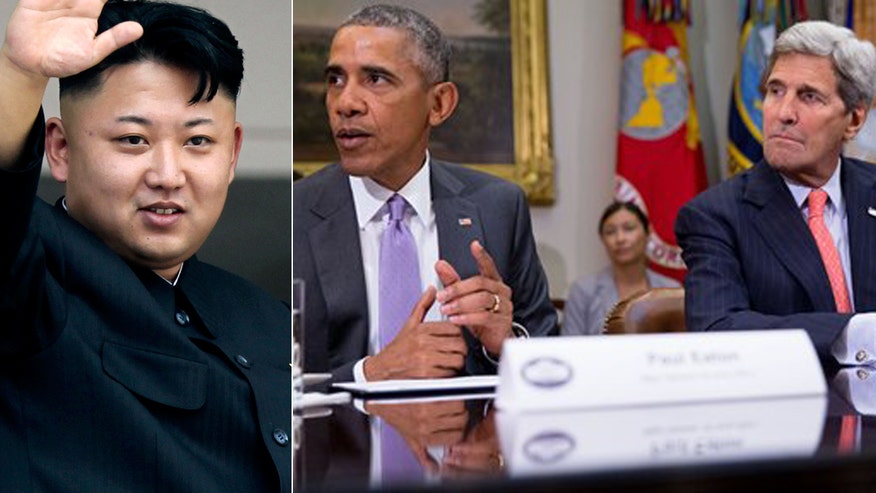 DISCLAIMER: THE FOLLOWING "Cost of Freedom Recap" CONTAINS STRONG OPINIONS WHICH ARE NOT A REFLECTION OF THE OPINIONS OF FOX NEWS AND SHOULD NOT BE RELIED UPON AS INVESTMENT ADVICE WHEN MAKING PERSONAL INVESTMENT DECISIONS. IT IS FOX NEWS' POLICY THAT CONTRIBUTORS DISCLOSE POSITIONS THEY HOLD IN STOCKS THEY DISCUSS, THOUGH POSITIONS MAY CHANGE. READERS OF "Cost of Freedom Recap" MUST TAKE RESPONSIBILITY FOR THEIR OWN INVESTMENT DECISIONS.
Iran Deal and North Korea
Steve Forbes: It's a terrible example. That's why the Iranians stuck it out. If you continuously violate agreements, go ahead with the nuclear program. You periodically shake down the west including the United States for tens of billions of dollars. That's why a regime with a dysfunctional economy, starve 3 million people to death in the 1990s survive. Every other country is looking at this saying if I get nukes, I survive. I get power even if my people starve.
Bruce Japsen: I don't see it that way. I see we are trying to prevent them from getting nuclear weapons. That's as simple as i can make it. What we are doing is trying to ensure they don't. There were as he people on the republican stage who said they wouldn't necessarily rip up the deal if they violate the terms of the deal. Then everything goes back the way it was. That's the way i look at it and probably what would happen.
Rich Karlgaard: I'm reminded of the old saying the definition of insanity is doing the same thing over and over again and hoping for different results. This is what's going on with the nuclear deal. They have cheated, continue to cheat. This assumption we are playing by civil rules here, that we are going to send in investigators, it just doesn't conform to reality.
Sabrina Schaeffer: I don't think North Korea feels like we are a threat. We have feckless over the last five or six years. To add to that we have had the cartoon image of the leader of Kim Jong-un. They have the ability to shut it down, the interview. We thought that 2007 deal was the end and we can make fun of them when he's a dangerous dictator.
Elizabeth MacDonald: Colin Powell said the same thing. It has the same loopholes the Iran deal has. Monitoring, enforcement. North Korea blew through them. You are right. Getting big time money from the Iran deal.
John Tamney: Without defending them is it a surprise they are doing what they are doing? In Libya we saw them taken out because they lacked nukes. Saddam was taken out. All incentives point to getting them because the U.S. treats you well.
Bernie Sanders' $18 Trillion Plan
John Tamney: We must be a really rich nation that we can talk about spending there's 18 trillion this way. The reality is it's not the $18 trillion. It's what that costs down the line. Medicare began as a $3 billion program. $18 trillion would multiply into something worse. That's why it won't happen.
Bruce Japsen: Not necessarily. If we had the money it wouldn't necessarily be bad. Dealing with one pair, Medicare which is one insurance company as opposed to several makes it easier for doctors and patients to deal with one entity. But with the reforms that the affordable care act has in it if sanders would adopt those things you're going to more quality measures it could work.
Steve Forbes: Bruce, there was a thing called the soviet union. It didn't work. If you want single payer, how about procurement at the pentagon. Do you like that? Do you like what the V.A. hospital has done to our veterans? You want competition, free markets, innovation. Bernie will turn this into Greece with a sick economy and a sick health system.
Bill Baldwin: I will go halfway with Bernie. I would like to see Medicare advantage for all. Finish this thought here. You would get your age and health status and then in picking a policy you would make the difficult choices and tradeoffs. Do I want free hip replacement or heroic cancer care at age 89?
Mike Ozanian: That's because you, Steve, John and all the free market guys have it wrong. Bernie Sanders and John Boehner and Nancy Pelosi are smarter than millions of people in the economy. They know how this money should be spent. They have so much experience in the private sector doing nothing.
Rich Karlgaard: The problem with the plan is people who put energy on the line to start businesses when they know their taxes are going up and the rewards for their hard work. I was in Canada. The driver said how terrible the health system is. Three months to see a specialist and you can't get a second opinion on anything.
Planned Parenthood Funding Freeze
Sabrina Schaeffer: Whether you are pro-life or pro-choice these videos uncover something uncomfortable. At best they are involved in unethical behavior. At worst it's criminal. We can have more of a conversation about it.
Elizabeth MacDonald: Planned Parenthood should have fired those workers. Get the forensic accountants in there to see what's happening with the money.
Mike Ozanian: I understand that, but where is the conscience as a nation. That reminds me of Nazi Germany and the things they were doing.
Bruce Japsen: That's one of the things. We have not gotten to the bottom of the story. There is a debate over whether the videos are authentic. Hundreds of thousands of women and men get services. Are you going to pull the rug out?
Bill Baldwin: Planned Parenthood does good, evil. It is possible to separate them and have the government fund cancer screenings and contraception but not abortion.
Steve Forbes: Shut the money off. If people want to finance it, fine. Governments aren't supposed to finance abortions. To cut the money off and for other health care services give the money to clinics around the country.
Stock Picks
Elizabeth MacDonald: Digital Realty
Bill Baldwin: On assignment