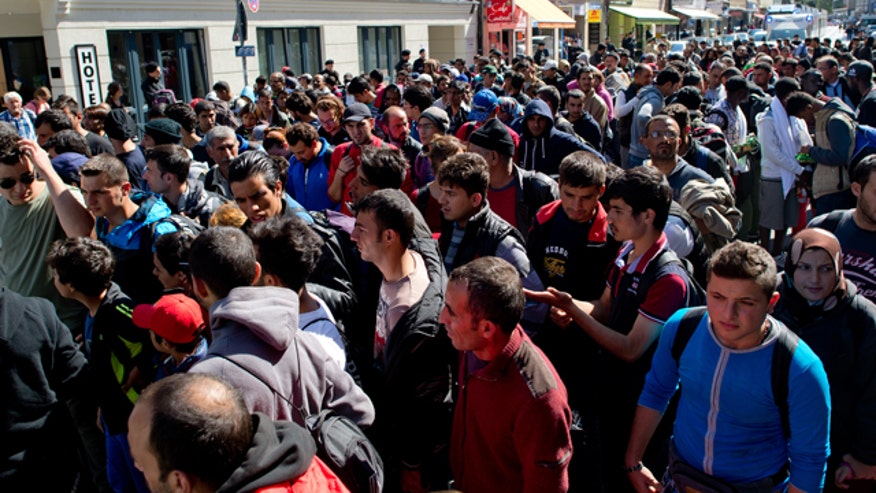 DISCLAIMER: THE FOLLOWING "Cost of Freedom Recap" CONTAINS STRONG OPINIONS WHICH ARE NOT A REFLECTION OF THE OPINIONS OF FOX NEWS AND SHOULD NOT BE RELIED UPON AS INVESTMENT ADVICE WHEN MAKING PERSONAL INVESTMENT DECISIONS. IT IS FOX NEWS' POLICY THAT CONTRIBUTORS DISCLOSE POSITIONS THEY HOLD IN STOCKS THEY DISCUSS, THOUGH POSITIONS MAY CHANGE. READERS OF "Cost of Freedom Recap" MUST TAKE RESPONSIBILITY FOR THEIR OWN INVESTMENT DECISIONS.
OBAMA ADMINISTRATION PREPARING TO TAKE IN 10,000 MORE REFUGEES FLEEING SYRIA
MICHELLE FIELDS: The refugee crisis is horrible; it's heartbreaking. We cannot just allow people to come into our country and weaken our criteria in immigration standards in order to let these people in. We have to be very cautious. They are coming from an area, a war-torn area, where there is a lot of anti-America sentiment. This is the perfect opportunity for ISIS to try to bring some of their sympathizers over to America. We shouldn't be focused on the symptoms of the problem. The refugee crisis is a symptom. The problem is ISIS. Let's focus on destroying that.
JONATHAN HOENIG: You destroy militant Islam-- refugees, the immigrants, homegrown guys-- everyone literally is a threat. Everyone is a threat until you destroy it-- the core threat here, which is militant Islam. But America is a country of refugees, whether it was the Vietnamese in the 80s and 90s, or Cubans, or Germans fleeing Nazism. This is what America is about.
WAYNE ROGERS: ISIS could radicalize anybody. We should do this. We should bring these people in, and we should check every one of them very, very carefully.
JESSICA TARLOV: The U.N. has spoken directly to this issue. When David Cameron said he is about to issue five-year humanitarian visas and we can make our own specialty visa for this crisis where we have certain terms that we lay out, and the second that we see any sort of negative activity, terrorism or otherwise, you're out of the country. It is within our capacity to do that. In terms of checking it, the U.N. Has been dealing with this for years.
US LEADERSHIP IN FOCUS AS RUSSIA AND CHINA FLEX MILITARY MUSCLE
JONATHAN HOENIG: It's not just that we look weak; we are weak. We are unable to act in our own selfish interests as Americans. Everything in this country, in this government has to be done at a unilateral basis. We have to work with our friends and our partners in the Middle East. Nowhere along the line is there a sense that America can act for itself, even if it means maybe angering the Russians, angering the Chinese. We want to be everyone's friend, but we should be feared, not befriended by the world.
WAYNE ROGERS: [Our Army is perceived as weak] because we are reducing it constantly.
The Congress wants to reduce it. Everybody wants to reduce military expenses. They're picking on the Army and the Navy and the Marine Corps, the Air Force, and they're trying to reduce it. If you don't reduce it, you have to show something about building it up. One of the reasons the Cold War went the way it went was because Reagan showed them strength.
JESSICA TARLOV: What I will say, to both Jonathan and Wayne's points, I think that they're right. The sequester has severely damaged our military capacity. There are a lot of people who are essentially getting benched. President Obama when he addressed West Point last year was talking to all these grads that want to be out there, and we're talking about more desk jobs for our military personnel, which I don't think is a step in the right direction. What I would add is I think a chief element here is about rhetoric. When president Obama talks about U.S. leadership and American exceptionalism, there are a lot of Americans that question that as well as leaders around the world.
MICHELLE FIELDS: This has nothing to do with money. It doesn't have to do with people being at desk jobs. It has to do with a Commander in Chief that is not taken seriously. The reason why is he is constantly negotiating from a position of weakness. Look at the Iran deal; it is not because of money. It's because we have a poor administration that isn't taking the threat of Iran seriously. They are negotiating from a position of weakness. Look at Muslim extremism. They don't even want to call it Muslim extremism. That has nothing to do with money. That has to do with this administration that looks weak and acts weak. What Putin sees right now is a world leadership vacuum, and he will try to fill that vacuum because he realizes we do not have a strong leader.
KENTUCKY CLERK REFUSES TO ISSUE SAME-SEX MARRIAGE LICENSES OVER RELIGIOUS BELIEFS
MICHELLE FIELDS: In her situation she should have never been in this situation because the government shouldn't be in the business of marriage, period. In terms of private employees and private businesses, businesses should have to accommodate their employees so long as it does not create a heavy burden on the employer and also the customers.
WAYNE ROGERS: Well, it's a simple one. The Constitution guarantees us certain rights. She has certain rights. If she doesn't agree with those, she should resign. She doesn't have to do this. If she has a personal disagreement with her job or with the way her job is run, it's a simple thing. You just resign.
JONATHAN HOENIG: I think actually she's done a real disservice to the liberty movement, in my opinion. In America, religion is a private matter. You have every right to practice a religion, but if your job entails that you sell an abortion pill or serve alcohol or shake hands with a member of the opposite sex, you shouldn't have your job. It's the employer's job-- you don't own it-- and he or she doesn't have to accommodate you one bit.
JESSICA TARLOV: She got fair warning [before going to jail]. The judge was being reasonable and said "your deputies can carry out the gay marriage licenses, and you can do the heterosexual marriage licenses," but it wasn't good enough for her. Five deputies said they would issue licenses. Her son objected, actually, and she said she just couldn't allow it to go on within her office, and I mean, she looks like a campaign stunt now.