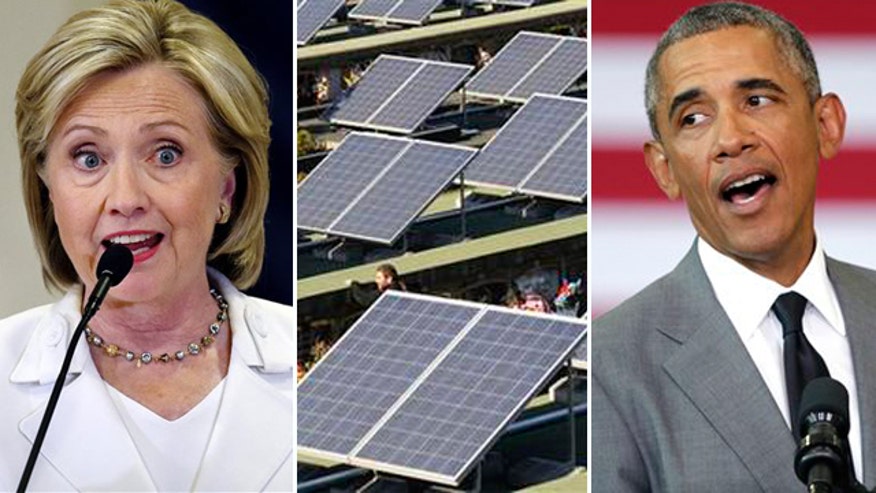 DISCLAIMER: THE FOLLOWING "Cost of Freedom Recap" CONTAINS STRONG OPINIONS WHICH ARE NOT A REFLECTION OF THE OPINIONS OF FOX NEWS AND SHOULD NOT BE RELIED UPON AS INVESTMENT ADVICE WHEN MAKING PERSONAL INVESTMENT DECISIONS. IT IS FOX NEWS' POLICY THAT CONTRIBUTORS DISCLOSE POSITIONS THEY HOLD IN STOCKS THEY DISCUSS, THOUGH POSITIONS MAY CHANGE. READERS OF "Cost of Freedom Recap" MUST TAKE RESPONSIBILITY FOR THEIR OWN INVESTMENT DECISIONS.
Trump's Tax Talk: Some Democrats Using Trump's Words to Push Tax Hikes
John Tamny: It's a bad idea, and it's no surprise that Donald Trump would promote it. They debt capital for those that do things. We have Apple, Amazon, Dell computer. It would be a brutally impoverished world without Wall Street. The idea that we penalize those that make a lot of money allocating capital is really hideous.
Bruce Japsen: There are two things like about this. Number one, it prevents Trump from disparaging other nationalities and prevents him from talking immigration. Number two is it is a fairness issue because this is essentially -- it's complicated, but essentially they're taxing carried interests as a gain and they should be taxing these guys as income. It's a fairness issue.
Steve Forbes: This is not how you revive an economy. Look at Greece, they tax everything and they go into a depression. The only thing to revive an economy is to have investment, by getting capital to people who can use it, and the people who do it well grow and those who don't get shoved to the sidelines.
Elizabeth MacDonald: You know, just ask billionaire minimizer -- tax minimizer Warren Buffett what he thinks about this whole issue. I think this is misplaced, and it's what Congress is doing with our money. We have Europe in this country.
Carrie Sheffield: I think he is absolutely right in this case. I mean, the question is do we want to be more like Europe or America. Our middle class here, the median family makes $42,000 compared to Europe, the European Union. Only $21,000. Do we actually want to make the American middle class poor? No, no. This is no secret why Donald Trump has given six-figure checks to the Clinton Foundation. He is not a true conservative.
Mike Ozanian : To your point, you're right. The numbers get more onerous when you look at the top 20 percent of the earners. They make 80 percent of all income taxes.
Clinton: We'll Have Half a Billion More Solar Panels by the End of My 1st Term
Steve Forbes: This plan deserves to go the way of her emails. It's simply what you might say a crude attempt, no pun intended, to buy votes in the Iowa caucuses. Iowa has already given us the ethanol disaster. We don't need any more. We have a clean energy. It's called natural gas. Let us produce more of that.
Bruce Japsen: I think there is pandering here, but in the Des Moines area there's an emerging biotech sector, and I think that, you know, diversifying our sources of energy is not a bad idea.
Elizabeth MacDonald: We're now finding out that it misled and lied on their applications for federal loans. That was a big deal. They could be going the way of sewing machines. Under Hillary Clinton, her statement said the Keystone Pipeline would not worsen climate change. Why not go that route too?
Mike Ozanian: Why would we trust the energy industry and a woman who can't keep track of emails, has never worked in the private sector, and is clueless about where energy comes from, how it's used, and what smart investors have decided will be the future of energy?
Bill Baldwin: Well, her plan essentially is to tax the middle class and hand the proceeds to green billionaires like Elon Musk and Al Gore. I don't think those fat cats need more of my money, and I don't think that the Clinton Foundation needs any more kickbacks.
John Tamny: You know, Hillary promotes this idea that she's a future politician. Yet, she wants an energy source that is in the 12th Century. If solar energy -- it wouldn't need federal funding in the first place. It would need no encouragement from politicians. The fact that it's encouraging means the markets don't want it.
Steve Forbes: It doesn't matter what you do. All you have is the political connections and then you get rich. The taxpayers get poor, and the country is impoverished. Case closed.
ND Allowing Police to Use Drones Armed with Non-Lethal Weapons
Mike Ozanian: I don't want the police flying any drones over my house. I don't want to turn the police into top gun commanders. They already have enough resources to get the job done.
Carrie Sheffield: Mike, what about your son and daughter whose life could have been saved by a drone? I'm not saying we should use it in every instant. Get a warrant. Make sure we use it in moderation. It's a tool. The Internet is a tool. It's what you do with it that counts, that makes it good or bad.
John Tamny: I don't like the idea of the state using drones, and I also don't like the idea of them regulating use of them. I feel if North Dakota wants to try it, let states be laboratories of ideas and let's try it and see if it works.
Bill Baldwin: Well, it is scary, but the police already use a lot of dangerous tools. They use bullets. They use choke holds. They use high speed car chases. I'm hoping that with a few drones, there will be fewer high speed car chases. You could follow that white Bronco down the highway, and the driver -- fewer innocent bystanders.
Bruce Japsen: I agree with Mike. I think they have enough ways to fight crime and some of them aren't even doing that very well. If Barney Fife only needed one bullet in rural America, that's all they need.
Steve Forbes: It depends on the situation. With a riot or hostage situation, better a drone than a police officer. It depends on the circumstances. It will come.
Stock Picks
Elizabeth MacDonald: Merck
Bill Baldwin: Taiwan Semiconductor