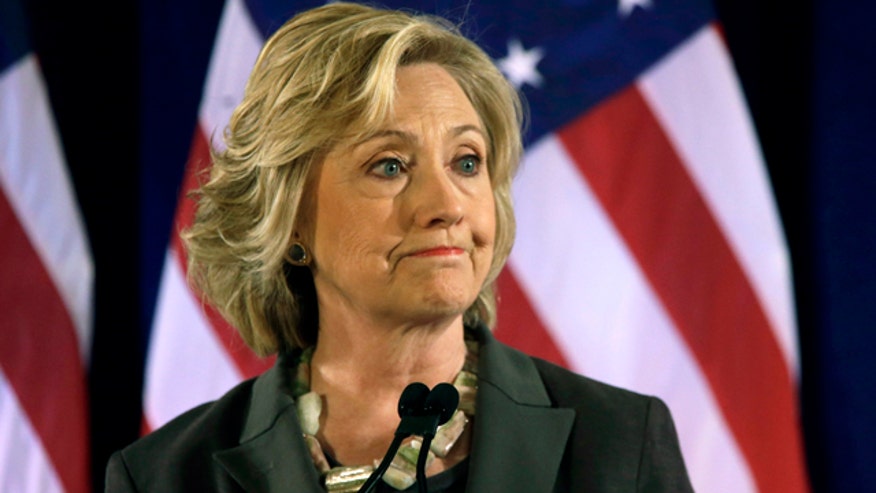 DISCLAIMER: THE FOLLOWING "Cost of Freedom Recap" CONTAINS STRONG OPINIONS WHICH ARE NOT A REFLECTION OF THE OPINIONS OF FOX NEWS AND SHOULD NOT BE RELIED UPON AS INVESTMENT ADVICE WHEN MAKING PERSONAL INVESTMENT DECISIONS. IT IS FOX NEWS' POLICY THAT CONTRIBUTORS DISCLOSE POSITIONS THEY HOLD IN STOCKS THEY DISCUSS, THOUGH POSITIONS MAY CHANGE. READERS OF "Cost of Freedom Recap" MUST TAKE RESPONSIBILITY FOR THEIR OWN INVESTMENT DECISIONS.
Hillary's new capital gains tax plan
Charles Payne: It's mind-boggling. The whole speech she laid out was absolutely mind-boggling. The notion she's going to get individual investors not to trade because they'll be punished for it, let me tell you something, this week a lot of individual investors were pleased for trading because they sold Netflix at a loss a year ago, sold amazon and Facebook. They probably should trading as much. The notion she should punish people and somehow punish organizations and she should make them do more things with their money, I'm telling you, the bottom line is that the welfare utopia has run out of money, only one place to get it, the corporate balance sheet. All this stuff leads to the same thing. Under the guise of conscious capitalism they want that money.
Dagen McDowell: I didn't understand the -- i didn't understand the stock buybacks were so evil either. She not only is running for president of the United States, she's running for CEO of America because she's going to tell everybody how to invest their money and everybody how to manage their finances. HRC Capital Management is what she wants to turn the United States into.
Charles Gasparino: I don't know whether to hate you for more making me listen to that or hate Larry Fink at black rock for giving her dopey ideas about short term -- listen, this is purely politics. It makes no sense. She needs a Wall Street whipping boy. She can't beat up on Goldman Sachs because they give her -- they actually paid her money to listen to her speak like that, by the way. That should be a shareholder revolt at Goldman Sachs. They can't -- she can't beat up on them or private equity because they pay her money too. They should be, you know, Blackstone should be in big trouble with their shareholders.
Adam Lashinsky: As political analysis goes, it's lot bad. She said if you're a traitor, if you're a hair-trigger trader and go in and out of these stocks that's your job. That's like income.
Gary Kaltbaum: It won't work. If people want to sell tomorrow, they'll sell tomorrow. This is trying to engineer people. But, look, there is a bigger picture here. This is indicative of the shape of things to come under Hillary Clinton. Notice higher taxes. It's not just going to be this; it's going to be other things. Notice people like Kasich, lower taxes, keep money in the private sector, keep it away from the government. Hillary Clinton is the opposite and it hurts economic growth.
Secret side deals with Iran are coming to light
Charles Payne: And unfortunately we probably learned all of it the hard way. I guess what's most frustrating about it is the administration's telling us shut up and accept it. Shut up and accept it. We trust -- we trust Iran. Even though we're saying we don't.
Charlie Gasparino: The whole thing is disconcerting. So obvious, to your point, we trust, not we, but the Obama administration trusts Iran more than they trust the American people or Congress. They don't trust the people they're supposed to trust.
Dagen McDowell: We are fools for thinking otherwise. Of course this is going to happen with Iran. We're getting into bed with the nation that calls us the great Satan. A week ago the supreme leader in Iran called the U.S., After the deal was done, arrogant, and in the crowd chants, "death to America, death to Israel." Then the secretary of state absolutely shocked and said, well, I told them don't about that way.
Gary Kaltbaum: It's another case of we only know what they want us to know and simply another case where the most transparent administration in is in really the least.
Adam Lashinsky: Of course. Everything is worrisome. The cup half full analysis that I can offer is you started the segment saying we've learned. How have we learned? Because we have a media looking into it.
New York raises minimum wage to $15 an hour
Dagen McDowell: You're going to pay more. It's going to hurt business and it's also going to hurt job creation. You see, particularly seeing in San Francisco and Los Angeles just raised the minimum wage and Los Angeles County wants to do the same thing to $15 over a period.
Charles Payne: Bottom line, Chipotle has people who will buy that stuff. McDonald's, traffic is down. Job killer that will kill jobs and make it more expensive for poor people to even go get a Big Mac somewhere and it's a double whammy.
Charlie Gasparino: That's the point that Hillary Clinton made on Friday about, she brought up Chipotle and I think it's absurd. You need more traffic in these places and, I tell you, people will cut back on certain things if they can't afford it.
Adam Lashinsky: The liberals have the same eating characteristics. They wouldn't be caught dead in one of these places. Am I right? You would not go to any of these places under any circumstances. At the margins some people might feel better that an employer treats its employees better so I'll go there. I don't think any one of these things is the single factor.
Gary Kaltbaum: Let me take another side here. Youth unemployment in New York State is already 21 percent. These are your 16 to 19 year olds. They are going to be losing their jobs and the shame of it is, the franchisees are the trainers of these people to get into the workforce and no better business. This is going to be damages across the board, higher costs, you name it, everything.
Stock Picks
Charles Payne: TRN
Adam Lashinksy: OEF
Ben Stein: Visa