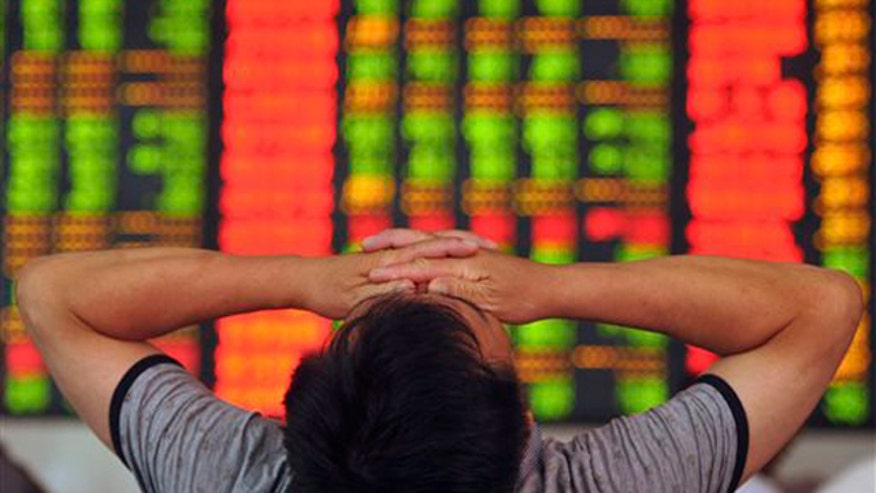 DISCLAIMER: THE FOLLOWING "Cost of Freedom Recap" CONTAINS STRONG OPINIONS WHICH ARE NOT A REFLECTION OF THE OPINIONS OF FOX NEWS AND SHOULD NOT BE RELIED UPON AS INVESTMENT ADVICE WHEN MAKING PERSONAL INVESTMENT DECISIONS. IT IS FOX NEWS' POLICY THAT CONTRIBUTORS DISCLOSE POSITIONS THEY HOLD IN STOCKS THEY DISCUSS, THOUGH POSITIONS MAY CHANGE. READERS OF "Cost of Freedom Recap" MUST TAKE RESPONSIBILITY FOR THEIR OWN INVESTMENT DECISIONS.
Government Meddling and Financial Ruin
Ben Stein: Look, there's an old saying in the oil and gas business in Texas, which is if you owe the bank a thousand dollars, the bank owns you. If you owe the bank a billion dollars, you own the bank. Greece is in the driver's seat. They owe so much money, it's so important we not break up the Eurozone, I don't know why, I don't care if they break up the zone, I couldn't care less. But Greece at this point owns the bank and in china, the government there is a fragile government, military dictatorship, but they cannot allow stock market crash. Too many people would be ruined. Cannot allow mass dissatisfaction because there's no political outlet for it.
Gerri Willis: We're all so smug. It's happening over there. We know Chicago has had its debt downgraded just this past month. New Jersey has had its debt downgraded nine times. We've got Detroit in bankruptcy. The troubles are everywhere. And it's too much money we've given these governments and they're spending it badly.
Charles Gasparino: I think if Atlanta went under that would be pretty bad for this country. That would be a sign that, you know, the fiscal state of the United States is in really bad shape. The point is we're not at Greece yet. Detroit filed for bankruptcy, but we really do have an issue here where these huge sort of socialist entities, these countries that rely on huge government -- and Detroit for a time was like a socialist country. Huge government spending, no business, you know, everybody on welfare. That that leads to disaster and that is infecting the world right now, that plague.
Charles Payne: The point I like ben was going toward was the fact that you've got countries having a difficult time, whether the dictators over the last five years, a lot have been deposed. Socialist countries have been deposed, democracies in America. Why? We are overpromising to keep power. That's the bottom line and why it is happening here. We have give b too much. Governments around the world have give. Too much, promise too much. Greece is an example what ultimately happen, you have to draw the line somewhere.
Julie Roginsky: I think specifically what the Chinese are doing is ham handled and will bite them in the rear end because they're showing favorites in a way that's going to make people have no confidence in their markets. I want to say at a higher level, governments meddle. This is what we expect them to do.
Crime Rates Rising in Major Cities
Charlie Gasparino: As one of the older members of this cast, I grew up in the '70s and I remember what it was like. You know, I remember the blackout in New York City. The safest place in New York City at that point was Arthur Avenue. Why? Because the mob ran Arthur Avenue in the Bronx. You don't want that again. Part of the reason why crime is going up because the media, many of the liberals in the media and the media is dominated by liberals and in popular culture are attacking --
Charlie Gasparino: I think what's scary is we have a Supreme Court, you know, they ratified ObamaCare, we have a Supreme Court that will ratify any big government boon dog until the world, no matter how obtrusive it is, how weirdly stated in law, no matter how controversial. This Supreme Court is mandating our way into bankruptcy.
Charles Payne: The war against the police started a long time ago and pop culture to charley's point. Then you mix that with -- those cities we looked at have the largest income inequality problems in the entire country, also been run by democrats, progressives for decades, and they also pay a lot of people not to work. And you create this sort of brew there that becomes a powder keg and it's exactly what's happening.
Gerri Willis: You don't have to go back to the 1970s to see that in the city. I moved to the city when David Dinkins was mayor. You'd open your window and hear gunfire and that's because it was a liberal administration, the businesses weren't coming in, and it got all turned around only a few years later.
Ben Stein: Mainstream media, it's the criminals who are called criminals for a reason. Cops are called the police for a reason. Police are protecting us. Criminals are threatening us. Stop beating up on the police. They're our heroes.
Adam Lashinsky: My concern that there's a rise in crime rates. Of course I am. Has the mainstream liberal media changed any in the last 20 years? No. There's no change there.
Are Death Panels Back?
Charles Payne: Parallel that to a big movement that will get bigger, and this is America looking more like Europe. Watch, watch, watch. That's going to sweep this nation. Couple that with the course the government that can't afford this. We know a lot of the money when it comes to this money we spent the last couple of years when someone is in a bed, and they're -- we always heard about this.
Gerri Willis: There's nothing wrong with that, and I think people should do that. I just don't want the government between me and my doctor. I don't think the government should be part of that conversation.
Charlie Gasparino: here's where it gets bad. The government is involved. It is -- it's rationing services.
Charles Payne: I think the conversation will be inevitably morph into questions like us to kill you, and more and more people will say yes, and I think that's a shame. You know, enormous facts of what we spend on medical care is spent in the last six months to a year. I don't think that can go on forever. It's a shame. It's just I'm against all forms of killing in this country
Adam Lashinsky: this is a good -- this is a good conversation to facilitate doctors agree it's a conversation they want to be able to have, and secondly, we discussed this back when Palin was saying what she was saying. All insurance is ration. The government has a huge amount of interest.
Stock Picks
Charles Payne: SHW
Adam Lashinksy: IYH
Ben Stein: SPY