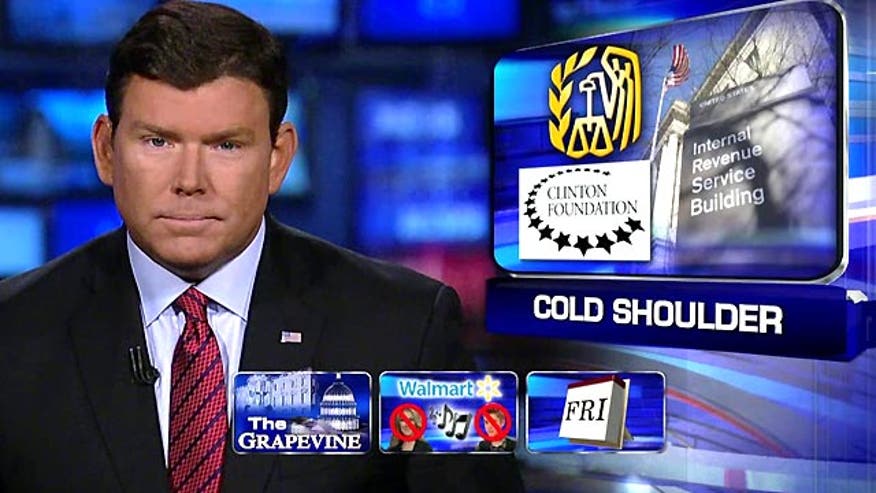 And now some fresh pickings from the Political Grapevine…
Cold Shoulder
The IRS blew off a congressional demand for a Clinton Foundation investigation with a one-page form letter.
The letter -- addressed "Dear Sir or Madam" -- was the response to 52 House Republicans asking the IRS to examine the foundation's tax exempt status -- following reports that millions of dollars in grants from foreign governments were not disclosed.
The form letter thanked them for the information -- saying the IRS continually examines tax exempt programs to make they are complying with the tax code.
One Republican was not pleased at the dismissive and unsigned letter --
Tennessee Republican Marsha Blackburn -- quote, "The IRS response is not acceptable and lacking in the requisite tact that should accompany a congressional inquiry... It begs the question -- do they even take our request seriously? This is exactly why people don't trust the IRS."
Friday Follow
A Friday follow up -- Remember the New Hampshire Fourth grade class that drafted a bill to make the red tail hawk -- the official state raptor -- only to have the state House reject it?
Well – in recent weeks -- a red-tail hawk has taken up resident on the White House grounds -- and because of the class's expertise -- they were called in to the White House to name the bird.
Meet Lincoln -- who occasionally perches just above the East Wing residence.
A White House blog says the students settled on the name for two reasons--
An obvious tip of the hat to the 16th president and a plug for their school -- Lincoln Akerman School.
Naturally -- the hawk has a Twitter handle already -- @LincolntheHawk tweets --
"Like they say up in New Hampshire: Live Free And Fly!"
Roll Back the Music
Finally -- Walmart is changing its tune.
Not about the higher wages that were announced back in February.
Literally -- the tunes are changing.
The company announced at a meeting with thousands of store employees -- "An end to the constant loop of Celine Dion and Justin Bieber music blasted into stores."
A loud ovation greeted the decision.
Radio Walmart -- run by a DJ -- will take over.
Other plans to improve worker morale include new cash incentives and a more relaxed dress code.