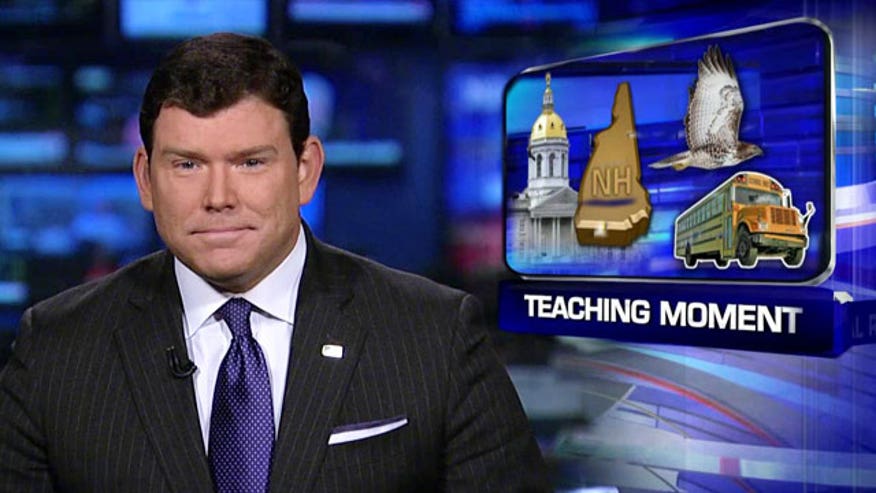 Now some fresh pickings from the Political Grapevine…
Teaching Moment
Fourth grade students learning about the law-making process -- got a hard lesson on the cruel world of politics -- last week.
The class from Hampton Falls, New Hampshire drafted a bill to make the red tail hawk -- the official state raptor.
The bill flew through committee -- so the teacher arranged a field trip to the state house-- to see the bill be voted into law.
The class was greeted with applause by House members.
But it all went downhill from there.
Republican representative Warren Groen-- a vocal opponent of abortion-- took issue with the students' bird of choice-- and how it hunts, quote--
"It grasps them with its talons then uses its razor sharp beak to basically tear it apart limb by limb-- and I guess the shame about making this a state bird is it would serve as a much better mascot for Planned Parenthood."
Again-- the fourth grade class was present for the debate.
Another lawmaker seemed to think the nine-year-olds' foray into the political process was silly-- frivolous.
Quote-- "We'll be picking a state hot dog next."
In the end-- the House shot down the bird bill-- and possibly a little bit of enthusiasm for politics -- among the youngsters.
All in a Day's Work
A union lobbyist is suing the state of Illinois-- for an additional $36,000 year pension-- because he was a substitute teacher for one day.
You heard that right.
The Chicago Tribune reports David Piccioli already collects $31,000 a year from the Teachers Retirement System for his work with the union.
But he found a loop-hole in the state constitution -- working as a substitute for a day-- so he would qualify for more than double that amount.
When his scheme was exposed-- the state took measures to close the loophole -- and stop Piccioli from getting the money.
Now he is suing-- arguing he is grandfathered in.
It's worth noting-- On top of those pensions-- he also earns another $30,000 a year from the state-- for a stint he worked as a legislative aide.
Just What the Doctor Ordered
And finally-- a spry 104-year-old woman says she has a doctor to thank for her longevity – Dr. Pepper.
Elizabeth Sullivan says she was turned on to the drink four decades ago-- in her sixties. She drinks three Dr. Peppers a day.
She says real doctors keep telling her -- all that soda will kill her -- but quote,
"They die and I don't. So there must be a mistake somewhere."
Happy Birthday, Elizabeth -- and cheers.