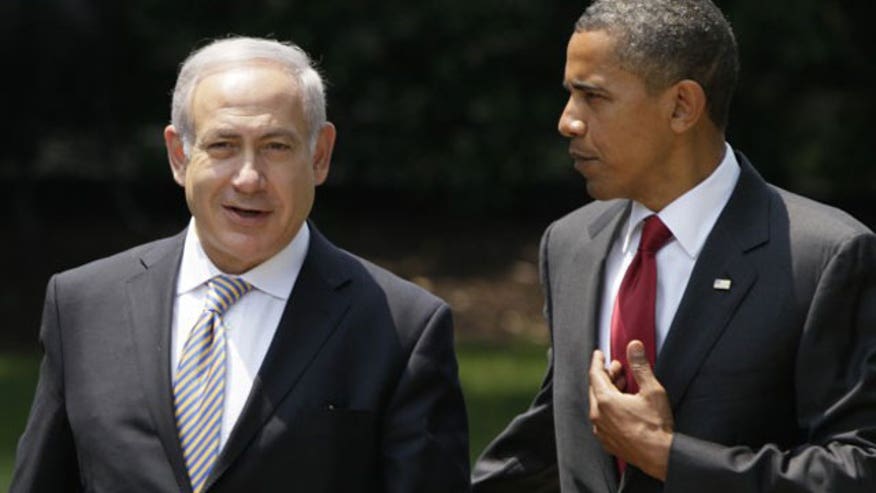 This is a rush transcript from "Hannity," March 6, 2015. This copy may not be in its final form and may be updated.
(BEGIN VIDEO CLIPS)
PRESIDENT BARACK OBAMA: We think it's a mistake for the prime minister of any country to come to speak before Congress a few weeks before they're about to have an election. It makes it look like we are taking sides.
ISRAELI PRIME MINISTER BENJAMIN NETANYAHU: The remarkable alliance between Israel and the United States has always been above politics. It must always remain above politics!
OBAMA: I think that it's been a distraction.
NETANYAHU: Israel is grateful for the support of America's people and of America's presidents, from Harry Truman to Barack Obama.
OBAMA: I did not have a chance to watch Prime Minister Netanyahu's speech. I did have a chance to take a look at the transcript. And as far as I can tell, there was nothing new.
NETANYAHU: To let Iran get nuclear weapons would be to win the battle but lose the war. We can't let that happen!
OBAMA: On the core issue, which is how do we prevent Iran from obtaining a nuclear weapon, the prime minister didn't offer any viable alternatives.
NETANYAHU: This is a bad deal. It doesn't block Iran's path to the bomb, it paves Iran's path to the bomb.
OBAMA: I have repeatedly said that I would rather have no deal than a bad deal. Even military action would not be as successful as the deal that we have put forward.
NETANYAHU: Now we're being told that the only alternative to this bad deal is war. That's just not true. The alternative to this bad deal is a much better deal!
(END VIDEO CLIPS)
SEAN HANNITY, HOST: And welcome to this special edition of "Hannity," "Obama vs. Netanyahu."
Now, earlier this week, the Israeli prime minister warned lawmakers during a joint session of Congress about what would happen if Iran ever got its hands on a nuclear weapon, but it seemed to fall on deaf ears with this administration.
For reaction now, we bring in Israeli ambassador to the United States -- Ron Dermer is with us. Sir, thanks for being with us.
RON DERMER, ISRAELI AMBASSADOR TO THE UNITED STATES: Good to be with you.
HANNITY: This to me is a defining moment of our time. This is France and Great Britain in Munich in 1938. And I'll tell you why, Ambassador. One plus one equals two. Radical Islamists sworn to destroy Israel and the United States fighting proxy wars on five continents coupled with nuclear weapons, weapons of mass destruction, could equal a modern-day holocaust.
I agree with the prime minister. I assume you do, as well.
DERMER: Yes, I do. And the prime minister said in his speech to Congress that the greatest danger facing our world is the marriage of militant Islam with nuclear weapons. And that's why in one of the clips you showed, he said it's very important to defeat ISIS. And these are barbarians -- savage barbarians that have to be defeated.
But to defeat ISIS and to leave Iran as a nuclear power would be to win the battle and to lose the war, as you said, just because of how dangerous this could be. And we're very concerned that a deal that is being negotiated right now would in a very short amount of time, maybe in - - within the next 10 years, Iran would only have about a year where they could break out to get to a weapon. And they've cheated in the past. And they've defied inspectors in the past, so they could do it.
But what's even worse, as the prime minister said, Iran could get to the bomb not simply by violating the deal that's being negotiated, but they could get to the bomb by keeping it, by simply waiting 10 years when all the restrictions on their nuclear program, the special restrictions that would put in place by this deal -- when all those restrictions would be removed, when all the sanctions would be removed, and then Iran would be free and clear, and within a very short distance of not having a single bomb but an entire nuclear arsenal. That's why this deal is a very bad deal.
HANNITY: The prime minister went out of his way, I thought, to be very gracious to the president, talked about the long history that the United States and Israel have together as allies and partners.
But Israel is being kept in the dark in terms of what the details of this deal are. But we hear about the sunset clause, that in a 10-year period of time, there would be pretty much a seal of approval given to Iran that they could actually enrich the uranium. And of course, now we have to talk about the delivery systems which would then give them the bomb and the delivery system to get it to Israel and maybe the United States.
What do we know for sure about this deal as it is currently being negotiated? And have you been left out of the very specific points of the deal? Meaning has Israel been left out?
DERMER: Look, we're not in the dark, Sean. I can tell you with certainty that we know what's being offered on the table. But the prime minister spoke about things that are a matter of public record that you can Google.
You mentioned the sunset clause, and for viewers who don't understand what that means, the deal that is being negotiated would within a certain number of years remove the restrictions, the special restrictions that are going to be put in place in Iran's nuclear program, and then they'd be treated like any other country in the world, like Japan today. And Japan has an industrial enrichment capability.
But the problem was, we could have an Iran that would not be like Japan is today, led by a Shinzo Abe, but like Japan was -- the regime the Japan had 70 years ago. That's the danger. And what's why the prime minister made very clear -- and this was new about his speech and a lot of people maybe did not see it. What the prime minister said is that you have to link the removal of those restrictions on Iran's nuclear program to a change in Iran's behavior. They have to stop their aggression in the region. They have to stop terrorism...
HANNITY: All right, well...
DERMER: ... around the world...
HANNITY: OK...
DERMER: ... and they have to stop threatening to annihilate Israel. And if they do that, if they act like a normal country, then they can be treated like a normal country.
HANNITY: All right, but let's look at their history because we have a history. We have their supreme leader -- I'll put it up on the screen, where he called Israel a cancerous tumor that must be uprooted. Or the time that said that -- he called Israel a rabid dog. Or the time that he said that Israelis are not humans. Or Ahmadinejad saying that he calls for a world without the United States and Israel. Or the time he called for the end of the U.S. and Israel.
There's a long history here. I have video of the Iranians repeatedly burning American flags! That's the -- right there, that's the 1979 hostages held 444 days -- or the Iranians burning American and Israeli flags, which happens quite often.
With that history and stated goal of annihilating Israel, wiping it off the map, and the same with the United States, my first question is -- they've cheated so often, why would we even sit at the negotiating table with them? I'm frankly embarrassed that our president is doing that.
DERMER: Look, Sean, the P5-plus-1, the leading powers of the world, are negotiating with Iran. Israel does not have a vote in that negotiation. And I can assure you that if Israel had a vote, they would be taking a much harder line than they're taking now.
But Israel does have a voice. And the reason why we have a voice is because we have a state, the Jewish people have a state, founded in 1948, where we can speak out. And the prime minister spoke out in a way that only he can about how dangerous it is.
And you're quite right, it's not just a danger to Israel. It's not just a danger to the Jewish people, Iran, any more than the Nazis were only a danger to the Jews. The Nazis killed six million Jews, but because of them, 60 million people around the world were killed in World War II.
So this is a threat to Israel, it's a threat to the region, it's a threat to the world. And I'll tell you, Sean, when Israelis and Arabs are saying the same thing, people should pay attention. That's the ultimate no-spin zone.
HANNITY: You know, we have in the corner of our screen there -- we're saying "Obama vs. Netanyahu." And then we also put in there "Chamberlain versus Churchill." I see the prime minister -- I see this as -- I see a great analogy here. In other words, the threat of a modern-day holocaust if these radical Islamists and mullahs of Iran get these weapons that they so desire, I see the chance of that happening. It reminds me of somebody like Churchill, who took the time and read "Mein Kampf," understood the mind and the ambitions of somebody like Hitler. He was a voice in the wilderness.
I see the prime minister as a modern-day Churchill, a voice in the wilderness, and I see President Obama as a modern-day Chamberlain and appeaser! I feel like he doesn't understand the danger, can't even say that ISIS is Islamic or talk about radical Islamists. Why?
DERMER: Look, I wouldn't say that, and I don't want to characterize the president. I'm sure that the president and the secretary of state -- they want to prevent Iran from having a nuclear weapon. No one in the White House wants to see Iran having a nuclear weapon. We have a policy disagreement...
HANNITY: But this agreement...
(CROSSTALK)
HANNITY: ... In the sunset years...
DERMER: Well, that -- that's our disagreement, that we believe that the path that they're taking will pave the way for Iran to get that nuclear weapon and not block it. They believe...
HANNITY: All right...
DERMER: ... that it's going to block it. And that's really the debate. It's a policy disagreement. It's not personal. And I wouldn't throw (ph) any historical analogy. The prime minister just feels that he needed to make his case about his concerns for this deal in the hope that people would listen to what he has to say, and hopefully, you'll get a much better deal. That's what he was arguing for in Congress.
HANNITY: All right, thank you so much, Ambassador, for being with us. Appreciate it.
Joining us now is former Israeli ambassador and historian Dore Gold. Ron is talking about -- the ambassador is talking about a policy disagreement, but it is one, Ambassador, that could have profound implications! You know, the last century, we lost 100 million souls, give or take a million or so here and there. That's a lot of people. I think people forget evil in our time and that we have to be so ever vigilant. The prime minister said never again.
Why do I believe the mullahs in their desire to wipe Israel off the map and destroy America?
DORE GOLD, FMR. ISRAELI AMBASSADOR TO THE UNITED STATES: Well, you know, the statements of Ayatollah Ali Khamenei are not just his statements. They are repeated by the entire Iranian leadership. If you look at the statements of the commanders of the Revolutionary Guards, if you look at the statements of other leading officials in Iran, they all call for the destruction of Israel in one way or another.
They even put the statements about destroying Israel on placards, on billboards which they attach to missile carriers carrying the Shaab-3 (ph) missile that can hit Israel. So they are juxtaposing their hostile intentions with their growing capabilities. And that is why Prime Minister of Israel Benjamin Netanyahu has to be so careful and pay very close attention to what Iran is doing because the stakes are the future of the Jewish state.
HANNITY: Again, I go back to -- and the prime minister mentioned this in his speech this week, that even as they are negotiating, and apparently yelling at John Kerry and the Iranians had to be told to stop yelling at John Kerry -- and even the Iranians are rejecting this deal that would ultimately give them nuclear weapons.
There was footage taken from an Iranian naval exercise off the coast of the Straits of Hormuz. And what does it show? It shows Iran practicing the destruction of a U.S. Navy carrier while negotiations are going on! I don't think I'd be negotiating with people if they were acting in that manner.
GOLD: That mock carrier is an imitation or a kind of model of the U.S. Nimitz. So they have a very specific idea of who they want to target. Now, what are they trying to do here? They're trying to build good will with the American people, with the Obama administration, and that's called good will by showing that their navy has a missile that can take out a carrier? I think something's very wrong here.
And if you want to negotiate with Iran, you've got to make sure Iran makes three fundamental changes -- stop aggression against Iran's neighbors like the countries of the Gulf, stop support...
HANNITY: Well...
GOLD: ... for international terrorism, and stop calling for the annihilation of Israel. Those are reasonable diplomatic demands.
HANNITY: Reason -- it's -- it's a -- it's a prerequisite. It's common sense. One thing the prime minister also said -- and he was very, very clear. He talked about never again and he also said that Israel reserves the right to act alone. We see how the Jordanians and the Egyptians are acting to -- against ISIS. Could we possibly see a coalition that maybe was unfathomable a decade or two ago, and that being Egypt and Jordan and Saudi Arabia and Israel stopping the Iranian nuclear program?
GOLD: Well...
HANNITY: Because the prime minister was clear that he would act alone if necessary.
GOLD: Yes, we do see similar perceptions between Israel and the Arab states. Just two-and-a-half weeks ago, Sean, I was in Europe -- I can't say where -- with a group of a lot of ex-military from the Arab states. I sat with a general from the Iraqi army, who is a Sunni. And what does he tell me? The Iranians at the end of December allowed over a million Iranians to cross the Iraqi border and take part in what's called a Shura festival, and they came without passports, without visas, and the Iraqis have no idea if the Iranians are going to leave.
HANNITY: All right...
GOLD: In Yemen, we see their penetration becoming much deeper. They are moving through the whole Middle East. The Arab see Iran the same way we do.
HANNITY: Listen, Yemen -- the president was wrong. Somalia, he's been wrong. Libya, he's been wrong. Iraq, he's been wrong. ISIS was the JV team. Afghanistan, he's been wrong. If he's wrong here, though, the consequences are indescribable.
Thank you, sir. Ambassador, good to see you again. Thank you for being with us.
GOLD: Good to be with you.
Content and Programming Copyright 2015 Fox News Network, LLC. ALL RIGHTS RESERVED. Copyright 2015 CQ-Roll Call, Inc. All materials herein are protected by United States copyright law and may not be reproduced, distributed, transmitted, displayed, published or broadcast without the prior written permission of CQ-Roll Call. You may not alter or remove any trademark, copyright or other notice from copies of the content.