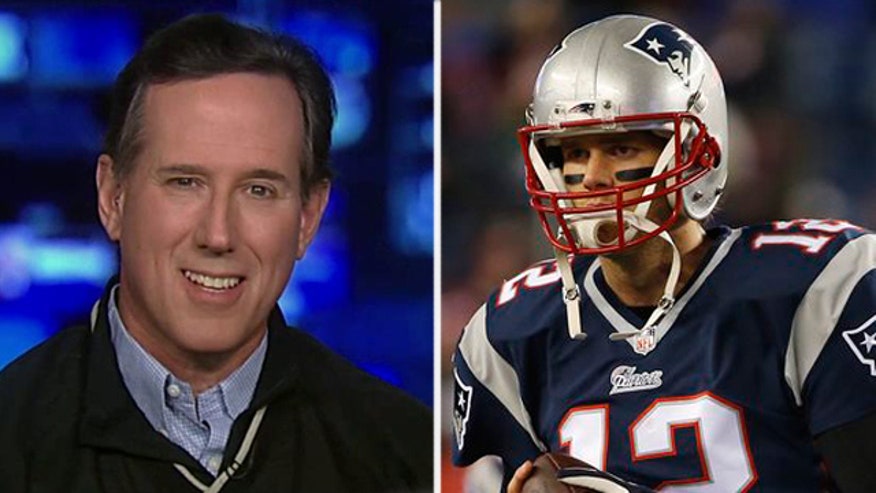 This is a rush transcript from "Your World," January 22, 2015. This copy may not be in its final form and may be updated.
NEIL CAVUTO, HOST: We have Rick Santorum here.
I apologize, Charles.
Rick, I had you here under other venues, but, as you know, I'm just a football detail nut here. So, when this story developed, I thought, let me raise the trust angle with you.
Tom Brady is a hero. The Patriots, for many, are heroes. And the reputation, the image of the game is at stake. Is it that bad? How do you see it?
RICK SANTORUM (R), FORMER U.S. SENATOR: Well, I mean, Charles' point about the history is the thing that probably troubles everybody more than anything else.
If this was probably any other franchise, this probably would not get...
CAVUTO: Yes, but, Senator, Charles is a bitter, angry man.
(LAUGHTER)
CAVUTO: His team is not in the Super Bowl. But...
(CROSSTALK)
SANTORUM: I do -- I do know that to be the case.
(LAUGHTER)
SANTORUM: But I think -- he I think he -- I think he does make a legitimate point. I'm a Steeler fan. We're not bitter and angry. We have to move on to more Super Bowl titles.
(CROSSTALK)
CAVUTO: You have to move on.
SANTORUM: So, I'm fine.
But I do I do see that this franchise in particular has been pointed out in the past and, as a result, raises the specter that something nefarious might have gone on here. And that's probably why it's getting all the attention.
You know, I think Tom Brady is a role model to a lot of people, as somebody who is well-respected as a great football player. I think he did OK in his press conference today.
But I think probably stepping forward and saying a little bit more, like, look, this shouldn't have happened, you know, that it's my integrity -- it's not just the Patriots. It's him. He is the Patriots. And I think he probably should shoulder a bit more of that responsibility.
(CROSSTALK)
CAVUTO: Well, you have to assume that something nefarious went on or that there was deliberate deflating going on here.
It's pretty clear to me that all -- all of this goes back now to Gisele Bundchen, his wife. And I don't know how we're going to settle that one.
(LAUGHTER)
CAVUTO: But -- I'm kidding.
(CROSSTALK)
CAVUTO: But I -- do you think, though, Senator, that people are going to overplay this and assign all sorts of suspicious motives to this that might not exist?
SANTORUM: I think, ultimately, no, only because the game was such a blowout and it really didn't make any difference in whether the Patriots got to the Super Bowl or not.
But what I think Tom should have done, Tom Brady should have done is, as the quarterback, he's the leader of this team. He's someone who is the -- the signature player for the Patriots. I think he has to shoulder a little bit more than, you know, I just did my job and that's all I can do.
I agree. That's all they can do. But that's not all he can do now. And I think he should say, look, I'm concerned about the integrity of the game, I'm concerned about my integrity, the integrity of the Patriots, and I'm going to do my best to see if we get to the bottom of this, not just the league.
I really think, had he taken a little bit more aggressive approach, I think his reputation might be a little bit stronger coming out of that press conference.
CAVUTO: Yes, but there were far more egregious situations that have gone on in football the last year. And I'm not trying to minimize this. I'm not just saying this. You know, I don't care less about the Patriots. No offense to you folks at Foxborough.
But I don't know if this is of that crisis and controversy level that we have seen with some of the sport.
SANTORUM: I'm not suggesting -- yes, I'm not suggesting it is.
I'm just saying, from the standpoint of, this is a big issue -- obviously, you just played 15 minutes of a press conference. So, this is an issue.
CAVUTO: Well, that's because the way -- that's the way I roll. I'm a rabid NFL fan.
(LAUGHTER)
CAVUTO: And I found this whole Gisele's not involved thing a bit specious.
But go ahead.
SANTORUM: Yes.
I just think it is a big issue. It's getting a lot of press. And while I don't believe it's a great issue, I don't believe it's something that deserves a whole lot of attention, I think it's another -- Tom Brady said some really good things in that press conference, is that...
(CROSSTALK)
CAVUTO: Well, wait. What do you mean you don't think this is worthy of time? We're doing a one-hour special on this tonight. Are you saying that's a mistake?
(LAUGHTER)
SANTORUM: I think that's probably a little excessive.
CAVUTO: All right.
SANTORUM: But you get to call the shots on your own ratings, so...
CAVUTO: There you go.
All right, Senator, I don't mean you jump on you, but thank you very much.
(CROSSTALK)
CAVUTO: And you were very nice, and under different conditions, we wanted to book you. And I do want to have you back. And you're a very good sport, Steelers fan notwithstanding.
SANTORUM: Ah.
CAVUTO: All right.
Content and Programming Copyright 2015 Fox News Network, LLC. ALL RIGHTS RESERVED. Copyright 2015 CQ-Roll Call, Inc. All materials herein are protected by United States copyright law and may not be reproduced, distributed, transmitted, displayed, published or broadcast without the prior written permission of CQ-Roll Call. You may not alter or remove any trademark, copyright or other notice from copies of the content.