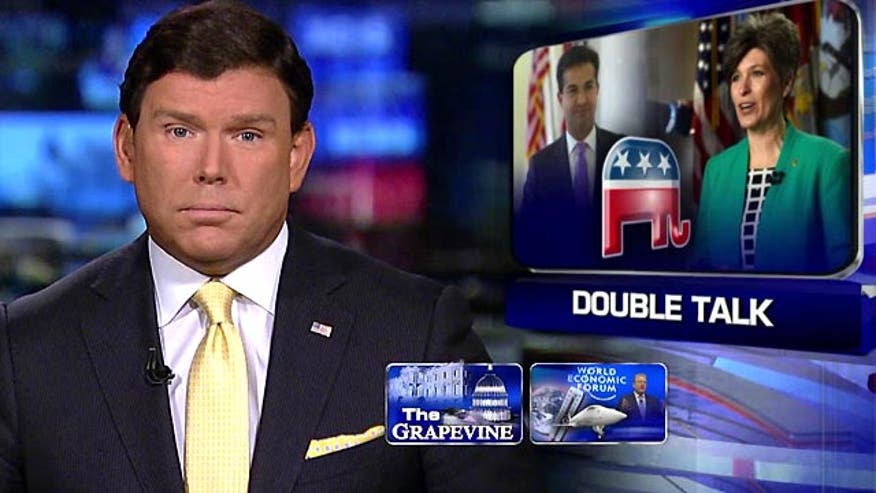 Now some fresh pickings from the Political Grapevine...
Easy Pickings
State of the Union nights are often ripe for some pickings here on the Grapevine and President Obama's sixth was no exception.
Last night at one point he criticized the state of politics.
(BEGIN VIDEO CLIP)
PRESIDENT BARACK OBAMA: Many of you have told me that this isn't what you signed up for -- arguing past each other on cable shows, the constant fundraising, always looking over your shoulder at how the base will react to every decision. Imagine if we broke out of these tired old patterns. Imagine if we did something different.
(END VIDEO CLIP)
Well, that different he mentioned didn't last long.
Less than an hour after the speech, a fundraising e-mail from the Democratic Party went out signed by the president.
One frustrated tweeter wrote -- quote -- "You can't be serious. After taking a dig at constant fundraising Obama sends out a fundraising e-mail."
Double talk
Post State of the Union criticism is bipartisan.
Republicans are catching flak for the differences between Senator Joni Ernst's response and Congressman Carlos Curbelo's Spanish version.
The speeches were similar in some ways -- both freshman members offering personal stories, but immigration was a key difference.
Ernst never mentioned the word, but Curbelo pledged to work toward a permanent overhaul of the immigration system and hoped President Obama would work with Republicans to do so.
Curbelo told the Washington Post, both speeches were -- quote -- "a blend of the party's priorities and ideas, and then some of our own priorities and ideas, too."
Critics say it points to the divide in the GOP.
Curbelo was one of seven Republicans to vote against an amendment to defund the president's immigration executive actions.
Hot Topic
Finally, the president called climate change the biggest threat to the next generation and a national security issue and that is a big topic at the World Economic Forum in Switzerland.
Apparently, getting there is less of an environmental concern.
Newsweek reports 1,700 private jets are expected to be used -- so many that the Swiss Armed Forces have opened up one of their military air bases as a jet parking lot.
Today, former Vice President Al Gore announced a new concert to build support for a UN climate pact.
One person quipped -- quote -- "I take action every day. Park the jet Al and get on your bicycle."