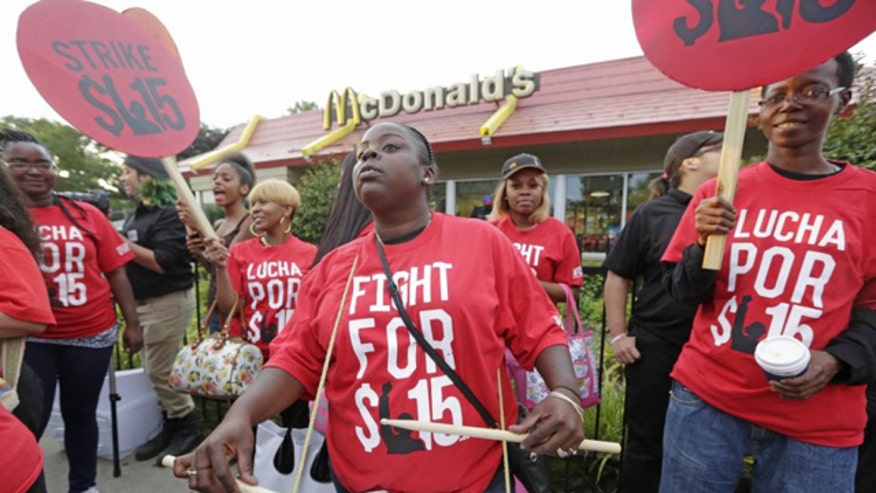 DISCLAIMER: THE FOLLOWING "Cost of Freedom Recap" CONTAINS STRONG OPINIONS WHICH ARE NOT A REFLECTION OF THE OPINIONS OF FOX NEWS AND SHOULD NOT BE RELIED UPON AS INVESTMENT ADVICE WHEN MAKING PERSONAL INVESTMENT DECISIONS. IT IS FOX NEWS' POLICY THAT CONTRIBUTORS DISCLOSE POSITIONS THEY HOLD IN STOCKS THEY DISCUSS, THOUGH POSITIONS MAY CHANGE. READERS OF "Cost of Freedom Recap" MUST TAKE RESPONSIBILITY FOR THEIR OWN INVESTMENT DECISIONS.
GOVERNMENT'S LABOR BOARD CHARGES MCDONALDS WITH EMPLOYEE RIGHTS VIOLATIONS
Gary Kaltbaum: This is the government picking winners and losers. They don't like McDonalds. They are telling McDonald's they can't fire people or lower amount of hours for employees. It's a joke. It could affect things if they try to break up the franchise relationship. Nothing comes when the big arm of the government has the mallet in on the head.
Dagen McDowell: They are doing it now because of a single decision by the national labor relations board, feeding the white house what it wants. Employers and how it affects McDonald's. It's going to shape them across the nation in various industries. It is going to enjoy jobs. Many industries, as we know them, hotels, fast food, you name it, they are going to get hurt.
Charlie Gasparino: Recourse is a change in Washington. That's the recourse. When you get a change in the executive branch, you get a change in appointees and this could be reversed.
Adam Lashinsky: I mean, you know, the opportunity here is to go after a large corporation, which is exactly what you would do if you were trying to, you know, if you were trying to organize and affect change, big policy change. You go after a company like McDonald's.
SENATE REPUBLICANS VOWING TO PASS KEYSTONE IN NEW YEAR AMID FALLING GAS PRICES
Gary Kaltbaum: You strike when the iron is hot. Look, you get modernized infrastructure that stimulates the economy. More oil keeps prices down and sends them lower. Nothing bad about doing keystone. I don't understand the logic about not at this point and time. We want our independence from the rest of the world, let's do it.
Dagen McDowell: I think Americans know. The energy business has been a huge job creator throughout the middle part of the United States with all these new technologies. We are awash in oil in this country. The biggest stockpile in 30 years roughly. That's what's driving gas prices down. If you build keystone, it creates jobs. More than that, it continues to promote our energy independence in this country. What's going on with gas prices? It is totally screwing Iran, Venezuela and all these countries.
Charlie Gasparino: I would say that if one thing underscored the hypocrisy on the left, they sit around and talk infrastructure and how much we need. They have no problem with infrastructure building, but they won't endorse the keystone pipeline that would create many, many jobs. Oil prices are going to go back up. You know why? When you lower it, you have given a tax cut to the working class of the country, it improves the economy and it's going to go up again. We need the keystone pipeline. These prices will go up again.
Adam Lashinsky: I don't know if I'm going to delight you or completely disappoint you by saying, I don't have a problem with keystone at all. It is what it is. It should go forward. What I will say is, I distinctly remember many times on this program when gas prices were high, we heard about how this was president Obama's fault because refineries couldn't get it because this reason and that reason. Why are we giving him credit when it's down?
STUDY: FACEBOOK BLOCKS PAGE SUPPORTING PROMINENT PUTIN CRITIC
Adam Lashinsky: It's extremely concerning. The problem is that the rest of the world doesn't necessarily have the same concept of press freedom or freedom of speech and we do in the United States, and these media companies and Facebook is a media company, have a difficult decision to make. Do they want to do business or do they want to do business the way they want to do business, and it's not always -- it's not a clear-cut decision is what I'm saying. They did what they had to do in Russia.
Gary Kaltbaum: Look, this is a mistake on Facebook's part. Talking how they're for the people but in this case in Russia, pure censorship. Russia is driving the bus here. They're putting people in jail just because they disagree, when a group of people want to have a protest this is why they want things shut down. It's surprising to me Facebook is going along with it. Big benefactor but it what it is. They're afraid of Putin.
Charlie Gasparino: You're going to embark on Zuckerberg or any of these uber-liberal leftists social media types that run around and for every pet cause, for every left wing thing, if they go and give aid and comfort to Vladimir Putin, how can you support that? That's insane.
Dagen McDowell: Facebook censors stuff all the time.
STOCK PICKS
Gary Kaltbaum: 3M (MMM)
Adam Lashinsky: SPDR (XLE)