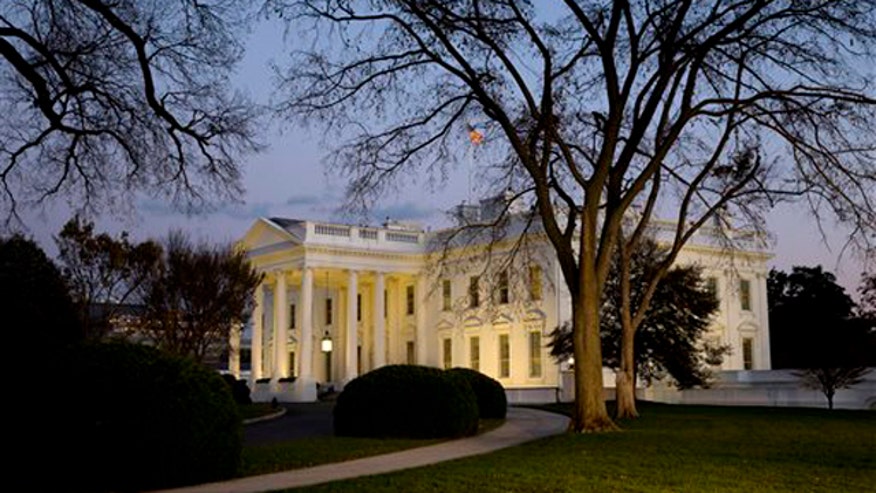 DISCLAIMER: THE FOLLOWING "Cost of Freedom Recap" CONTAINS STRONG OPINIONS WHICH ARE NOT A REFLECTION OF THE OPINIONS OF FOX NEWS AND SHOULD NOT BE RELIED UPON AS INVESTMENT ADVICE WHEN MAKING PERSONAL INVESTMENT DECISIONS. IT IS FOX NEWS' POLICY THAT CONTRIBUTORS DISCLOSE POSITIONS THEY HOLD IN STOCKS THEY DISCUSS, THOUGH POSITIONS MAY CHANGE. READERS OF "Cost of Freedom Recap" MUST TAKE RESPONSIBILITY FOR THEIR OWN INVESTMENT DECISIONS.
REPORT: WHITE HOUSE TO PUSH MORE 'INVESTMENTS' IN 2015 WITH ECONOMY IN FOCUS
John Layfield: The answer to all politicians is spend more money. The debt doubled under president bush and it's going to double under president obama. When you talk about things to spur the economy, look at the track record of this administration. Cash for clunkers, home refis. You have the stimulus for shovel ready jobs that never materialized. If you were in the top 10%, you love this president. If you are a corporation, you love this president. Corporate profits are high because of interest rates. Look at the other side. 50 Million Americans are now in poverty. 47 Million Americans are getting food stamps, up 13 million since the president started. Black unemployment, youth unemployment went up. Spending more money is not going to get done what needs to be done. We need to create jobs.
David Mercer: I wouldn't go as far as rev the engine. You don't want inflation. Why take your foot off the brake. The budget has been passed, $1.4 Trillion budget. That was a bipartisan budget that passed.
Gary B. Smith: Seems like the past few administrations, whether it's the Obama administration or George Bush administration, going back to FDR, every government solution is to take money from our pocket and spend it themselves. Listen, I might be fine with that if there was positive benefit. If you take a dollar from me and the government spends it, you get back less than a dollar. Two, where in the constitution did the founders lay out it's the government's responsibility, whether they do a good job or not, to stimulate the economy? Where is that? It's the private sector. It's not the government's job to reign in inflation or tap on the gas or any of that. Protect our shores, protect us from Ebola, enforce the laws, then go away.
Tracy Byrnes: Why is it always we have to spend? Why isn't it that we talk about tax reform? Pull back the regulations. Gary b. Is dead on. Corporate America, small businesses, that's where you get jobs and growth in the economy. You want to help them create jobs, tax reform/ Cut back on the regulations. They are being strangled by new rules and regs they don't know how to handle. Gets the economy going. Get rid of the staples.
Jonas Max Ferris: We are digging for negative stuff. The income and equality. Both sides here. David is right, the president should come out. He can do the you're welcome America. Do the victory lap. Everything is great. You have to dig to find worse things than five to six years ago. Health care and, you know, unemployment rate is down to a level. Unless you hit a bubble in the economy, you are not going to go lower. Save the spending plan for the next recession. We'll have one in a few years, we always do. That's when you want to put the foot on the gas. If you expect the economy better than it is now, it's a fault. Now is the time to shore up the books, balance the budget, let it go. It is going well. We have done well. We are out of the whole more than any other country that didn't do what we did.
REPORT: FEDERAL GOVERNMENT SPENDING $48M TO HIRE AND HOUSE 1,000 IMMIGRATION WORKERS
Gary B. Smith: We talked about this on the show just a few weeks ago. In fact, to a person on the panel, we said oh my gosh, this is going to be another government sinkhole where more and more money, if they estimate 50 billion, it will be 500 billion. You watch, this is going to grow to the size of the state department, the department of commerce, any other idiotic agency. We don't need it. In Washington, the only way to achieve power, Brenda, is to grow your agency. No agency head is ever come and said you know what? This year, we need less money. We can do with less. No, they need more and more. Obama opened the fence for more and more illegal immigrants; this department is going to grow. Guess what the money is going to come from? You and I.
Jonas Max Ferris: This is basic math. I agree with what Gary is saying but there's a revenue model. Give 5 million people work visas and they have to pay taxes are you going to get $10 in taxes from them? That's the budget. Doesn't that pay for itself rather than them not paying taxes? You are increasing the size of the government and increasing staff. If they can generate revenue, that's paying more.
Tracy Byrnes: We have heard this story before. We heard it with Obamacare. All the savings, everything was going to offset itself. The savings were going to offset it. That is so far gone. Saying do the math is like a joke in Washington. They can't. They don't know how. They can't balance a checkbook. Gary is right, you are going to spend three, four times the estimated budget.
David Mercer: I am with Jonas. With regard to what was said by Gary B., This is not the administration spending x amount of dollars. It's the person with their hands on the purse string. That's congress. They are appropriating the money. Better as Jonas mentioned, better to have them working and paying taxes, which will offset the cost, as he mentioned earlier.
John Layfield: Another waste. An executive action means the President does act alone. The president did act alone on this. We are talking taxes, earned income tax credit; you are not going to see tax decrease from this. This is what happened in '86 and '87. Same thing. Not doing a full immigration reform and dealing with employers who hire illegals, this is another band aid that is going to cost the government a lot of money.
IRS: BUDGET CUTS MAY CAUSE TAX REFUNDS TO BE DELAYED
Tracy Byrnes: As a parent, I will take all the help I can get. Everyone says you should be on top of your kids and reading texts and knowing what's going on. It is so hard in this world. They are moving so fast and in all different places. Texts from people come in all the time. Cyber bullying is rampant. It's mean and no kid should be subjected to it.
Gary B. Smith: Brenda, let's stipulate that bullying in any form is bad. We can get that. It's not the school's responsibility, though. What Tracy said sounds good. Kids do a lot of bad things. They watch too much video, don't exercise enough. Does the school then encroach on that saying, you know, at home you should be eating more vegetables. We are turning this into a bad episode. Remember "minority report" where he could look into the future. Oh, you are going to do that bad thing, I'm going step in. If it's not schools, it's the government.
David Mercer: Look, you have to have standards of acceptable behavior, be it at home or school. Cyber bullying or any bullying, whatever the form of it should not be acceptable either at school or at home. I don't think one has to be to the exclusion or the other. The parents with the exclusion of school and we should have uniform standards.If I had somebody at my office bullying another on site or off site, they are fired, they are gone. They are creating a bad environment for the productivity of the firm just as they would be creating a bad environment for everybody to get the proper education they are there to get.
John Layfield: Just this week on twitter somebody suggested that somebody should kill me. I don't think there was intent behind it. Twitter said it did not violate the abuse policy. If somebody saying I should be murdered doesn't violate the policy, I don't think cyber bullying violates it as well. This is serious, cyber bullying, not the death threat I got. This is different. I don't think the school should monitor it; it should be done somewhere else.
Jonas Max Ferris: I like what David said. If it happens in the private sector, it's probably the right way to do it. The schools spend so much money on education; they should send nutritionists to our homes. If you post nasty things about another employee after hours, your boss is not going to be its after 5:00, I don't care what you do. I think the logic could apply like public schools. They should be run like companies anyway.
STOCK PICKS
Gary B. Smith: DRONES TAKING FLIGHT HAS (GPRO) LANDING A 30% GAIN IN 1 YEAR
John Layfield: LOOK FOR SHORT TERM GROWTH (RAD) UP 10% BY MARCH
Jonas Max Ferris: FREE PUBLICITY= PROFITST (SNE) RETURNS A 15% PROFIT IN 1 YEAR
Tracy Byrnes: STUDY: Kids who eat less fast food have lower tests scores.