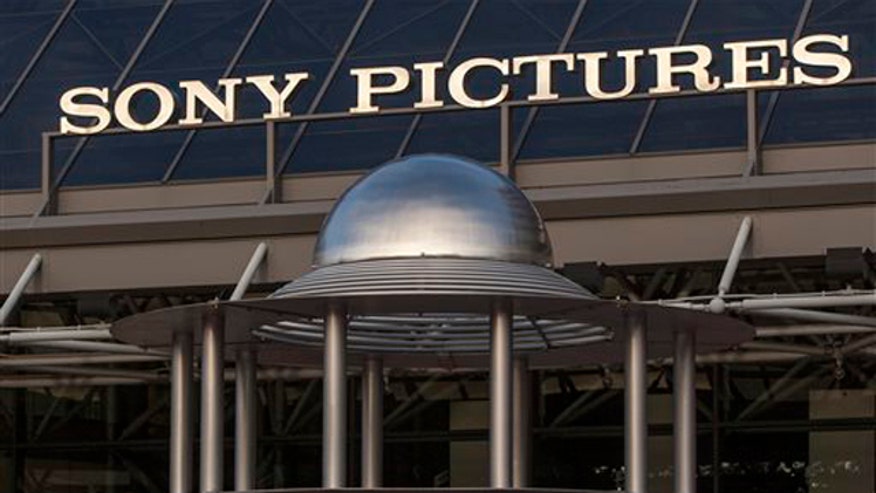 DISCLAIMER: THE FOLLOWING "Cost of Freedom Recap" CONTAINS STRONG OPINIONS WHICH ARE NOT A REFLECTION OF THE OPINIONS OF FOX NEWS AND SHOULD NOT BE RELIED UPON AS INVESTMENT ADVICE WHEN MAKING PERSONAL INVESTMENT DECISIONS. IT IS FOX NEWS' POLICY THAT CONTRIBUTORS DISCLOSE POSITIONS THEY HOLD IN STOCKS THEY DISCUSS, THOUGH POSITIONS MAY CHANGE. READERS OF "Cost of Freedom Recap" MUST TAKE RESPONSIBILITY FOR THEIR OWN INVESTMENT DECISIONS.
SONY STANDS BY DECISION NOT TO RELEASE "THE INTERVIEW" AFTER THREATS BY HACKERS
John Tamny: No, they are doing the wrong thing in brand defeating faction. This is a light comedic film comedy. If hackers can shut down this at movie theaters it encourages all hackers around the world and sets a bad precedent. This is a comedy... what happens when they make a serious film that is critical of North Korea, that aren't going to release it? This is such a bad precedent because it encourages all the two-bit hackers around the world if they frame themselves as terrorists that they can deter commerce and free expression.
Bruce Japsen: This is unchartered territory. They needed to protect their shareholders and employees since they didn't know what was going on. What if there was a copy-cat crime in Denver and they end up getting sued.
Steve Forbes: It's no surprised Sony caved. Homeland Security said there is no credible threat. This is about free speech. Terrible precedent and Sony led the parade in cowardice.
Carrie Sheffield: "Team America" came out in 2004 under the Bush Administration; it makes you wonder if the blame should be placed on Washington and not on Sony. Sony didn't have a choice; the movie theaters had the decision not to distribute it. Their hands were tied. Sony is an entertainment company dealing with a regime that spends 1/3 of its GDP on defense. Do we actually think that Sony can combat this?
Elizabeth MacDonald: I love how nobody signed Clooney's campaign in Hollywood. That malware could still be in Sony's system, that's an issue too. I think behind the scenes there is a real scramble. The U.S. is not ready for a major cyber-attack on our infrastructure. We have seen North Korea do these dry runs, and this could be a dry run for something down the road to the U.S.
Rick Ungar: I agree with George Clooney and good for him for what he tried to do. I am ashamed no one in Hollywood signed behind that letter. I am ashamed Sony did not stand up for creative expression. This is not okay, I don't care how much Sony loses, and sometimes there are bigger issues.
QUESTIONS RAISED OVER WHETHER PLUNGING GAS PRICES ARE BACKFIRING ON ECONOMY
Steve Forbes: We have seen this before. In the 1980's oil crashed over 75% and the U.S. economy did roaringly well, but Texas went into a recession and agriculture went into a recession. This isn't uniform. The key thing in this case is that it was not a desire by the Federal Reserve. Enjoy it while you can because it may not last.
Carrie Sheffield: Look globally, China is a slowing down and Brazil is slowing down. I think there is more supply that we have with the shale but it is also a slowdown in demand. I think there are two sides to every coin. I think this is a signal of a global slowdown, Europe is incredibly sluggish.
John Tamny: It's brilliant for the economy. Look at the 1990s, what lower oil prices signal is a stronger dollar. A stronger dollar lures investment into real ideas. The dirty little secret is that when oil prices were high it signaled a weaker economy because it signaled cheap money.
Bruce Japsen: There are a lot of states out there where you have a lot of ancillary jobs. I talked to a banker this week who is worried because it is very expensive to extract oil out of the bock and shale in North Dakota and so forth. You have a lot of engineering firms and small businesses that took out loans to explore out there, so when the price is going down like this that oil is more expensive to extract- you have a lot of jobs out in these rural areas that could be harmed.
Rick Ungar: I don't think it's going to last very long. My question is, all of you who were clobbering President Obama for prices going up are you now prepared to give him credit that they have gone down? I am not, but I never blamed him for them going up.
Mike Ozanian: Since the Fed kept interest rates so low for such a long period of time, bond investor's poured money into buying bonds of people who were involved in fracking because they had higher yield. What's most important is not what low oil prices are going to do to the economy but what they are telling is about the future of the economy- the overall economic growth could be much lower in 2015 than people think.
Steve Forbes: Energy stocks are down. The global economy is going to decline next year, not because of falling oil but because of the other dumb things these governments are doing.
PUBLIC COLLEGE PROFESSOR FACING BACKLASH OVER 'I HATE REPUBLICANS' ARTICLE
Elizabeth MacDonald: The children come first, not the free speech expressions of these out of line professors who do set up a culture of intimidation in the classroom.
Mike Ozanian: I think we are taking this way too seriously; I don't want the speech police going after every person every time they write something.
John Tamny: It should be a local say. Professors don't give up their right to free speech. In University of Michigan's case, if this offends donors it will lead to reduced donations. Let the university figure it out it's not something for taxpayers to worry about, but they can cut funding too.
Carrie Sheffield: This is horrible taste, she is a department chair. She is the department chair, a professor of Communication Studies. Is this the kind of communication that we want to spend our federal tax money on for students to learn from her.
Steve Forbes: Let me point out the utter hypocrisy here. The fact is she was a little more in couth than her colleagues. You give her colleagues a few drinks or a few smokes of pot they would be saying the same thing.