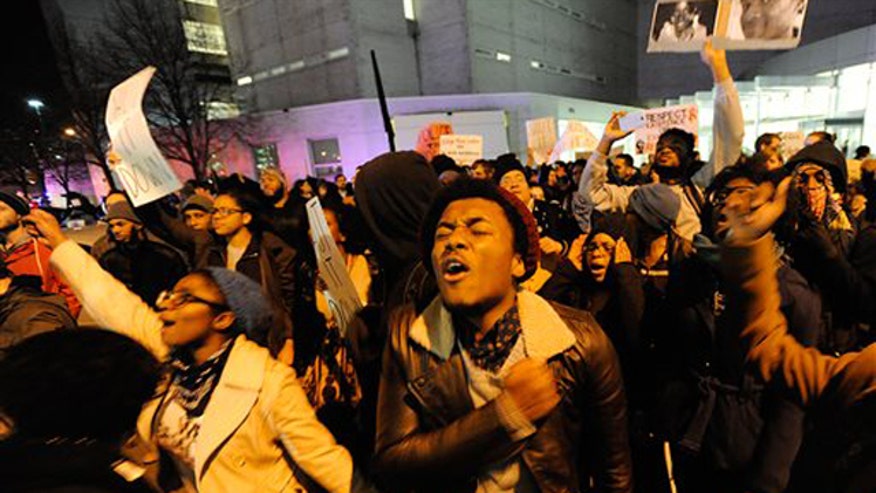 DISCLAIMER: THE FOLLOWING "Cost of Freedom Recap" CONTAINS STRONG OPINIONS WHICH ARE NOT A REFLECTION OF THE OPINIONS OF FOX NEWS AND SHOULD NOT BE RELIED UPON AS INVESTMENT ADVICE WHEN MAKING PERSONAL INVESTMENT DECISIONS. IT IS FOX NEWS' POLICY THAT CONTRIBUTORS DISCLOSE POSITIONS THEY HOLD IN STOCKS THEY DISCUSS, THOUGH POSITIONS MAY CHANGE. READERS OF "Cost of Freedom Recap" MUST TAKE RESPONSIBILITY FOR THEIR OWN INVESTMENT DECISIONS.
NEW DEBATE AS PROTESTS ERUPT OVER POLICE INCIDENTS
CHARLES PAYNE: Al Sharpton is the biggest of all the false prophets; he is a flame thrower. There's a pain in the hope of the future. He takes that pain and it's like taking uranium. You can make a nuclear weapon with it or a power plant. He builds a nuclear weapon. Martin Luther King was eloquent. Look where we are and where we can be. He wanted everyone to have an opportunity, if you work for it. Judge me by my character. If I can live up to it I want to advance. Al Sharpton says forget about the open doors, go burn something down.
DAGEN MCDOWELL: Because Dr. King and many leaders in this country today know this, whether it's Charles or religious leaders, they know that violence turns an ear to need to listen deaf. The people stop listening. They will ignore a situation when people turn to violence. It ends the discussion. What's happened this past week in New York City and other cities, people are protesting. Protests are disruptive. We were talking; you could hear protests in the streets. That speaks volumes to me. That's when America will listen and change.
BEN STEIN: When I think of Martin Luther King Jr., I think of a lion, a man of peace and destiny. But Al Sharpton's purpose is self-promotion. He doesn't care if he's lighting fires of racial tension or what the consequences are as long as it promotes him. The fact President Obama is listening to him, consults him, and considers him a pal is terrifying. It is a terrifying moment when the President of the United States listens to a person whose main goal is self-promotion.
ADAM LASHINSKY: The President as the rest of us do need to listen to all sorts of people. I'm not advocating violence. But protest is a good thing.
Charlie Gasparino: I know Al Sharpton well. I have been a reporter in his city for a long time. Not everything he does is bad. I don't believe he's a weasel. He is now selling a false narrative, though. This is where it gets problematic with al Sharpton. He is suggesting that New York City or Ferguson, Missouri is the Jim Crow south. That is a false narrative. New York City's police department is racially mixed. I don't like the fact Mr. Garner was put in a chokehold and died over selling cigarettes, but he resisted arrest. The gentleman in Ferguson, Missouri, not only resisted arrest, tried to take an officer's gun. This is after he ripped off a convenience store.
REPORT: GOVERNMENT HIRING 1,000 EMPLOYEES TO CARRY OUT PRESIDENT'S IMMIGRATION ORDERS
Adam Lashinksy: Well, it doesn't surprise me. This is what you should expect from an executive order. The President issued an executive order to implement the policies he couldn't get a stubborn Congress to go along with. He's moving ahead. The fact he's moving ahead and staffing it, not a shocker to me.
CHARLES PAYNE: I think the President is blowing an amazing opportunity for six years and doubled down on making it worse.
Ben Stein: What I wonder is if he's got the authority to hire so many people why not hire 1,000 new border guards to guard the borders? That would make a tremendous difference.
Dagen McDowell: I love the concept of this. Illegal immigration is a job creator. We open the borders and let all these new legal immigrants flow in. Then we have to hire government workers. I'm being sarcastic in case anybody watching is wondering.
CHARLIE GASPARINO: I do wonder: he can have an executive order, maybe someone that understands parliament knows more than me. Doesn't Congress have to procure the funding to pay these people?
NEW PUSH TO BAN AFTER-WORK EMAILS SPARKS DEBATE
Dagen McDowell: Leave it up to Germany to do this. It will never happen here. We just don't have work rules like that. How about just turning your Black Berry off. And if you work for an S.O.B. who has a problem with that, then don't work there.
Ben Stein: The idea that the Germans are concerned with stressing people out is just so wonderful. I mean they've caused the most stress to the world.
CHARLES PAYNE: When the financial crisis first happened and Greece would walk around with these shirts, our next door neighbors, the workaholic, stingy Germans, won't give us money. Stay workaholics Germans are hardworking people. If they go down this path, it's disaster.
Adam Lashinsky: Bosses should take heart her and leave their people alone in the after-hours on the weekend unless it's important.
Charlie Gasparino: My bosses want me to stop harassing them on e-mail, so I kind of know the feeling.
STOCKING UP FOR RETIREMENT
Charles Payne : Delta (DAL)
Adam Lashinksy Vanguard 2045 Retirement Fund (VTIVX)
Ben Stein: AT&T (T)