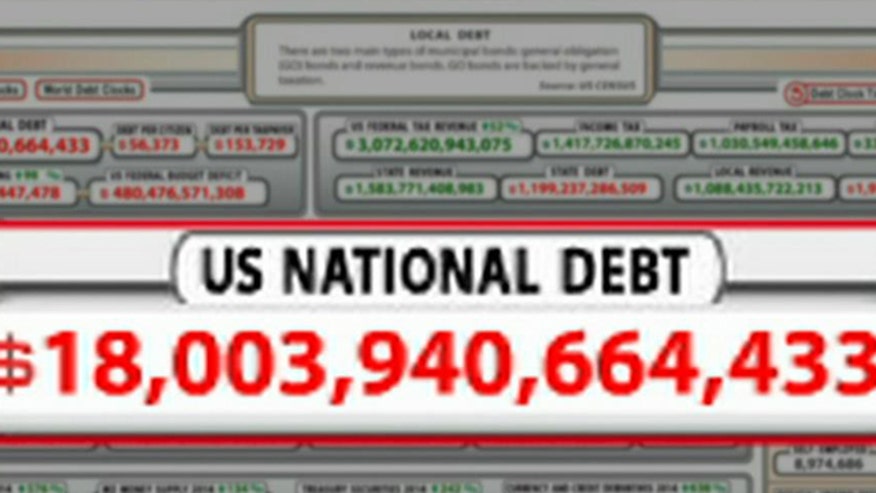 DISCLAIMER: THE FOLLOWING "Cost of Freedom Recap" CONTAINS STRONG OPINIONS WHICH ARE NOT A REFLECTION OF THE OPINIONS OF FOX NEWS AND SHOULD NOT BE RELIED UPON AS INVESTMENT ADVICE WHEN MAKING PERSONAL INVESTMENT DECISIONS. IT IS FOX NEWS' POLICY THAT CONTRIBUTORS DISCLOSE POSITIONS THEY HOLD IN STOCKS THEY DISCUSS, THOUGH POSITIONS MAY CHANGE. READERS OF "Cost of Freedom Recap" MUST TAKE RESPONSIBILITY FOR THEIR OWN INVESTMENT DECISIONS.
SENIOR DEMOCRATS NOW VOICING REGRET OVER PRESIDENT'S HEALTH CARE LAW; NEW FOCUS ON BIG GOVERNMENT PROGRAMS AS US DEBT TOPS $18T
John Layfield: They are doing exactly what they said they wouldn't do. Candidate Obama in 2008 said President Bush was unpatriotic, a lack of leadership because he increased the deficit by $4 trillion plus. President Obama increased it over $7 trillion. He doubled it. President Obama is going to do the same thing. We are going to be at $20 trillion. If you stick a normalized 5 percent interest rate on this, a historic average, in interest alone, that covers the entire tax revenue of $3.3 Trillion projected for 2015. That means we don't have one dime left without borrowing for education, defense, the state department, anything. You have to deal with the entitlements and deal with this massive, bloated health care to get cost under control.
Jessica Erlich: I think we need to make a difference here. Differentiate between the debt and the deficit. The debt is the overall number that has increased. It's gone to things that have needed to happen like the Iraq wars where all that money went and put under George Bush into the debt. Then the deal with the economy and the recession and treasuries and trying to keep the economy stable in the country. At the same time, during president Obama's administration, our spending dropped. Government spending has gone down now from over $1.5 Trillion to almost $500 billion. There is cutting going on in government spending. It's dealing with the larger issue, more macroeconomic issue.
Gary B Smith: By the year 2030, all of our tax revenue will go to pay, as John alluded to, entitlements and the interest we have on the debt. I mean that's it. We are not going to have money for anything else. Social security went into the red in 2010. So, those deficits are locked in. That's set right there. Those deficits will quadruple in 20 years. It's not president Obama. I's not President Bush. They are in charge of discretionary spending. Unless Congress and the President start to make a dent on things like Medicaid, Medicare and Social Security and get off this, yes, we need to spend it there. We are going to be all broken. 56,000 As you mentioned. Think about that doubling.
Tracy Byrnes: 45 percent of the budget goes to entitlements that nobody has the spine to tackle. They both mention the interest payments, which will be $800 billion in 2024. $800 billion. I can't wrap my head around that. That's interest alone. God forbid we need money for war or anything else. We are not going to have it. This is important. Congress has to wake up. Gary is right. This is Congress. This is on Congress' shoulder and this is the Republicans to win. If they can do something about this now that they have majority come January, they should do something about this. It is going to affect our children and grandchildren.
Jonas Max Ferris: The only thing they want to touch, including the Democrats is ObamaCare. There are a lot of reasons not to like ObamaCare. The debt is not one of them. Knock off social security; you can make this number not go up every year. If you wipe out ObamaCare, the number is still going up. They have a revenue model. We don't like it, but it is there. There are tax revenues coming in. It's not the Medicare drug plan. The number is not going up like Medicare. Those were the problems that would have to be addressed.
GOVERNMENT'S NEW RULE ON OVERTIME PAY FUELING DEBATE OVER IMPACT ON JOB MARKET
Gary B Smith: Less jobs. Every time the government meddles, it meddles with the free market. Businesses, small and large are ruthlessly efficient in turning out the most profit they can for the least amount of cost. When the government comes in, whether it's the mileage regulations, standards for the auto industry or pollution standards for the coal industry or the new one determining who is the manager and who is not resulting in more overtime pay. It's a big tax on businesses. When you have more tax on businesses, they make less profit. They make less profit that is less money for them to put in the business, open new business and hire people. Anytime you see a law come down, it's going to result in less employment than there would be if the market was allowed to operate freely.
Jessica Erlich: This is simply fixing a loophole. It's simple. There's only been a raise in the income level to be considered a manager twice in the last 40 years. Currently, only 12 percent of employees are eligible to get overtime based on the current system and in 1975, it was 65 percent. So, all it is is fixing an equality that exists because it's not been addressed in 40 years.
John Layfield: There's nobody home in the White House. Everyone is gone that was grown up. You have a president there who doesn't know what to do. You are not going to get tax reform done or energy policy done. The only thing you are going to be able to do to divide the gap of inequality, he wants to make the rich poorer instead of making the poor richer. That is what he's doing here. This is a disaster for small businesses.
Jonas Max Ferris: It was taken off the books with the Bush administration. The FDR policy is at least five years too late. In 1938, we had a double digit unemployment rate. The employer has to hire three people to do the work of two people. They are going to hire more people. It manufactures a lower unemployment rate. This isn't a great policy because it's what Europe does. That's why our employment rate skyrocketed, then fall fast. It barely went up, but never going down. You can't have the flexible.
Tracy Byrnes: It's supposed to kick in in February. What am I going to do until February? Nothing. There were 3,400 new regulations dropped before Thanksgiving. Tack that on. That means I'm not going to hire because who knows what is going to come down in March or April or whenever else the wind blows and the administration decides to throw regulation on small businesses. They polled small businesses and say the number one biggest problem, regulations and red tape. That is causing job growth in this country.
STUDY: 81 percent OF COLLEGE STUDENTS FAIL TO EARN BACHELOR'S DEGREE IN 4 YEARS
Tracy Byrnes: Cut them off. The kids are coming out with debt and no jobs, unfortunately. The unemployment rate for kids 18 to 25 is upwards of 14.5 percent. Get in. Get your degree. Take a Shakespeare class so he doesn't die with everyone else and get work experience.
Gary B Smith: I think college is good for some. I look at my experience. I graduated and went to IBM training program. Looking back at it, I could have done that program out of high school. I learned so much in those 18 months that I don't think any of my college experience, maybe a little bit, four years of maturity helped. I think we are going to get to the model where we have internships that lead to jobs for companies. I'm not sure being a philosophy major or something else in college makes sense for a lot of kids.
Jonas Max Ferris: We are underestimating the desire for the kids to be home with their parents. If we saw a lot of six year kids, I don't think their parents want them home. They are happy to pay or lend or borrow money. They are not going to get jobs at IBM. I think it serves a purpose to get kids from point a, age 18, to employable, which can take a long time for some people.
Jessica Erlich: I think that was one of the shocking things about the study. It focused only on public universities. There was a difference with the community college kids. There are a lot of kids out there, particularly in public universities who are working and trying to pay. College is so outrageously expensive. If you are in state, it is unbelievable. They have to pay for everything. IRAs were hit and the interest parents had. It's a struggle. I don't look to academia for answers in terms of expediency and helping the situation. Unfortunately, I think kids get the brunt of it.
John Layfield: Leaving college early to play pro football was the best thing that happened to me. I got to drop the most boring, poetry class. Dumbest thing I did was being in that class. Colleges take kids money. It's that simple. Colleges turn a four-year degree into a six-year degree. I don't know why they need to be four years. If it's two years, get them out. It's about money.
STOCK PICKS
Gary B Smith: "POINT, CLICK, BUY" (AMZN) RETURNS A 40 percent PROFIT IN 6 MOS
Jonas Max Ferris: GET READY FOR A BAD FLU SEASON! (NVS) GETS A 15 percent BOOST IN 1 YEAR
John Layfield: "BEER MILE" RACE HAS (UA) RUNNING UP 20 percent IN 1 YEAR
Tracy Byrnes: REPORT: ONE IN THREE PARENTS ADMIT TO ORDERING TAKEOUT TO SAVE TIME