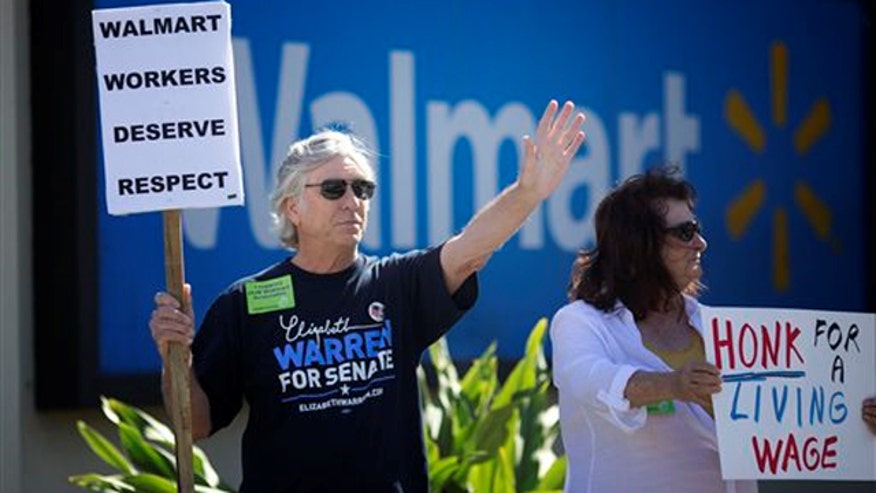 DISCLAIMER: THE FOLLOWING "Cost of Freedom Recap" CONTAINS STRONG OPINIONS WHICH ARE NOT A REFLECTION OF THE OPINIONS OF FOX NEWS AND SHOULD NOT BE RELIED UPON AS INVESTMENT ADVICE WHEN MAKING PERSONAL INVESTMENT DECISIONS. IT IS FOX NEWS' POLICY THAT CONTRIBUTORS DISCLOSE POSITIONS THEY HOLD IN STOCKS THEY DISCUSS, THOUGH POSITIONS MAY CHANGE. READERS OF "Cost of Freedom Recap" MUST TAKE RESPONSIBILITY FOR THEIR OWN INVESTMENT DECISIONS.
SHOPPERS OUT IN FORCE DESPITE UNION-BACKED PROTESTS
John Layfield: It is not about the workers. It's unions surviving. It's been reported and discovered a lot of protesters were not Walmart employees. They were paid by the union. Going after Walmart, if you look at the facts, national retail pay is $11.39. The average hourly rate, not counting managers is $11.81. They are going after Walmart because the private unions at 36 percent. They are under 7 percent right now. Unions are dying in the private sector for a good reason. This is about union survival.
David Mercer: I'm happy to hear from that worker. Equally, you will hear other workers not making a livable wage and when you don't have workers making a livable wage that provides for insecurity among the middle class and American workers and affects American prosperity. Unions and labor are made up of workers and working to make sure they are receiving a decent and livable wage. I don't think it's in America's interest to pay tax dollars for food stamps to supplement the lack of wages or decent wages that Walmart is not willing to pay its employees that make Walmart what it is today, productive and successful.
Gary B. Smith: I don't think it's the union's responsibility to be honest with you to look out for America's interest. On the flip side, I don't think it's Walmart's responsibility to look out. Gekko had it right in the movie "Wall Street" in the '80s. Greed is good. Look out for yourself. No one is saying I'm going to put the other person's interest before mine. Look out for yourself. If everyone looks out for yourself, you have to come to mutual agreement. David talked about it's Walmart's responsibility for a living wage. Who decides that living wage? No one. You decide if you can make a living wage work at Walmart or Target or you don't have to work in the retail industry. Do something else. There's a living wage equal in New York City as in Des Moines, Iowa. That's the way capitalism works.
Tracy Byrnes: A small portion of the total employee that is being paid the low wages. The protesters, half of them don't work for Walmart. They are union people put out there. The thing is, back in the day, the strike maybe made a difference. Now, you know what? I'm going to stay in my pajamas and order from Walmart. It's not going to make as much of a difference as it used to with membership down. They need a new way to drum up new business.
Jonas Max Ferris: They are looking out for their members. They don't care about the GDP or unemployment. They care about the members pay.
BUSINESSES MAY RECEIVE INCENTIVE FOR HIRING ILLEGAL IMMIGRANTS
Gary B Smith: This is another case where our divine entity of the government screwed up another thing by passing this complex bill called ObamaCare. Under this bill, they don't have to -- the employees don't have to pay into ObamaCare to cover the illegal immigrants. Basically, they save $3,000 per illegal immigrant that they hire. So, here is what it's going to come down to. The immigrants, now, for better or worse are on sale. If I can a loyal American, I have to pay into ObamaCare but I can hire someone just over the border with the same skill set. What employer is going to hire someone already here? No one. They are going to hire the person that came over the border. Now, Americans are at a disadvantage. It's good for businesses. It's one more huge hole in ObamaCare and the federal government's mismanagement.
David Mercer: I think what we have seen over consecutive months, over the past couple years is 200 plus or 200,000 plus hires by corporations. I don't think that trend is going to be abating just because of the regulation that you cite and, in fact, this isn't new. This was in the immigration bill that Republicans voted for in the senate, that passed nearly two and a half years ago waiting for action in the house. Hopefully, that will take place in the new session come January. But, this is not new. I might add, health care is not the only criteria you judge a hire or not. There is, I would think, as an
Employer, having a healthy, productive satisfied employee will mean a sustained employee core for you and profitability long term. I don't think you are going to see the trade off and Americans are going to get fired.
Tracy Byrnes: If the skill sets are completely the same and the differentiating factor is illegal versus legal, bam, I'm going illegal, too. As a small business $3,000 means I could buy all new tables for the restaurant or something. It's a big deal. It's going to make a lot of people make a lot of big decisions. I think it plays to the fact it's a continuation of the unfair stuff coming out of this bill. Unfair about the illegals. Unfair about ObamaCare. We, the taxpayers are footing the bill.
Jonas Max Ferris: It's definitely an incentive. You can also say that it exists with hiring temp agents, outsourcing in other countries. Making it semi-legal, don't you cut the benefit. Be honest. If you are not paying payroll taxes. There's a tax savings in excess of 2,000. Now, what are you going to pay, the guy with the green card cash? It might make the differential less between legal natives of a U.S. Worker and somebody who got this new status.
John Layfield: I think you can spin it many different ways about jobs and kill the clock. But this is stupid. There's no other way to rationalize this. It is stupid. The bill in Congress that was there two and a half years ago. It was in there and stupid then. They said they would change that if the house picks it up. The main thing about this is that this is not actually affecting that many employers. 96 percent of businesses are 50 employers or under. It's not covered by this. Over 90 percent of employees and over already have their own health insurance. It's few. What you need to do is drop the employer mandate, which would be done under the new Republican Congress.
SURVEY: AIRFARES ON THE RISE DESPITE OIL PRICES PLUNGING 33 percent THIS YEAR
Tracy Byrnes: They are going to keep the flight prices this way and we are going to keep paying them. There's less flights, they pack us in like sardines. You have to hold on to your knees the seats are so close together. People are willing to pay $6 for a cookie. You have to pay to put your luggage on. There's no way they are coming back. Oil is the lowest it's been in five years. They are going to benefit because we are going to keep flying.
John Layfield: It equates to $2.50 per leg every person flies. It's not that much of a discount. Airlines lost money as an industry since The Wright Brothers first flew their plane. They have run a terrible, terrible business. Now, American with a dividend, Southwest just increased by 50 percent. They are finally making money. They need to leave fares where they are and don't do anything stupid here.
David Mercer: I think they will continue to fly and expand those that are flying. Let's not, you know, let slide away that consumers are experiencing the benefit and the windfall that those gas prices are coming down. That's something they can devote. That money saving they can devote to other spending. I agree with john, airlines have taken a hit since 9/11. American Airlines is just now paying the first dividend in 34 years, which is paying to American investors which is also travelers. I think you are going to see pricing stay the same as they make their comeback. They are only making 5.7 percent Profit which is below the average 10 percent of the S&P 500.
Jonas Max Ferris: Poor airlines. Stocks are going the opposite direction of oil. OPEC said they are going to put oil $10 off a barrel. That's what they did. At the end of the day, there's no demand for it. We are not in a recession. The oil plunged. OPEC is pumping, we are pumping. They are leaving the commodity trade. Companies like JetBlue can make money. They can charge a lot and the cost plunges. It's a gold mine.
Gary B Smith: You mentioned that airlines are gouging us. So what? You don't have to fly. I think it's gouging when Starbucks charges $10 for a cup of coffee. Is everyone saying Starbucks is not charging a fair price. Nobody is charging a fair price. You charge what you can get away with. You don't like the airlines, don't take the airline, take a bus, start your own airline. Buy four seats, do what you have to. That's the great thing about the economy.
PREDICITIONS
Jonas Max Ferris: BATTLES OVER DOORBUSTER DEALS GO GLOBAL; (JNJ) PUNCHES UP 15 percent IN 1 YEAR
Gary B Smith: MORE AMERICANS HITTING THE ROAD; (GT) DRIVES UP 30 percent BY NEXT THANKSGIVING
John Layfield: BIG OIL CLEANS UP BALANCE SHEETS; (CVX) GETS A 20 percent BOUNCE IN 1 YEAR
Tracy Byrnes: JOBS GET TRASHED AS WHITE HOUSE DUMPS 3,400 NEW RULES, REGULATIONS ON COs