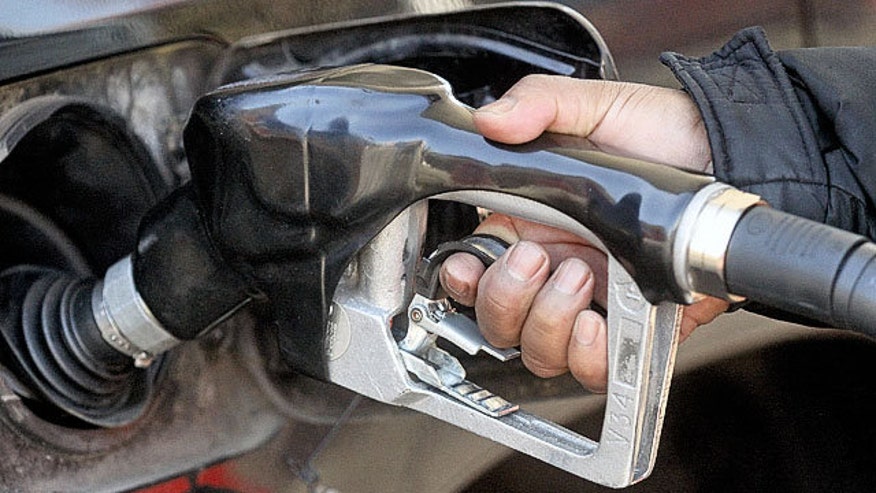 DISCLAIMER: THE FOLLOWING "Cost of Freedom Recap" CONTAINS STRONG OPINIONS WHICH ARE NOT A REFLECTION OF THE OPINIONS OF FOX NEWS AND SHOULD NOT BE RELIED UPON AS INVESTMENT ADVICE WHEN MAKING PERSONAL INVESTMENT DECISIONS. IT IS FOX NEWS' POLICY THAT CONTRIBUTORS DISCLOSE POSITIONS THEY HOLD IN STOCKS THEY DISCUSS, THOUGH POSITIONS MAY CHANGE. READERS OF "Cost of Freedom Recap" MUST TAKE RESPONSIBILITY FOR THEIR OWN INVESTMENT DECISIONS.
NEW CALLS TO RAISE THE FEDERAL GAS TAX FUELING FIERCE DEBATE
CHARLES PAYNE: The roads and bridges are crumbling but what are they doing with the cash? We have seen so many examples of wasted billions and billions. The stimulus, $800 billion, will pave all the roads. All the bridges will be sound. They took the money. They put it out. Everywhere you look, the money is wasted. They raise more in the name of doing the right thing, but they don't do the right thing. I still have to pay the toll on the George Washington Bridge.
CHARLIE GASPARINO: I would be for more infrastructure spending, but we need an audit of the trillion dollar stimulus package. Where did the money go? I bet it didn't go to favored projects. My guess is it stayed in the state coffers so they didn't have to lay people off to keep unions employed. I bet they didn't spend much of that on bridges.
DAGEN MCDOWELL I don't have a problem with that; the gas tax has not gone up 20 years. If you don't get a cost of living increase in Social Security, people lose their minds. Why wouldn't you think the cost of fixing our roads would be going up? At the same time, we are driving more fuel efficient vehicles. It's bringing in less revenue.
BEN STEIN: What is past is prolonged and it's always been true there's a lot of waste in highway and bridge construction. There will be a lot of waste in highway and bridge construction. There's a lot of waste in government contracting. The numbers are totally right. We have to get more money in there. We are not getting enough from the gas tax right now. It's got to be there. Those are the people living in Southern California need great highways.
JULIE ROGINSKY: I am on board with what Dagen said. The next time Charles drives over the bridges and it collapses like in Minneapolis, he's going to be sorry he didn't raise the gas tax.
RESIGNATION OF SECRETARY OF DEFENSE SPARKING DEBATE OVER LEADERSHIP IN DC
CHARLES PAYNE: Chuck Hagel, Chuck Schumer, Harry Reid, a lot of rats jumped ship. With respect to Chuck Hagel, what it reminds me of is President Obama's got to be surrounded by sycophants. One person says I think you might have done this wrong or we miscalculated ISIS... Out! Get him out!
DAGEN MCDOWELL: The White House didn't like him; he didn't like the White House, to boil it down. We always criticize people in government and the administration for not cutting somebody loose.
CHARLIE GASPARINO: It would be nice if he was asked because of the V.A. He went out because he didn't like the slow response to ISIS.
BEN STEIN: It seems to me, as a nation, we have to make a giant commitment to fight ISIS and terrorism. It has to be a national commitment something like fighting a world war. I think Mr. Hagel was for it. He was one of the first Secretary of Defense never to be a non-com, not an officer. He tells it as we see it.
JULIE ROGINSKY: This speaks to a larger problem. The Obama administration has a lack of clarity of what the foreign policy is, replacing Chuck Hagel isn't going to clear it up. It has to come from the left side.
IT'S NOT JUST FAST FOOD: NOW GOVERNMENT IS EXPANDING CALORIE COUNTS TO OTHER MENUS
CHARLIE GASPARINO: So much is common sense. You know me. I like some of the health stuff that the Obama administration is -- like some of what Michelle Obama wants to do, teaching kids to eat healthy. The federal government, its spread so thin that it can't use the google to figure how many calories, in something, you have a little problem. At some point we just, when it comes to health stuff, it become as personal responsibility.
DAGEN MCDOWELL: Calories displayed here in New York City. I have no problem it with it. Go a step further. When you go into a store, I want somebody yelling you, "keep eating that corn muffin in two months you're going to gain ten pounds." We're an obese country.
JULIE ROGINSKY: The more information the better. What's wrong with knowing your facts? If you want, like Charlie said, go out eat a Big Mac and pig out.
CHARLES PAYNE: Starbucks ran a comprehensive study, people cut calories by 6 percent and a couple years later don't give a damn. 15-Year-olds know what's fat and not fattening. This is dumb government overreach. Paternalism run amuck. The kind of reason we have gigantic issues in this world and our government is worried about calorie count it's because we don't know the difference between the damn Big Mac and an apple.
BEN STEIN: It's the Nanny State, thin edge of the wedge, government control. Every child knows a big mac, it's a lot of calories People eat for other reasons other than nourishment. Big psychological compulsions. I don't think we can fight them.
DECEMBER STOCK WINNERS
CHARLES PAYNE : Green Mountain Coffee (GMCR)
BEN STEIN: Berkshire Hathaway Inc. (BRK-B)