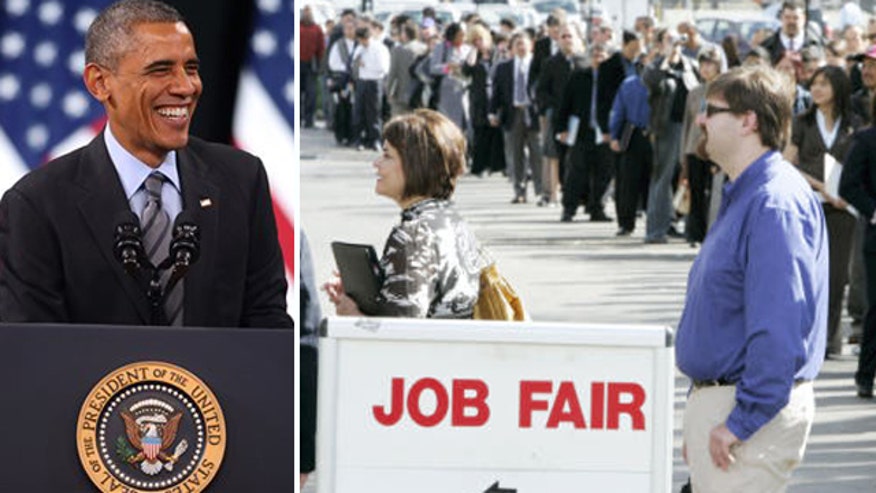 DISCLAIMER: THE FOLLOWING "Cost of Freedom Recap" CONTAINS STRONG OPINIONS WHICH ARE NOT A REFLECTION OF THE OPINIONS OF FOX NEWS AND SHOULD NOT BE RELIED UPON AS INVESTMENT ADVICE WHEN MAKING PERSONAL INVESTMENT DECISIONS. IT IS FOX NEWS' POLICY THAT CONTRIBUTORS DISCLOSE POSITIONS THEY HOLD IN STOCKS THEY DISCUSS, THOUGH POSITIONS MAY CHANGE. READERS OF "Cost of Freedom Recap" MUST TAKE RESPONSIBILITY FOR THEIR OWN INVESTMENT DECISIONS.
JOBS AND ECONOMY IN FOCUS AS PRESIDENT SIGNS EXECUTIVE ACTION FOR ILLEGALS
TRACY BYRNES: We have 2.9 million Americans that have been unemployed for at least 27 weeks. These are legal Americans. Throw in five million illegals that he's issuing worker permits to and where are they going to go? They are fighting for the same pool. Once they get social security numbers, our legal Americans who have been here, trying to get jobs will be on the unemployment line yet again or longer. The system can't afford this right now.
JOHN LAYFIELD: I have to wonder, when did Americans become such wimps and worry about competition? When you are the vice president of a community bank and see an illegal picking fruit and all of a sudden he gets a work permit and he barely speaks English, if you are worried about him taking your job, you have more to worry about. They had very little; to do with the job market once you gave 3 million illegals amnesty. I don't see it happening now. They are lower income jobs. I don't see a negative as far as jobs are concerns. Most of them have the jobs, by the way.
GARY B SMITH: I think the wages are going to have to be market competitive. They could go up or could go down. I'll come back to that in a second, Brenda. I want to build on what Tracy was saying. I used to be in john's camp. I used to agree 100 percent, and then i did some digging. In the last 14 year, net, we added 6 million jobs. 5.7 To 5.8 Million of those jobs have gone to immigrants, legal and illegal. In fact, during that time period, native foreign Americans have lost jobs. Now, back to your point, Brenda, say none of the immigrants have the jobs, in john's scenario, the person outside picking fruit. He would then have to raise his wage in order to attract an American. That would be bad for the employer, but good for the worker. If there are no immigrants, the wages have to go up to attract people. As it stands now, immigrants cost jobs. I have not said that before.
JONAS MAX FERRIS: Well, if we have to have health coverage on 10 million more Americans, it would cause a lot of disruptions. The right to earn more by having a work permit I think that puts pressure on wages at the level above the illegal worker. However, that's good. I mean, otherwise, being in a union is good. Unions lift wages. That's bad for employers. It's not good for the worker, but good for the employer and the economy, to a point. I think this -- it will raise wages for some. It will lower them for others and create job opportunities because they are an illegal. It will create more competition at other levels of jobs.
JESSICA ERLICH: These folks, as Jonas mentioned are already working, for the most part. They are here. They are just undocumented. One of the positives that comes out of it is they get to start paying taxes. Now, they are not only going to be documented, they will pay into the system, they will start paying into social security and they will also help in a way, for us to track down folks hiring illegal immigrants for the crackdown everyone wants going on.
CALLS GROWING FOR OBAMACARE ARCHITECT TO RETURN MILLIONS OF DOLLARS IN GOVERNMENT PAY
JOHN LAYFIELD: Look, this was built on fraud. They got taxpayer money because of the fraud. I think he needs to give it all back or be forced to give it back. He won't give it back willingly. I don't know where the argument came in. We have executive order on immigration. We like dead terrorists, so we don't say anything about it despite the fact it violates international law. With Gruber, he admitted to this. Look, i admit to the fraud, but it was for the greater good. There has to be cause and effect in this. You cannot run this like you are an emperor or above everybody else because we are too stupid to figure things out for ourselves. I think he needs to give our money back.
GARY B SMITH: John makes a good point. Along those points, Obama would have to give back his $400,000 a year. I don't think we are going to get that. Look, I think Gruber is arrogant. I think he is smug. He probably did perpetuate fraud. He had a contract. He was asked to do x, he did x. I think it's horrible. It's going to happen a lot. It happens in corporate America. It happens to government. I don't like it, but he did what he was asked to do. He got paid. Now, I think we should all move on.
TRACY BURNS: How dare you think that you can do this all behind closed doors, collect your money and run off to an exotic island? You are duping the American people. I get it happens in corporate America. That's private. This is public. It's our tax dollars. It shouldn't be a joke.
JONAS MAX FERRIS: Have a seat next to consultants talking about their clients, this is tame. Look I don't like that government hired them; I don't want the private sector doing it so I don't want the NIH or whoever doing it. If your job is to stuff a health care Frankenstein -thing through the system, essentially, didn't he do that? Don't you gate bonus for that? It's not like he failed because he screwed up. People didn't like it. That was the job. That's why they hired him. Only in communist Russia are you going to take away the money. It's not theft. It's ripping off the client and the Client end up being the government in this case.
JESSICA ERLICH: He may be a jerk, but I agree with Jonas in this. This is a professor from M.I.T. This is what he does. He is a management consultant. You have the right to fire him but he's been paid. He got paid to do the job he did. I'm with Jonas on this one, for sure. That's the bottom line, the facts.
CLIMATE ACTIVISTS BLAME RECORD-BREAKING SNOWSTORM ON GLOBAL WARMING
GARY B SMITH: You notice by the way how it's now climate change, not a global warming? They have rebranded it because there hasn't been global warming for 18 years or so. Second of all, it's interesting that they all want this money, billions and billions of dollars spent for the global climate lobby. No one know what is the solution is except move from cheap energy to expensive energy for the Al Gore's of the world. I hope we move on and keep the money here.
JESSICA ERLICH: Well, first of all, it is global warming. We just had the hottest October on record. The storms we are having in places like Buffalo are a direct result of the fact that the ozone has been depleted, we have the bizarre weather factors going on and the worst offenders that create the problems we are seeing that affect our citizenry and cities and also our economy is because of countries like China and other undeveloped nations continuously polluting in atrocious ways into the atmosphere. By helping them, we help ourselves. $3 billion is less than 60 billion on hurricane sandy.
TRACY BURNS: Until you have conclusive evidence that Mother Nature is screwed up and we are going to blame it on climate change and global warming, I say the money stays still. No one, there's not enough evidence, yet, to point to that other than the fact we have had crazy weather.
JONAS MAX FERRIS: Look, I'm for patching the holes in the raft, but at the end of the day, the money well spent would be fighting the change that the bad. Imagine aliens came down and changed the climate. Paint trees white and deflect the heat back. It's the direction we have to go. This is going to get us nowhere. There will never be a global consensus.
JOHN LAYFIELD: Tree-huggers drive me nuts. I am an environmentalist; I have been to Antarctica to study Global warming. All they want to do is punish coal, they want to punish fossil fuels. They want to make a ton of money. They don't offer solutions. There's ways to do it. What they are doing is preposterous.
PREDICITIONS
JONAS MAX FERRIS: DEEP FREEZE HELPS (SNY) HEAT UP 20 percent IN 1 YEAR
JOHN LAYFIELD: PROFIT FROM RATE CUTS (HAL) RETURNS A 20 percent GAIN IN 1 YEAR
GARY B SMITH: THE NAME TO LAST 150 YEARS! (INTC) UP 100,000 percent BY 2164