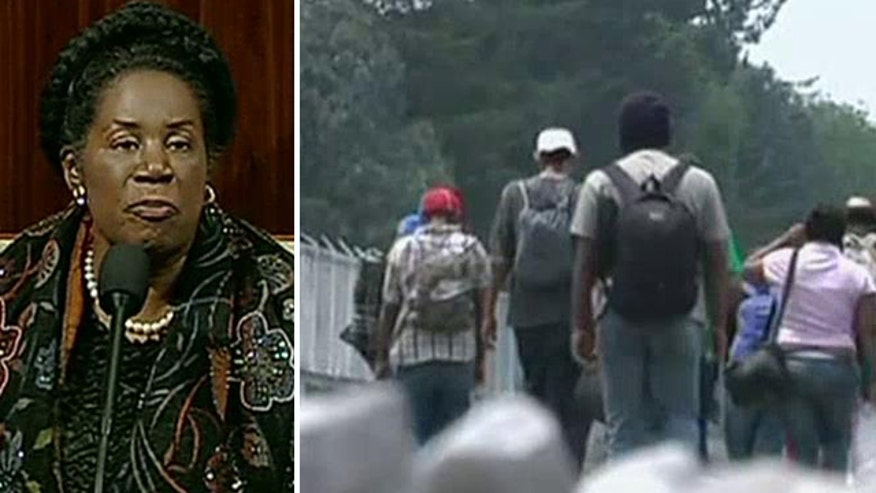 DISCLAIMER: THE FOLLOWING "Cost of Freedom Recap" CONTAINS STRONG OPINIONS WHICH ARE NOT A REFLECTION OF THE OPINIONS OF FOX NEWS AND SHOULD NOT BE RELIED UPON AS INVESTMENT ADVICE WHEN MAKING PERSONAL INVESTMENT DECISIONS. IT IS FOX NEWS' POLICY THAT CONTRIBUTORS DISCLOSE POSITIONS THEY HOLD IN STOCKS THEY DISCUSS, THOUGH POSITIONS MAY CHANGE. READERS OF "Cost of Freedom Recap" MUST TAKE RESPONSIBILITY FOR THEIR OWN INVESTMENT DECISIONS.
REP. JACKSON LEE: 'SELFISH' FOR US TO DENY ILLEGALS ABILITY TO STAY HERE
CHARLES PAYNE: If it came from anybody else, I would be shocked. Rep. Sheila Jackson Lee, D-Texas, is not upset about all of the money that we are spending that other people have earned. She's okay with that. She's okay with disregarding all the sacrifices people made who wait in line. They follow the rule of law. She's not upset about the selfishness of spending trillions of dollars of taxpayer money over people who broke the law.
DAGEN MCDOWELL: I don't like the name calling; I don't care if you are on the right or left. But selfish... if she's into name calling, what is she going to call all the immigrants that came to the country legally and the hurdles they had to jump to get here and stay here? They are the ones who are upset.
ADAM LASHINSKY: Well, I think its fine to focus on the word selfish because I do think that that's what people are being.
BEN STEIN: All human beings are selfish. It's selfish of Ms. Jackson Lee to be appealing to her base and the democratic machinery by calling the republicans selfish. It is not selfish to want to enforce the laws. It is not selfish to want an America with borders. It is not selfish to not want to shell out of their wages. They don't want to support illegal aliens. Taking in millions of illegal aliens, supporting them. To call Americans selfish and ungenerous is an outrage. It reminds me of another "s" word, stupid.
SEN. MCCONNELL PROMISES TO RESURRECT KEYSTONE LEGISLATION IN 2015, AS PRESIDENT REJECTS KEYSTONE 'JOBS' ARGUMENT
DAGEN MCDOWELL: They don't have a legitimate excuse to oppose the Keystone Pipeline. The unions want these jobs. Construction jobs are temporary. Its two years temporary.
CHARLES PAYNE: It's the only thing the president could cling on to and it sounds crazy, consider this year, we created more part time jobs than full time.
BEN STEIN: It's an excuse. There is no reason not to build the keystone pipeline. We don't need it right now. It's a national security mesh. This argument about whether the jobs are temporary or permanent is nonsense. It's made up out of thin air. There's no economic meaning at all.
ADAM LASHINSKY: I think the president's jobs argument is a nonsense argument. By the way, Neil, he has a finite time job. We know when his job ends.
GOVERNMENT PENSION AGENCY $62B IN THE HOLE; SPARKS NEW BAILOUT FEARS
BEN STEIN: I think it will mean bailout at some point. This expansion will not go on forever, this boom not go on forever. There is going to have to be a bailout at some point. It's a shame, but that's so true of all the government.
DAGEN MCDOWELL: A lot of dollars. $62 billion. However, all they need to do raise premiums that the companies pay in to the PBGC that needs to happen before the taxpayers step up.
CHARLES PAYNE: A ticking time bomb. Sad and a lot of these, missed the stock market rally.
ADAM LASHINSKY: If necessary, but the good news is, it's unlikely it will be necessary. Money is still coming in into to this system and highly unlikely all of it would be needed at once. Possible, but not the biggest concern we have.
'RETIREMENT' STOCKS
CHARLES PAYNE: Parker-Hannifin (PH)
ADAM LASHINSKY: Calpine (CPN)
BEN STEIN: S&P 500 SPRDs (SPY)