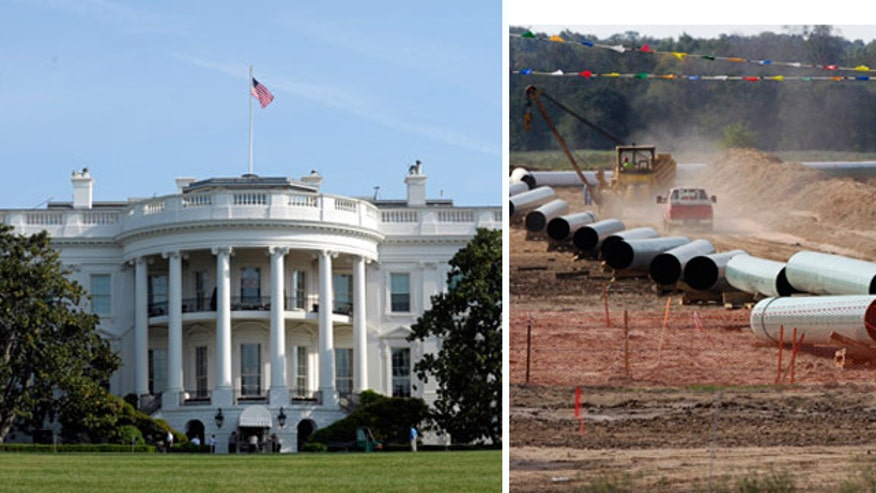 DISCLAIMER: THE FOLLOWING "Cost of Freedom Recap" CONTAINS STRONG OPINIONS WHICH ARE NOT A REFLECTION OF THE OPINIONS OF FOX NEWS AND SHOULD NOT BE RELIED UPON AS INVESTMENT ADVICE WHEN MAKING PERSONAL INVESTMENT DECISIONS. IT IS FOX NEWS' POLICY THAT CONTRIBUTORS DISCLOSE POSITIONS THEY HOLD IN STOCKS THEY DISCUSS, THOUGH POSITIONS MAY CHANGE. READERS OF "Cost of Freedom Recap" MUST TAKE RESPONSIBILITY FOR THEIR OWN INVESTMENT DECISIONS.
SENATE TO VOTE ON KEYSTONE PIPELINE BILL WITH WH SIGNALING PRESIDENTIAL VETO
GARY B SMITH: It rests on three key points. You have the potential impact on the price of gasoline, you have the environmental aspect, and you have the jobs aspect. Let's talk about price and take that off the table. The oil is probably going to get here anyway, whether it's by train or truck or by the pipeline, so I think the price is definitely going to be a positive impact but probably minimal. So now let's look at the environment, as I said the oil is going to come here but its already been shown that the current way in, by truck and rail is actually less safe than building a pipeline so we can take that off the table. So that leaves jobs and both the state department and Trans-Canada, who is building the pipeline, estimate, they are in agreement, 42,000 jobs, this is a no brainer
SASCHA BURNS: At the end of the day I think the President isn't going to veto it and it is going to go forward and I think it is about time that it does. The reality is 42,000 jobs, yes, that is great, don't get me wrong, but it is really a drop in the bucket comparatively to what the President is trying to do in terms of climate change. And that is one of the most of the important issues we are facing and will face in the near future.
TRACY BYRNES: I really think the President is going to veto it. I don't get why the President is pandering to the environmentalists at this point. No one is voting him back in anywhere anytime soon. This is good for the country. We have bipartisan support on this. It would be foolish to walk away without this because at least it's something positive we can say, "Hey, President Obama did something really good for jobs for energy independence."
JOHN LAYFIELD: This oil, this gas is going to go on the global market anyway so you are going to see it whether it goes to Asia or it goes to us. We get all of the CO2 emissions but whether we get the oil is completely up to us. We get about 36 percent of our oil from Canada, the oil we import but also remember the Bakken Formation in North Dakota is at a massive bottleneck right now. This is actually a shovel ready job. I know the President might not recognize any of those; he spent about $800 million trying to find them. This is a shovel ready job that alleviates the bottleneck in North Dakota because Famers are complaining in North Dakota that they can't get their crops out and can't get their fertilizer in because every train available is trying to get oil out of there.
JONAS MAX FERRIS: The President has had ample opportunity in other places to slow the production of oil down; we are at all-time highs in the United States. Obviously, he has done nothing; it's all over North America. This is just to pretend he is an environmentalist, if he was he would have, early on in the administration, tried to increase off shore drilling, let all the fracking take off. He really is not an environmental president other than the cap standards that have gone up on cars. You really can't make the case that he is really worried about the production of oil in America or we wouldn't be at all-time highs.
OBAMACARE SHOPPERS BRACING FOR PREMIUM SPIKES AS ENROLLMENT REOPENS
TRACY BYRNES: It's bad news for everyone. Everyone is getting up this morning, pouring their cup of coffee and potentially go online and try to enroll. All you are going to find is that those supposed lower priced plans long gone. If they are still their prices have gone up so you are going to be forced into these higher premium plans. In some states premiums are going up sometimes 20 percent. So this is bad news for sentiment, it's bad news for your wallet and over all its just bad news for the economy.
GARY B SMITH: Look, if we take a step back and look at what ObamaCare is it is basically a big shell game. I am healthy and I can afford it, my premiums have gone up 40 percent. My 25 year old daughter who files on her own and makes nothing per year, she gets $176 a month credit so she doesn't have to pay anything. So all we have done is move money from one entity to another through the government. Now when in the history of the United States has moving money through the government in a big shell game not hurt the economy?
JOHN LAYFIELD: The first round of ObamaCare has been paid for by a ton of different tax increases, you can go through them but its 20 something deep.
JONAS MAX FERRIS: Insurance in general leads to overconsumption of anything. If you have insurance on your car you are going to fix a ding if it's covered, if you don't have insurance you are not going to fix a ding. It's like that with health insurance too. Whether the rich people are paying for it with capital gains or you are paying for it with a higher premium you are now going to consume more health care because you didn't have any or you had less coverage. A lot of these increases are because you have more coverage. You don't have to pay for physicals, which you use to have to pay for so you are going to see more money spent in the health care industry and a lot of it is paid for by employers and that is bad for the economy but so was any employer provided health care. This is just more of an already taxing situation to employers who just want to write you a paycheck to do your job. They don't want their HR department to hunt around for health insurance companies. It's a stupid system we got ourselves into.
UNION-BACKED PROTESTERS GEARING UP TO BASH WALMART ON BLACK FRIDAY
GARY B SMITH: Well this is all a union tactic dating to back in the 1950s, twisting arms and hitting people over the head with crowbars although they try to do it a little more subtly now, they are trying to wring higher wages from Walmart and it's not going to work because Walmart can go out and hire more people. But what will happen is when you drive up to a Walmart and you see it's blocked by a mob, what are you going to do? You are going to go down the street to the Target or the Sears or something like that. So Walmart's sales will suffer and they will have to lay off people. It's going to end up hurting the worker.
Sascha Burns: I think if people are willing to go out on black Friday when people get trampled on then they will probably be willing to go through some protesters. I do not think it is going to have a significant impact. These aren't people that aren't showing up to work. They are demonstrating their right to protest
John Layfield: These protestors are always a lot more bite than they are bark. There's going to be some loudmouth with a few thugs behind him yelling some slogans and stuff about Walmart. But the truth about the matter is 6,000 employees are only making minimum wage at Walmart out of 1.3 million. I don't understand exactly why they are going after Walmart, except for the fact that the Unions want money because Walmart is not unionized.
Tracy Byrnes: It's totally about the unions and the workers' pay will get hurt in the process. Black Friday is not the big holiday anymore. You have all these other days with big sales. They are missing the boat on that. People are going to shop regardless. But if this hurts Walmart's bottom line, it will hurt payrolls down the line, which only hurts the workers.
JONAS MAX FERRIS: At the end of the day the consumer will step over somebody blocking the entrance to get $20 off a GoPro camera. If they went to target over this, if anyone did, you don't think they would pay the half a percent of workers who make minimum wage something other than minimum wage so they can say "No one gets paid minimum wage at Walmart"? How little that would cost a company like Walmart? They don't do that because the consumer does not care at all. In fact it might remind them that this must be the cheapest place to shop because they don't pay a living wage to anybody! So I would think if the consumer really cared about this, they would want to pay a higher price at a higher wage, just shop at a place that pays more. Just one season and this would go away so quickly your head would spin.
PREDICTIONS
GARY B SMITH: MORE PEOPLE EATING AT HOME HAS (KRFT) COOKING UP A 40 percent PROFIT IN 1 YEAR
JOHN LAYFIELD: GET READY FOR MORE INFRASTRUCTURE! (MLM) BUILDS UP 20 percent IN 1 YEAR
JONAS MAX FERRIS: "SHAKING OFF" SPOTIFY HAS (GOOG) SHAKING UP A 20 percent GAIN IN 1 YEAR