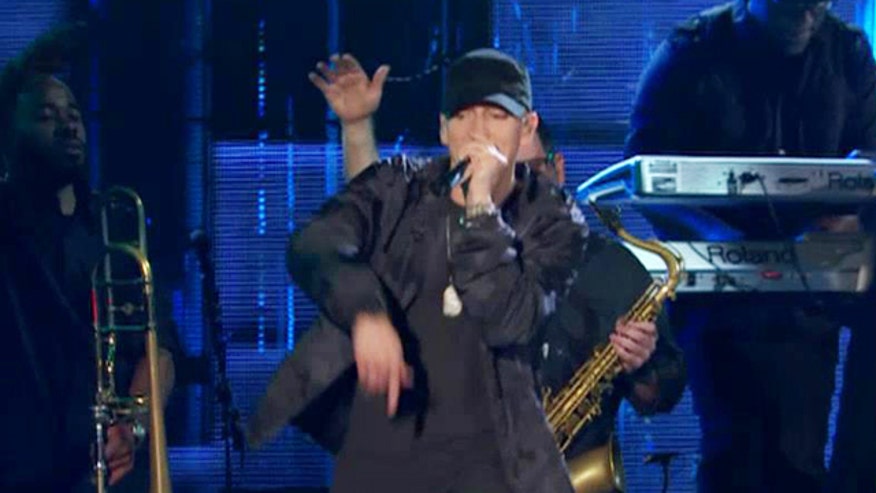 By Greta Van Susteren
Let's all go "Off the Record." Rapper Eminem under fire for his f-bombs. That's plural - f-bombs during HBO's "Concert for Valor" celebrating Veteran's Day.
(BEGIN VIDEO CLIP)
EMINEM: D has to be the [expletive] come to [expletive]
I don't give a [expletive] what you think [expletove]
(END VIDEO CLIP)
One f-bomb might be a mistake. But multiple times, well, that's a plan. And if you don't like it, blame HBO. They knew it would happen.
But I have a far bigger issue with Eminem than HBO, than the f-bomb. That's just a word. Everyone has heard it. You may hate it, but that's not nearly as bad as promoting domestic violence. Eminem did that in a freestyle rap released earlier this week.
(BEGIN VIDEO CLIP)
EMINEM: Punch Lana Del Rey in the twice broad daylight in plain site of elevator surveillance. Banging on the Ravens. Celebrate with the Ravens.
(END VIDEO CLIP)
Did you catch that? Eminem says he will punch singer Lana Del Rey in the face like Ray Rice. That's not just vulgar words, that's promoting domestic violence - so much worse. Don't come back and say that's just art. When I hear those lyrics, I don't think art, I think this.
So ask yourself, is Eminem really the guy you want your children watching in prime time on the one day a year we stop and honor our vets and their families? If not, tell HBO. They knew what they were doing.
That's my "Off the Record" comment tonight.