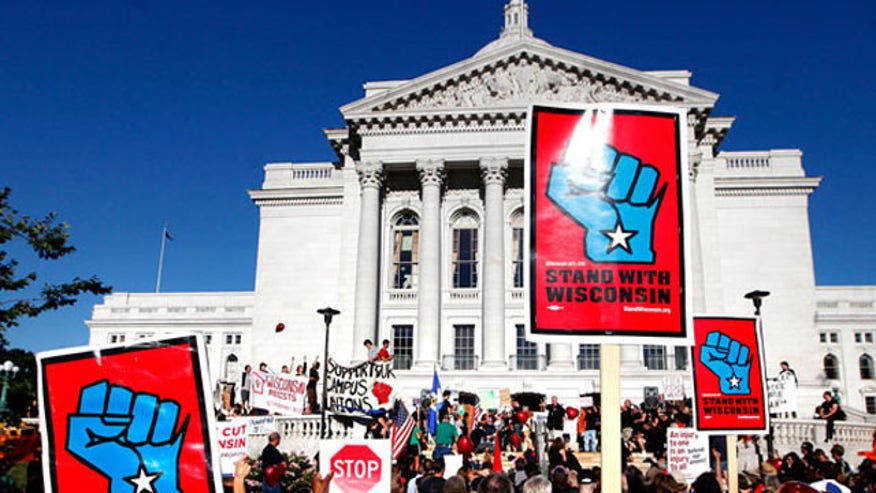 DISCLAIMER: THE FOLLOWING "Cost of Freedom Recap" CONTAINS STRONG OPINIONS WHICH ARE NOT A REFLECTION OF THE OPINIONS OF FOX NEWS AND SHOULD NOT BE RELIED UPON AS INVESTMENT ADVICE WHEN MAKING PERSONAL INVESTMENT DECISIONS. IT IS FOX NEWS' POLICY THAT CONTRIBUTORS DISCLOSE POSITIONS THEY HOLD IN STOCKS THEY DISCUSS, THOUGH POSITIONS MAY CHANGE. READERS OF "Cost of Freedom Recap" MUST TAKE RESPONSIBILITY FOR THEIR OWN INVESTMENT DECISIONS.
POLITICIANS BATTLING POWER OF PUBLIC UNIONS SCORE ELECTION WINS
JOHN LAYFIELD: People don't like what they have. They won't change. We have a bunch of unqualified guys out of Congress. They happen to be Republicans. I'm not sure if there's a reason for a big party here, but voters are going against the system. They don't like big government. They don't like unions not offering choices in school. Hillary Clinton, she lost in nearly every race she helped President Obama. His own party was running from him. The old guard is in trouble. People won't change. I'm not sure we got it, but it's what we voted for.
GARY B SMITH: Two messages, Brenda. People care about their money, whether it's their own or money that gets confiscated by Washington and they also care about the inefficiencies of unions. It's funny, in the history of the United States, the government always comes down heavily against unions saying they are not efficient or gouging up a price. Companies like AT&T and IBM, when I was there, they were coming at us. Microsoft here and in foreign countries. When you have the teacher's union government which is heavily unionizes, the government stands back and says that's okay. You get the same thing. You get higher prices, you get inefficiency and i think that's what the voters are looking for. Hey, how can we spend our money better? It's certainly not a teacher's union where we are getting higher prices, if you will, and less output.
CHUCK ROCHA: I told you before I came on, we weren't going to talk about the elections if I came on here. People are frustrated. I would remind folks two years ago, i was here, we talked about is Wall Street dead? Big labor is back. What John said is right, they are fed up. They are throwing people out trying another one. We went from black cat to white cat, now black and white cats. The problem is, we're electing cats.
TRACY BYRNES: There's something telling about the unions. The national education system $40 million, it was most telling at the gubernatorial level, too. Republican governors won. I think this is saying something about the collective bargaining process. I think people are sick and tired of seniority as opposed to merit. We will see it more and more between the teachers and unions out there. Unions are losing their membership. We saw it in this election.
JONAS FERRIS: I don't see the huge impact with tax payers, maybe with teachers unions. Consumers benefit when unions take a hit. I don't see how it leads to higher tax rates or lower tax rates. It's consumer price thing, a corporate price thing, shareholders benefit. As far as most taxpayers, it's not where the win was. 98 percent of people are paying a low rate. There's 2 percent that really are paying more than they were a few years ago. Everybody else, they never got a big break.
GOP LEADERS VOW TO DISMANTLE OBAMACARE IN NEW CONGRESS
GARY B SMITH: They could start with the employer mandate, Brenda. Look, I think there are parts with ObamCare that are actually okay. I think its fine to have a backstop for people that have existing illnesses, for people that can't afford health care. The problem is, it's another big government monopoly. I was playing $360 a month to $520 a month. That's almost an extra $2,000 a year. It's affecting families across the board. I didn't need all the other stuff they had. If they offered a plan that didn't have all the bells and whistles that most people don't need, it would be great. If I could save money, it's like not having to pay more for gasoline, you can spend more elsewhere and put it back into the economy.
JOHNL AYFIELD: I think it will go up some. I think it's incremental. The mistake Republicans can make is trying to do something with ObamaCare in 2014. President Obama sunk his presidential career because of ObamaCare. He created so much ill will nothing else has gotten done. The Republicans are about to do something that could be just as dumb. If they go after ObamaCare first, they are going to sink their careers like President Obama did.
TRACY BYRNES: The medical device tax. It is unnecessary. 2.3 percent on pacemakers. Raise the price of stuff. Bottom line people lose jobs. Get rid of it. It's unnecessary. These stocks have been killed by the tax once it was announced. Get rid of it. There's bipartisan support for that. Thirty-two Republicans and Democrats are willing to get rid of that.
CHUCK ROCHA: When Obama got in office, the stock market was at 8,000, when the implementation of ACA went into effect it was 10,000 now, 18,000. Unemployment was 10 percent, now 5.7 percent. It didn't get worse.
JONAS FERRIS: I don't know how much lower unemployment is going to go than 5.7 percent Just by getting rid of the plan. They might get rid of it because on Friday hospital stocks tanked in the middle of the day because maybe the Supreme Court is going to say stays without exchanges don't get reimbursement. What hurt the job market with ObamaCare is what could have been done in all the years we wasted on ObamaCare during a bad recession. We should have had an FDR-type program. Instead, we are playing around with health insurance. It was opportunity costs.
REPORT: RUSSIAN HACJERS PENETRATE POWER GRID, INSTALL MALICIOUS SOFTWARE
TRACY BYRNES: Our grid is weak to begin with. It wasn't built with cyber terrorism in mind. Take out the grid, you take out the whole economy. You are talking government agencies going down, our banking system. Ask JP Morgan how it goes down. They could wipe out the banking system. They are just preparing for it. They are here, looking around, trying to see what they should do and where they should be in the event of an attack. They are prepared, we should be too.
CHUCK ROCHA: We can put a cell phone in a watch, we can figure out how to upgrade the power grid. Quit studying monkeys and wheat grass and invest in the power grid, putting people back to work and making us more modern to help business grow.
JOHN LAYFIELD: Look at what happened with the stuxnex virus in Iran, we melted an entire nuclear facility by putting a computer virus in here. That's what can be done here. The lone wolf is scary and almost impossible to stop. The biggest threat is how a hacker can get into our grid is something that the government is significantly worried about. Look at the software. Silkroad 2.0 selling drugs and arms openly on the Web. Very little can be done because of the encryption. This is the biggest threat.
JONAS FERRIS: Yes, there are hacking risks. Some of them are just showing off. It's not a huge crisis, necessarily. A lot of it is financial. That goes on in private industry. Is it a risk? I don't see the Russian government rushing in and hacking to destroy America.
GARY B SMITH: Other than a nuclear attack, this would be the worst kind of attack on the United States. This has been studied. If they struck only nine of the 55,000 power plants, they could disrupt American power for 18 months. If we had that outage, 200 million people in this country would die from starvation, disease and anarchy. We should be on top of this right now.
PREDICTIONS
GARY B: HRB
JONAS FERRIS: JBLU
JOHN LAYFIELD: DFS