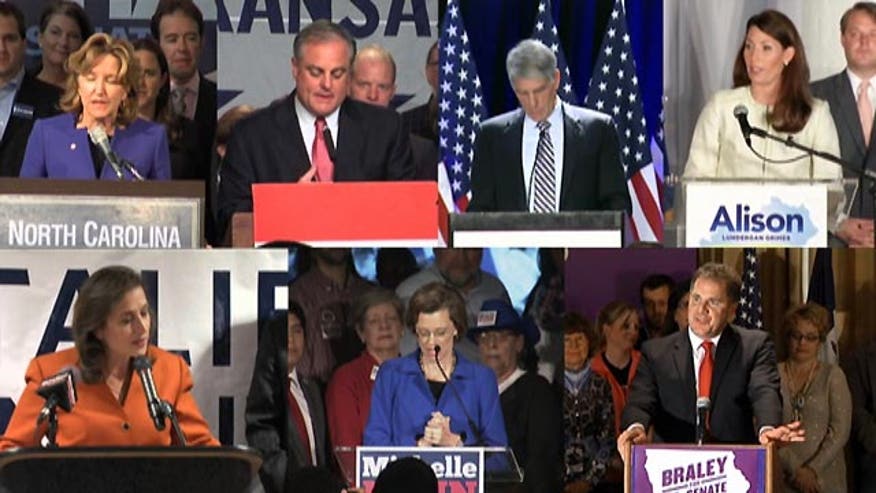 I want to take this moment to talk to all those Democrats who declined coming on Fox.
Who all but called us the f-word.
But now are the ones f'ed.
Is it me, or were all you Democrats who blew us off the ones who are now packing up?
The ones who ignored our calls to come on, now the ones who are on your way out?
Look, I think anyone has the right to decline us, but they might want to think twice about the wisdom of always ignoring us.
Look at the midterms. Look at yourselves.
For one thing, we don't bite.
And when it appears we do we tend to be fair and bitingly balanced when we do.
Remember this?
Or back when I was bemoaning bank bailouts not under this administration.
The Bush administration.
My point is this.
This ignoring us is pointless.
Do I look that mean? Or are you that blind?
How many times have I said we're not red. We're not blue. We're green. Just green just your money. And focused on the folks in charge of your money.
Most politicians who get that have no problem dealing with that.
They can take the heat, they have no problem with our kitchen because they can think for themselves.
No party tells them where to go these are the Republicans and Democrats who tell their parties where to go.
Like Congressional Black Caucus Head Emanuel Cleaver, who just won reelection with 52 percent of the vote.
Or House Minoirty Whip Steny Hoyer, who just nabbed 64 percent of the vote.
Or Assistant Democratic Leader James Clyburn, who just captured 73 percent of the vote.
Pretty comfortable in their convictions but pretty comfortable coming here as well to express them.
I'm sure Democratic operatives told them stopping by would be bad but silly me, to a man or woman, they all seem to be doing pretty well despite it.
At least with me always fair and balanced with me.
And always happy to come on and state their case with me.
And not a one of 'em suffered for it at home.
Not California Democratic congressman Xavier Becerra, who just won in a landslide with 73 percent of the vote.
Or rising House Democratic star Chris Van Gollen, who just won 60 percent of the vote.
Even those not up, never seemed to have a problem coming down.
Pennsylvania Democratic senator Bob Casey.
West Virginia senator Joe Manchin.
Reminders all that maybe Fox isn't the problem.
Maybe those who foolishly follow party orders are.
Don't take it from me. Take it from some of your own party stars who didn't have a problem talking to me.
Dick Durbin from Illinois.
Outgoing Maryland governor O'Malley.
I'm sure each was told, why bother.
But they bothered.
Just like a Democrat who ran for president did.
And a Democrat who was president did.
And another Democrat who was the first African American governor who paved the way for this president always does.
These are smart guys eager for the give and take.
And in the case of former Democratic New Mexico governor Bill Richardson, all the more happy to give it back.
So maybe now's the time to start paying less attention to what party operatives say and more attention to what you want to say.
Because look around.
We're still here.
And you're not.