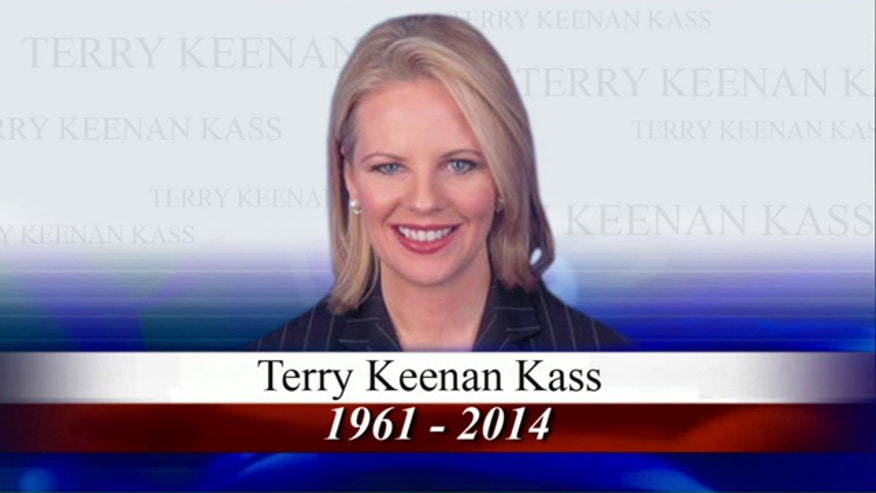 I so wanted to do this last Friday, but with all the breaking news, there simply wasn't enough time to give it justice.
Even though this was especially heart-breaking news to all of us here in the business unit at Fox and I did make a point of sharing it with viewers this past weekend.
A colleague, a friend was gone.
News Terry Keenan had died of a massive cerebral brain hemorrhage.
It happened last night.
It has yet to really sink in today.
Some of you might remember Terry.
For regular Fox News fans, how could you not?
She was the stunningly beautiful and just as stunningly smart host, who put a weekend show called 'Cashin' In' on the map and helped forever change the notion business news could never draw an audience on weekends.
It did. She did. And thanks in large part to Terry's pioneering efforts, that show and the three others that make up Fox's weekend 'Cost of Freedom' biz bloc -- still do.
Probably because back then it was all so unusual, so weird business news in English.
And this Johns Hopkins University summa cum laude mathematics major, no less, leading the charge to keep it real.
I used to joke that Terry never met a fashion designer she didn't like.
Which was my way of addressing the looks she'd give me for some shirt-and-tie combination I know she didn't like.
We were about the same age. But somehow, Terry seemed ageless.
And when it came to business news - relentless.
Whether here at Fox or before that, CNBC and CNN - terry made folks take notice.
And readers of her newspaper column take cover - especially this one from just a few days before her death tumbling gas prices could be a bad thing.
That was Terry's thing. Her journalism was a beautiful thing.
As was Terry.
But behind the beauty and the brains and seemingly effortless style was a good soul.
And a remarkably good person.
To staff members who loved her.
And crew members who today couldn't help sharing stories about her.
How she used to cut it close getting to the set, but cut no guest any slack when the tally light was on.
Or how she loved juicy gossip the New York Post's Page Six was a favorite.
She'd disarm you with a smile that could melt you.
Because she really did care for you.
I remember hearing from her not too long after I had been diagnosed with multiple sclerosis and was still knee-deep in self-pity.
"You'll be fine, Neil," she said. "You've got your family. Stay strong for your family."
How ironic I think of Terry's family now.
Her loving husband Ron of 20 years.
Her wonderful son Ben of 15 years.
Their whole world suddenly turned upside down overnight.
Many of you have no doubt read about the passing of a financial anchor who talked about prices.
Trust me when I say the world has lost something far more priceless.
Terry Keenan.
Gone at 53.