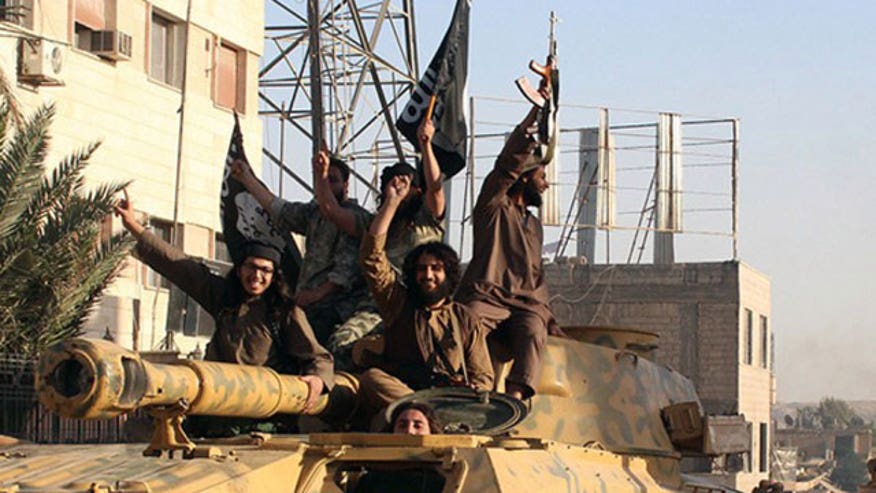 DISCLAIMER: THE FOLLOWING "Cost of Freedom Recap" CONTAINS STRONG OPINIONS WHICH ARE NOT A REFLECTION OF THE OPINIONS OF FOX NEWS AND SHOULD NOT BE RELIED UPON AS INVESTMENT ADVICE WHEN MAKING PERSONAL INVESTMENT DECISIONS. IT IS FOX NEWS' POLICY THAT CONTRIBUTORS DISCLOSE POSITIONS THEY HOLD IN STOCKS THEY DISCUSS, THOUGH POSITIONS MAY CHANGE. READERS OF "Cost of Freedom Recap" MUST TAKE RESPONSIBILITY FOR THEIR OWN INVESTMENT DECISIONS.
NEW GROUP WORKING TO EXPOSE AND TARGET SECRET FUNDING FOR ISIS
CHARLES PAYNE: I love the idea. People need to think of ISIS as a classic business startup. They have seed money from wealthy people- then they have the general business- al Qaeda chipped in and local business chipped in. Where do they bank this money? The money is getting funneled through a Western bank, which probably has access to the Federal Reserve.
BEN STEIN: They are self-supporting. They are taking in money from refineries, kidnappings etc. I don't think this is going to be particularly fruitful. The issue is not to cut off the charge card but to kill them.
DAGEN MCDOWELL: ISIS has a micro=economy it's very hard to crack.
CHARLIE GASPARINO: They do probably have some banks involved, but the real issue is can we track who they are selling the oil to. We should be able to find out who is buying it. You would think the CIA would have a beat on this already.
ADAM LASHINSKY: Is this appropriate activity for a private group. I think we can wage effective economic war on them, but the question is.. is it enough.
TAXPAYERS BRACE FOR PRICE TAG AS GOV'T PLANS MASSIVE DETENTION CENTER FOR ILLEGALS
BEN STEIN: I wish they took the money and sealed the border- what is taking so long!
ADAM LASHINSKY: What do we do about the humanitarian problem that exists?
DAGEN MCDOWELL: They have been trying to deport the people that have gotten in here- but over the last 4 years the budget of the border patrol has gone up.
CHARLES PAYNE: If I was from El Salvador it sounds like Mariott is opening more places to come to. If I'm from a different country and making $4 a year, I'm coming right up! You're inviting me! The more facilities you build, the more of a green light to say come on up the water is great!
CHARLIE GASPARINO: The Democratic party looks at the immigration issue and turning all of them into voters.
SENATE DEMOCRAT PUSHING PLAN TO REDUCE STUDENT LOAN DEBT FOR GOV'T WORKERS
CHARLES PAYNE: Give me a break! Guess who pays for it, everyone here watching the whole who doesn't work for the government.
DAGEN MCDOWELL: I hate this! I think it's completely unfair for people who choose to work for private businesses - which is where people should be going anyway.
CHARLIE GASPARINO: One of the perks for working in the government was job security, now it's more.
BEN STEIN: Government workers are well paid, they don't need it.
ADAM LASHINSKY: I hate the way we are denigrating government workers, who chose not to work in the private sector and could have made more money perhaps.
PREDICTIONS
CHARLES PAYNE: (SCTY)
ADAM LASHINSKY: (VTV)
BEN STEIN: (BRK-B)