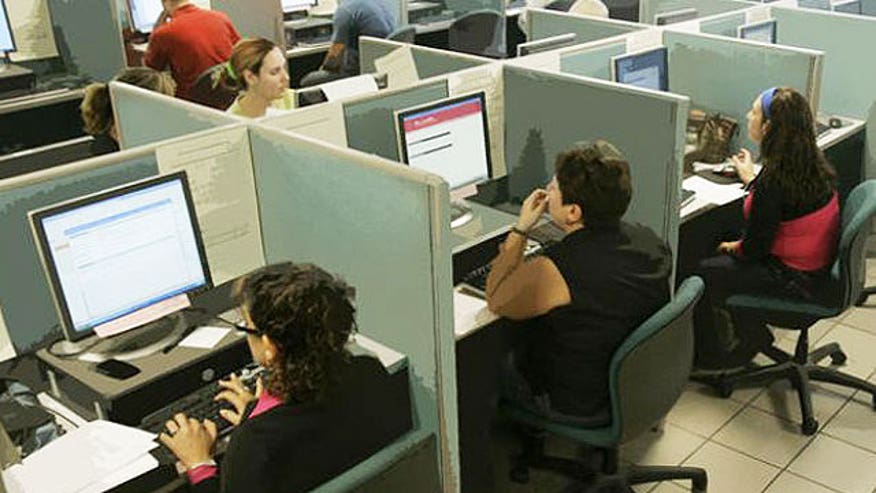 DISCLAIMER: THE FOLLOWING "Cost of Freedom Recap" CONTAINS STRONG OPINIONS WHICH ARE NOT A REFLECTION OF THE OPINIONS OF FOX NEWS AND SHOULD NOT BE RELIED UPON AS INVESTMENT ADVICE WHEN MAKING PERSONAL INVESTMENT DECISIONS. IT IS FOX NEWS' POLICY THAT CONTRIBUTORS DISCLOSE POSITIONS THEY HOLD IN STOCKS THEY DISCUSS, THOUGH POSITIONS MAY CHANGE. READERS OF "Cost of Freedom Recap" MUST TAKE RESPONSIBILITY FOR THEIR OWN INVESTMENT DECISIONS.
NEW REPORTS ON US WORKERS FUELING JOB SECURITY FEARS
RICH KARLGAARD: The government can't create growth, but they can create the conditions for growth by streamlining taxes, regulations, adhere to a stable dollar policy.
RICK UNGAR: Government on its own can't stimulate growth. There are other things to look at. We are finally starting to see the place where the benefits of shipping jobs overseas are weakening and more companies are bringing those jobs back home. This is a good thing. We do have to be mindful that we have to pay these workers a fair living.
STEVE FORBES: Regulations have made it hard for small businesses to get loans, we have a convoluted tax code, the highest corporate tax rates in the world, an unstable dollar, a healthcare system that is collapsing- it's amazing we are even doing as well as we are doing.
MIKE OZANIAN: FDR and Obama both basically believe you have to attack success. If you look at what drives economic recovery its business investment- that's where those higher wages that's missing it comes from. This President has raised the combined the top tax rate for dividends and capital gains to 43.4 percent from 35 percent - he is punishing successful investment.
SABRINA SCHAEFFER: One of the problems is that government does deserve a lot of blame because they have been micromanaging wages and pushing conversation about contraception instead of saying we need more energy exploration, stop pushing for high minimum wage and paycheck expansion- these are all things that are going to drag the economy down.
JOHN TAMNY: Income is a form of investment and this administration has been very anti-investment. At this point the economy suffers from too much Washington attention. Too much of Washington trying to fix the economy- stimulus, quantitative easing. The problem with all of this intervention is that it's robbed us of a significant recovery. The best fix is gridlock, because if Washington gets out of the way we will naturally start growing.
WALMART OFERING CHECKING ACCOUNTS WITH NO MIN BALANCE, NO OVERDRAFT FEES
JOHN TAMNY: This is a great story, why wouldn't people want a bank where they tend to shop. It needs to be pointed out that Walmart has been trying to get into banking for decades.
RICK UNGAR: We have to keep in mind; there is a fee to use the service, Walmart will benefit greatly from the interchange. There is something in it for them. Maybe it will stir the other banks to do similar things.
RICH KARLGAARD: I like competition, and I like that a highly capitalized company like Walmart is coming in and giving them competition- it should be applauded. Walmart is the tip of the ice berg, Apple's latest iphone announcements- Apple put a lot of emphasis on suing your iphone to point and shoot and buy products, automate paying systems. We are on the cusp of real revolution in banking.
STEVE FORBES: This points out that regulations are killing small banks. Walmart is showing you don't need all these regulations.
SABRINA SCHAEFFER: This is coming from the consumer; consumers are getting tired of the murky fees and lack of transparency. This is great. People want the same kind of choice when it comes to their finances.
MIKE OZANIAN: We will know how successful this is by the speed in which politicians come in and try to stop it.
NEW POLL: SUPPORT FOR LEGALIZING MARIJUANA DROPS TO 44 percent FROM 51 percent LAST YEAR
STEVE FORBES: It's going to take more than one poll to see if it's a trend. People are learning that pot is a dangerous thing especially when you lace it with food.
RICH KARLGAARD: I think national polls are not relevant here. How Americans as a whole think about pot may be different than state by state.
SABRINA SCHAEFFER: This is a textbook example of how the news cycle affects public opinion polling. What is happening is people are hearing about the legalization of pot all the time now, and its usually tied to a negative story as a result when they get polled they have something bad to say. I don't think this suggests a significant shift in opinion, just a matter of time and things will go back to normal.
JOHN TAMNY: Why do we need politicians to make them illegal, we don't want politicians dictating other things in our lives, so why here? If pot is so bad, why create a law for it - we can take care of ourselves.
RICK UNGAR: If you want to outlaw pot, fine but then you have to do it to alcohol too.
STOCK PICKS
MIKE OZANIAN: (WBC)
JOHN TAMMNY: (SWY)