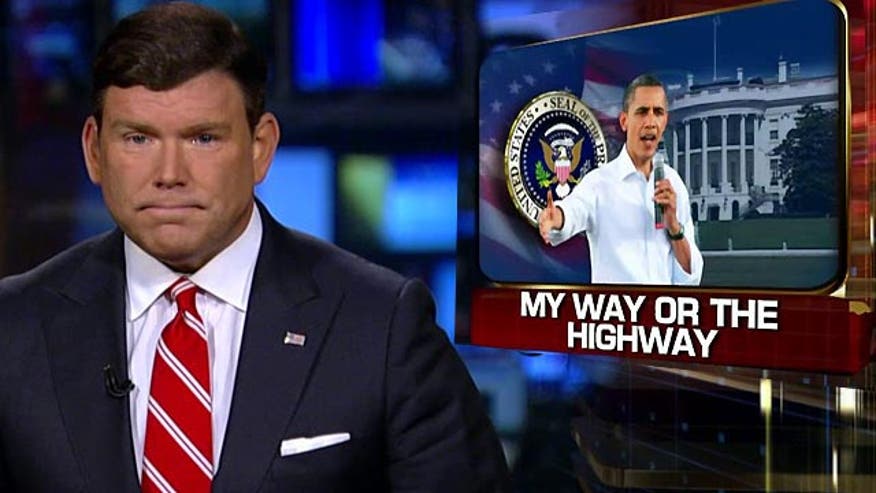 Now some fresh pickings from the Political Grapevine...
Editorial Decision
Several print journalists say they have been told to change their stories on presidential events written for distribution to the media at large or they will not be released.
A pool reporter covers the president at small-scale events, such as Oval Office meetings, where big crowds are not practical. That person's account is then sent to all other journalists by the White House press office.
But the Washington Post reports Obama press aides have insisted on changes using their role as distributors as leverage.
One reporter says he was told to delete a comment the president made on Air Force One. Another was told to take out a reference to a White House intern fainting.
White House Correspondents Association president Christi Parsons tells Fox News, "The independence of the print pool reports is of utmost importance to us. Our expectation is that the White House puts out the pool report and asks questions later."
The White House issued a statement saying it values the role of an independent press pool and has worked to expand pool coverage under the Obama administration.
Coffee Cup Salute
The president's coffee cup salute while exiting Marine One has sparked jeers and a spirited debate on presidential protocol.
Sunday, President Obama gave the traditional salute with travel cup in hand. Some on social media dubbed it the "Latte Salute," others "Semper Chai." Many called it disrespectful. Others unearthed the photo of President George W. Bush's non-traditional salute while holding a dog.
Both, it seems, deviate from proper protocol.
A Marine manual states -- Do not salute "when carrying articles with both hands or being otherwise so occupied as to make saluting impractical."
Making a List
Our own Steve Hayes found out Tuesday he has landed on the Terrorist Watch List, meaning he has to go through tougher searches and screenings to board a flight.
Steve suspects some of his recent overseas travels may have gotten his passport flagged.
We reached out to Homeland Security for an explanation. They directed us to the FBI. They have not gotten back to us.