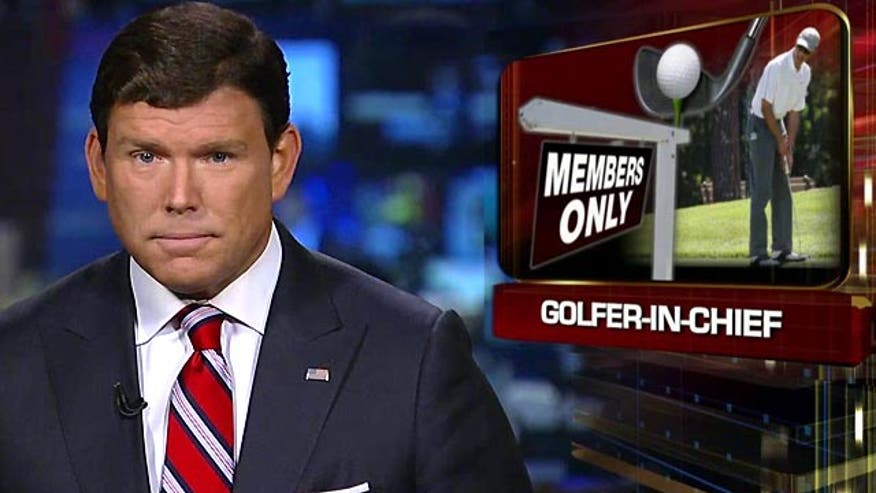 Now some fresh pickings from the Political Grapevine...
Golfer-in-Chief
President Obama's frequent golf outings have drawn the ire of critics.
Now we are learning of at least one round of golf that never happened because the president was turned away from several courses.
The first golfer was in New York Labor Day weekend for some fundraisers.
A local TV station first reported, three exclusive golf courses -- Trump National, Willow Ridge, and Winged Foot -- denied the president's request to play there.
A source at Winged Foot tells the Grapevine its policy is that non-members can play as guests of members, but the White House request to shut down the course for the president was a deal breaker.
Labor Day weekend is, of course, one of the busiest of the year for golf courses and a presidential tee time would mean telling members who pay huge sums per year for a membership that they have been shut out.
A few minutes ago, Donald Trump tweeted -- quote -- "If Obama resigns from office now, thereby doing a great service to the country, I will give him free lifetime golf at any one of my courses!"
Cut Off
As we have reported, previously in the Grapevine, using welfare debit cards in liquor stores is not allowed.
But as it turns out, using government handouts to buy pot is perfectly legal.
You heard that right.
In places where recreational use of pot is legal, EBT debit cards are accepted in marijuana dispensaries.
Alabama Republican Senator Jeff Sessions is working on a bill to close that loophole.
Quote -- "The federal government currently spends roughly $750 billion each year on means-tested welfare programs across 80 different accounts. This money is administered by a vast, sprawling bureaucracy with little oversight and no moral vision."
Hit the Road
And finally, an 11-year-old boy in Great Britain is not allowed to ride the bus to school, for free, because his house is six feet too close to school.
But, the Mirror reports, his older brother, who lives in the same house does qualify for a free pass.
The reason, the way the route is measured has changed and the brother was grandfathered in.
So 11-year-old Jon Lawson, who lives 1.999 miles from school, will apparently walk 40 minutes to and from school each day.
County officials tell the Mirror they will not reconsider, in the interest of fairness, to other students.