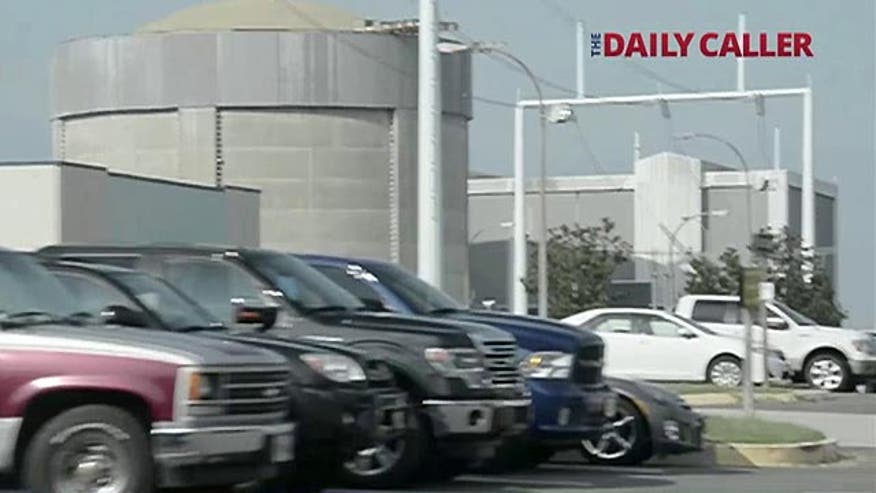 Now some fresh pickings from the Political Grapevine...
Nuclear Insecurity
With increased concern these days about terrorists striking here in the U.S., two journalists decided to see how easy it might be to get close to a nuclear reactor.
The answer...pretty easy.
A reporter and videographer for the Daily Caller went unannounced to Calvert Cliffs Nuclear Power Plant in Maryland just 50 miles from Washington.
This is what they found.
The front gates were open.
The security checkpoint was not only empty, the door was padlocked.
They made it to a parking lot within several hundred feet of a reactor all while not interacting with a single person.
This seemingly lax security is apparently not a fluke.
A spokeswoman for the nuclear regulatory commission defends what the journalists witnessed -- quote -- "Based on the security inspections we've conducted on an on-going basis security at Calvert Cliffs is appropriate to protect the public health and safety."
The company that owns the plant says much of the security -- quote -- "lies in things you can't see."
The 9/11 Commission found that the September 11th terrorists initially considered attacking a nuclear reactor.
Side Job
Two Veterans Affairs employees have been charged with running a drug ring out of the VA.
Robert Tucker and Erik Casiano work at the VA medical center in the Bronx.
Prosecutors say postal inspectors in Puerto Rico tipped them off after intercepting a package containing two kilograms of cocaine addressed to the VA.
Undercover detectives in New York allegedly witnessed Tucker accepting similar packages and selling them to Casiano for $500 each.
The U.S. attorney says -- quote -- "the defendants used the cover of a facility dedicated to caring for our nation's heroes to further a scheme to distribute large amounts of cocaine."
Not Impressed
And finally, a tough crowd in the Oval Office.
A little boy, clearly done with behaving himself while the grownups made small talk opted for a face plant onto the presidential sofa.
A White House photographer captured this moment as the little boy's father -- an outgoing secret service agent -- is thanked for his service by his boss, the commander in chief.