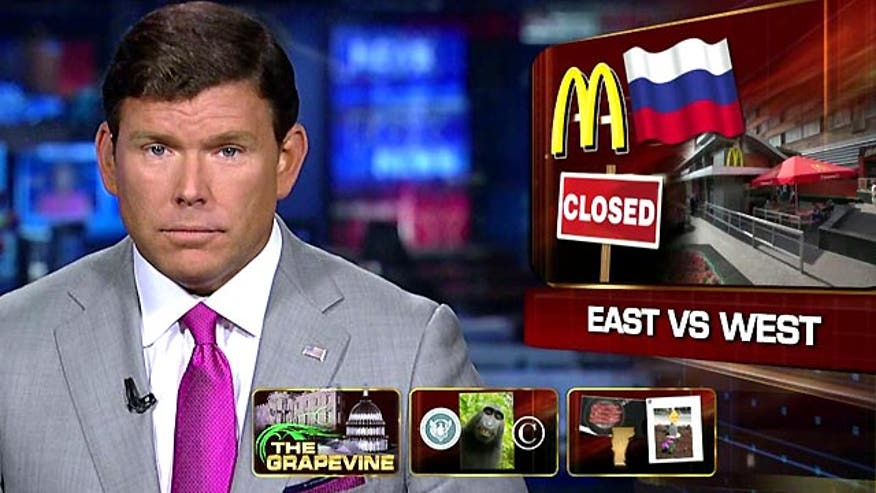 Now some fresh pickings from the Political Grapevine...
East vs. West
The Cold War -- over fast food.
The battle continues between Russia and McDonalds.
The Russian government has closed a fourth branch of the American fast-food giant just in the last week -- all being cited for possible breaches in sanitary rules.
The American Chamber of Commerce in Russia -- is not buying it.
Quote--
"Obviously-- it's driven by the political issues surrounding Ukraine. Is this going to be a knock on the door -- or is this going to be the beginning of a campaign?"
Earlier this month Russia banned many imports from the U.S. and the European Union -- as retaliation for sanctions imposed over the Ukraine crisis.
The Deputy Prime Minister tells Russian media-- no one is talking about banning McDonalds.
Bacon-Wrapped Controversy
Bacon-- breakfast staple -- friend to lettuce and tomato -- and an offensive word that caused one small restaurant in Vermont-- to take down an advertisement.
This is Sneaker's Bistro's – 'yield for bacon' sign.
Seems innocent -- but the word bacon rubbed one resident the wrong way.
She is Muslim and said it is offensive to those who do not eat pork.
So the Bistro owners removed it saying --
"We are here to serve people breakfast, not politics. We removed the sign that was located on public property as a gesture of respect for our diverse community. We still love bacon."
Some are calling it political correctness run amok.
One resident told a local TV station --
"I'm pretty sure the First Amendment extends to bacon and the selling of it."
Monkey Business
Finally – a copyright battle for the modern age.
Over this selfie -- taken by-- obviously- a monkey.
Photographer David Slater -- claims he owns the image because he set up the shot-- using his own camera.
The monkey just pushed the button.
But others claim that since Slater did not take the photo -- he holds no rights to it.
Cue the U.S. Copyright Office --which stated, quote--
"The Office will not register works produced by nature-- animals-- or plants."
It gives as an example-- a photograph taken by a monkey.
And yes-- the document was updated earlier this month.