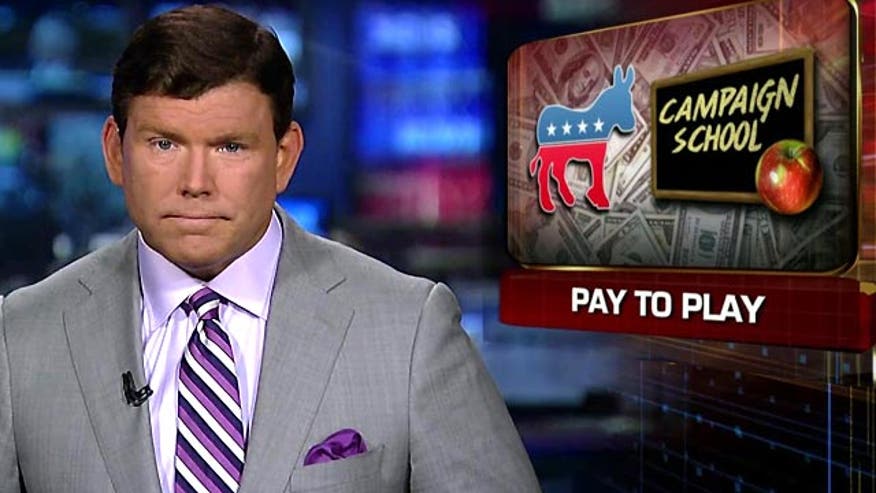 Now some fresh pickings from the Political Grapevine...
Spreading the Wealth
Two architects of President Obama's campaigns are sharing their knowledge and experience for a price.
$3,500 will get you a crash course in campaign strategy and another $1,500 guarantees an unpaid Democratic campaign gig compliments of consulting firm 270 Strategies.
Volunteering for a campaign is common, but paying to do so has upset even some progressives. Former field staffer Mikey Franklin told BuzzFeed -- quote -- "It's shameful that 270 Strategies are throwing their progressive values out of the window...How will we win for the 99 percent if we only recruit the 1 percent?"
A Matter of Faith
Atheists are smarter than Christians according to an online quiz for a psychology class at Ohio State University.
The quiz -- provided to Campus Reform by one student asked -- quote -- "Theo has an IQ of 100 and Aine has an IQ of 125. Which statement can you expect to be true?
The correct choice was -- "Aine is an atheist, while Theo is a Christian."
The student said -- quote -- "I understand that colleges have a liberal spin on things so it didn't surprise me to see the question...But how can you measure which religion has a higher IQ?"
OSU said the questions for this quiz were generated by the textbook publisher and called that particular question misleading.
What Could Go Wrong?
And finally, a multi-million dollar project to cultivate soybeans in Afghanistan seemed like a good idea four years ago.
But an IG report obtained by the Center for Public Integrity shows the project may have been doomed to fail from the get-go.
After all, the climate in Afghanistan is incompatible with soy production, and, perhaps more importantly, many Afghans don't even like soy products.
In a letter to Agriculture Secretary Tom Vilsack, the IG said the poor results -- quote -- "should have been expected."
Instead, American taxpayers are $34 million in the hole without having raised protein levels in Afghan diets.