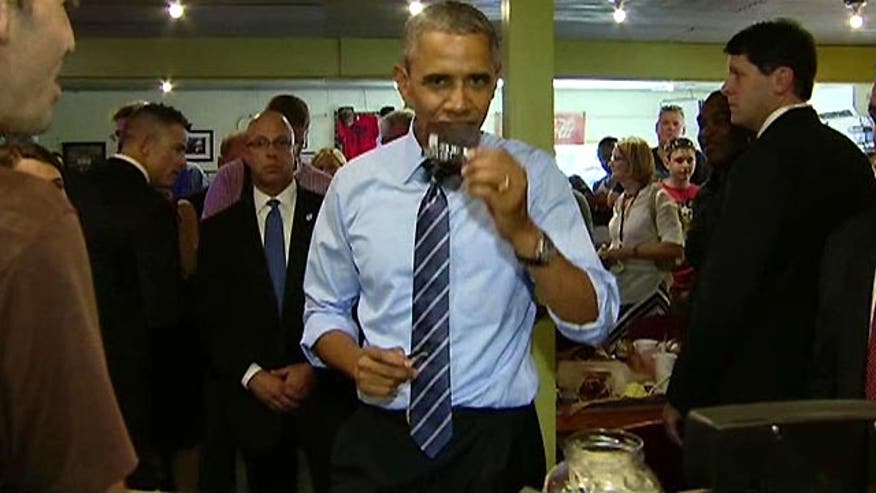 And now some fresh pickings from the Political Grapevine...
Executive Decision
President Obama has ignored calls for him take executive action to secure the southern border, but he did exert his authority over one line in Texas: the long line outside Franklin Barbecue in Austin that can stretch for hours.
(BEING VIDEO CLIP)
PRESIDENT BARACK OBAMA: I know there's a long line, guys. I feel a little bad but --
(LAUGHTER)
OBAMA: I'm going to cut.
(LAUGHTER)
(END VIDEO CLIP)
Some people did not take kindly to the line hopping:
@PoliticalLine tweeted, "Obama's BBQ line cutting was his Katrina."
Others pointed toward possible policy implications:
@BrisketMan tweeted, "If he could cut debt and spending like he cut that line."
The president sprung for his entourage's meal and one family's meal he cut in line before, and paid with a credit card. The president, however, did have to turn to a staffer to ask if the card was still operational.
The surprise lunch trip is the latest example of what the president's staff calls "the bear is loose" events, where the president tries to get out of the Washington bubble and doesn't stay to a schedule on the road; an approach that even the Washington Post has questioned:
"To some, breaking free can also look like running away," Juliet Eilperin wrote.
Giant Issue
Political correctness is once again rearing its head in sports.
The San Francisco Giants are considering a dress code not for the players, but for fans.
The policy would ban fans from wearing what is called "culturally insensitive" attire. Local reports say it stems from a dispute during Native American heritage night over a fan wearing a headdress.
The Giants would be the first Major League Baseball team to institute such a ban. Of course the NFL's Washington Redskins are under intense pressure from several circles to change their team name.
Trending Older
A call to service was just a few years late.
Fourteen thousand Selective Service notices -- which required every male U.S. citizen at the age of 18 to register for the nation's military draft -- were sent to men born in the '90s -- the 1890s. None of the men receiving the notices are still alive. The youngest would have been 117.
The mistake started in the Pennsylvania Transportation Department and left families of the deceased receiving notices dumbfounded and worried about the punishments associated with not signing up.
The department has apologized and families of course can ignore the letters.