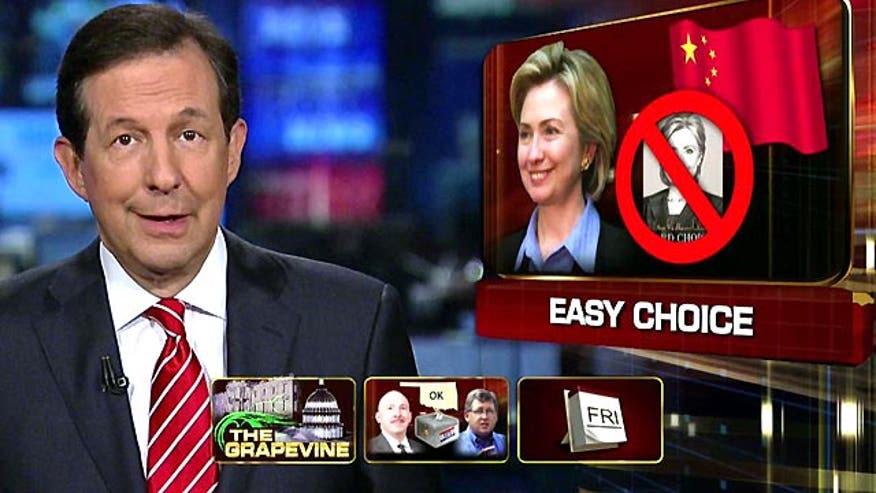 And now some fresh pickings from the Political Grapevine...
Easy Choice
When it comes to Hillary Clinton's new book there are no "Hard Choices" in China.
That's because the Chinese are refusing to sell it.
The U.S. publisher tells Buzzfeed the effective ban results from businesses -- quote -- "Fearing the wrath of the Chinese government...It's a pretty clear indication of the low level of intellectual freedom in China right now."
China and its censorship practices are big topics in Clinton's memoir covering her time as secretary of state.
Drink Up
The likely end of the line for the New York City soda ban.
The state's highest court refused to reinstate the prohibition on big soft drinks, finding -- quote -- "The Board of Health engaged in law-making beyond its regulatory authority."
Critics of the ban call the decision a win for individual freedom of choice.
But city officials say the loss does not change the danger of sodas, including obesity and diabetes.
Demanding a Recount
Finally, here's a new one.
Republican congressional candidate Timothy Murray has issued a press release saying he will contest the results of Tuesday's primary election in Oklahoma.
Why?
He insists his opponent is a fake.
Quote -- "It is widely known Rep. Frank D. Lucas is no longer alive and has been displayed by a look alike."
Murray contends Lucas was executed in Ukraine three years ago.
Lucas has served in the House since 1994 and won Tuesday's primary with 83 percent of the vote.
The congressman's office confirms to Fox News Lucas is very much alive.