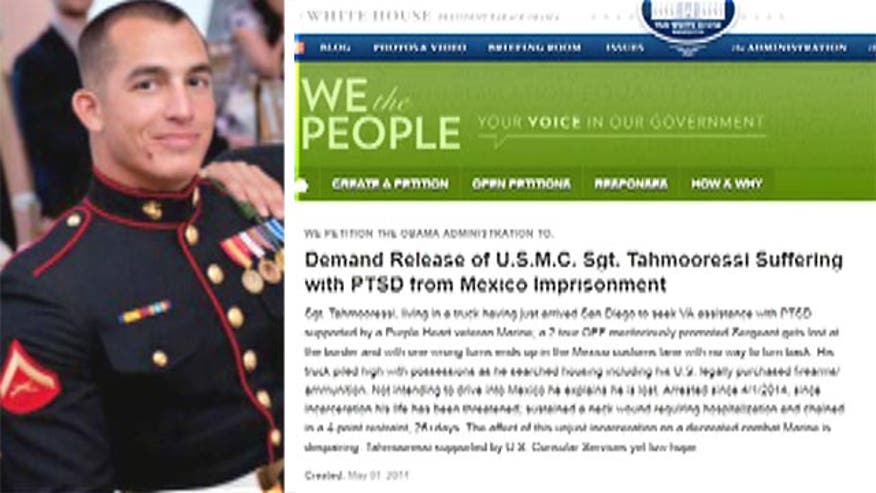 By Greta Van Susteren
Let's all go "Off the Record" for a minute. Now, it's not an either/or situation. We could bring both soldiers home, that includes Sergeant Andrew Tahmooressi. Now, I know there is much attention today on Sergeant Bergdahl, but I don't want that to overshadow Sergeant Tahmooressi's case. We can bring Sergeant Tahmooressi home, too.
He's being held in Mexico, and we don't have to wait five years. We can do it now. On Friday night, you all did your job, thank you very much. I asked you to sign that White House petition to bring the total signatures to over 100,000 and you were champs. We did it, and we broke that news at 7:59 P.M. that we hit the target number, so, that the White House will now answer us.
So, now, my message to President Obama: Bring our Marine home from that prison right now. Tell Mexico to fast-track its judicial process. There should be no doubt. I have driven the route Sergeant Tahmooressi drove. I have seen that turn in Mexico with my own eyes. You both have seen that video, so you know, too. That turn into Mexico was a mistake. Let's not make another mistake by making Marine wait one more day. Bring Sergeant Tahmooressi home now.
And one other thing, message to the White House: Don't be slippery and not answer this petition. We got those 100,000 signatures, just like you asked. So, answer. And that's my "Off the Record" comment tonight.