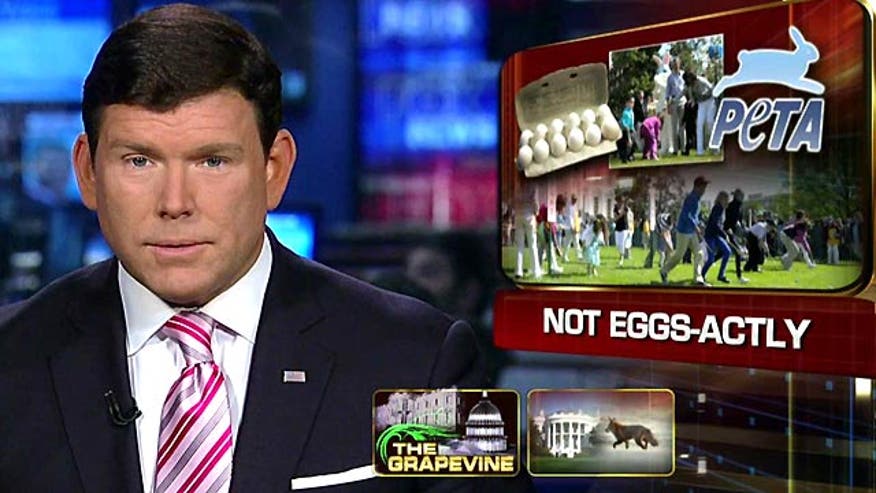 Now some fresh pickings from the Political Grapevine...
On Second Thought
Lawmakers in Hawaii have decided letting cops have sex with prostitutes on the job is not a good idea after all.
The State House and Senate voted to close the loophole that enabled police officers to engage in sex acts as part of prostitution investigations.
Honolulu police had argued that the exemption was necessary to do their work.
Egged On
People for the Ethical Treatment of Animals (PETA) has recruited some young spokespeople to take on the White House Easter Egg Roll.
(SHOW VIDEO)
PETA wants the White House to switch to plastic eggs for the annual tradition, which began in the late 1800's.
That isn't the animal rights group's only beef with the First Lady.
It is also taking a crack at the "Let's Move" campaign for promoting egg consumption.
PETA asserts eggs are full of fat and cholesterol and can lead to heart attacks and strokes.
Many doctors disagree saying the benefits of the nutrient-rich eggs make them a smart diet choice.
White House Gate Crasher
And finally, a White House gate crasher has been making frequent appearances lately.
It's a Fox -- and no, not a Fox reporter, Ed Henry or Wendell Goler.
The Wall Street Journal reports a red fox began making himself at home on the White House lawn in the fall around the time of the shutdown when many groundskeepers were furloughed.
Our White House crew actually got a glimpse of the guy last month, when the president was landing.
President Obama saw him too taking a stroll down the colonnade.
Well, attempts to catch him have thus far, been unsuccessful.
Groundskeepers would like him to relocate to a less urban area.
As for why he can't stay they cite a "no overnight guests" policy.