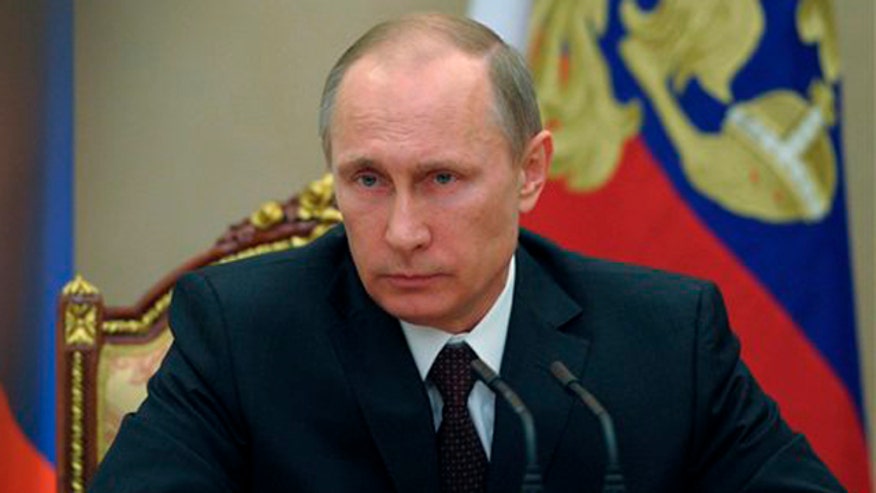 Forget about us sticking it to Putin, I think Putin just stuck it back to us.
And we're 15 minutes away from the proof.
That's when this Soyuz rocket is expected to take off.
Onboard two Russian cosmonauts, and one American astronaut, Steve Swanson.
Steve's the one hitching the ride.
And we're the ones paying dearly for it.
70.6 million bucks. That's one way.
Up front. Cashier's check.
Made out to the Russian Federal Space Agency.
Because we haven't any other way to get up there we have to first pay up here to get up there.
And I'm told we're getting such a deal.
Because the Russian space agency says this is a non-Ukraine price.
That means they're not charging more because well, things are more tense.
The same 71 million because well, what are space comrades for? Come over here, you knucklheadskies! We do business.
And what a business it is for the Russians.
How humiliating is this? The country that conquered space relegated to hitching rides with the folks we beat in space.
Just like the Internet we all but invented, now passing our leadership role to the world.
Because no way Russia or China or Iran will take advantage of that power vacuum.
Incredible and demeaning.
But look at the bright side. We locked in these space rates for the next three years.
Back last April, NASA signed a new agreement with Russia, covering six flights through 2017, again at a cost of 70.7 million. The price is fixed, no matter this present fix.
What shrewd bargainers we are.
For the six hours or so it will take Swanson and his Russian colleagues, cosmonauts Alexander Skvortsov and Oleg Artemyev to reach the space station you're talking about 11.6 million bucks an hour.
About what we pay in interest on our debt in well, about an hour.
Such a deal.
That's showin' 'em.
Vlad, just one question does that include drinks?
Or oxygen?