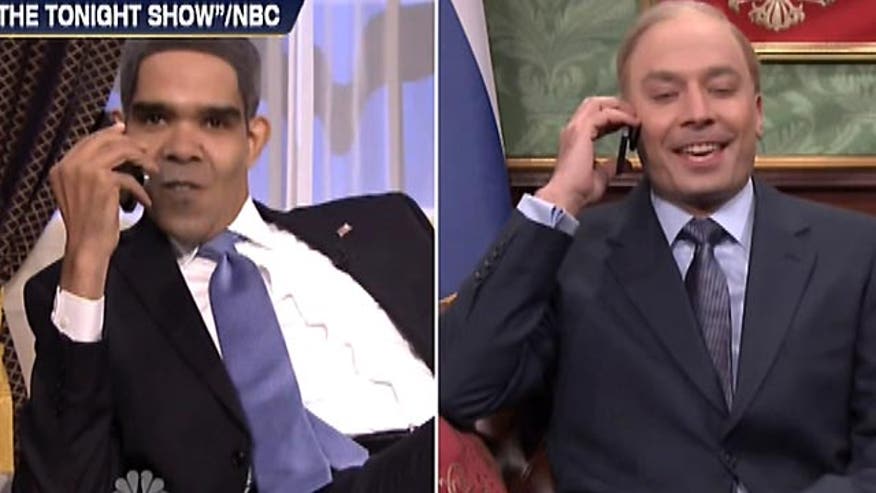 By Greta Van Susteren
Let's go "Off the Record" for just a minute. Jimmy Fallon's skit puts the spotlight on a much bigger problem, the diminishing respect for the president.
Respect, of course, is critical to leadership. Sure a few jokes here and a few jokes there can be really funny and late night TV makes fun of all presidents. But it's not just late night TV. A "Washington Post" editorial recently said the president's foreign policy is based on fantasy. Now, "fantasy" could not be a worse description or more demeaning. And, liberal magazine "The New Yorker" published a satirical piece poorly timed for the president with the headline, "U.S. Freezes Putin's Netflix account."
In other words, they're saying President Obama's sanctions are a joke. And overseas, a top Russian official laughed off President Obama's sanctions, calling him a prankster, and I'm sure you know prankster is not the Russian word for respect. So, now, let's go back to Jimmy Fallon's spoof.
(BEGIN VIDEO CLIP)
UNIDENTIFIED ACTOR PORTRAYING PRESIDENT OBAMA: Don't you see what you're doing though? You are forcing people to accept something that the majority of them don't even want.
JIMMY FALLON (PORTRAYING PUTIN): Yeah, in Russia we have word for this. ObamaCare. (LAUGHTER)
(END VIDEO CLIP)
So, President Obama's signature program is being joked about, equating it with the forced seizure of a country by the former head of the KGB. Yeah I know, it draws a laugh, but big picture: There comes a time when there are just too many jokes and respect is draining. And that matters. That's my "Off the Record" comment tonight.