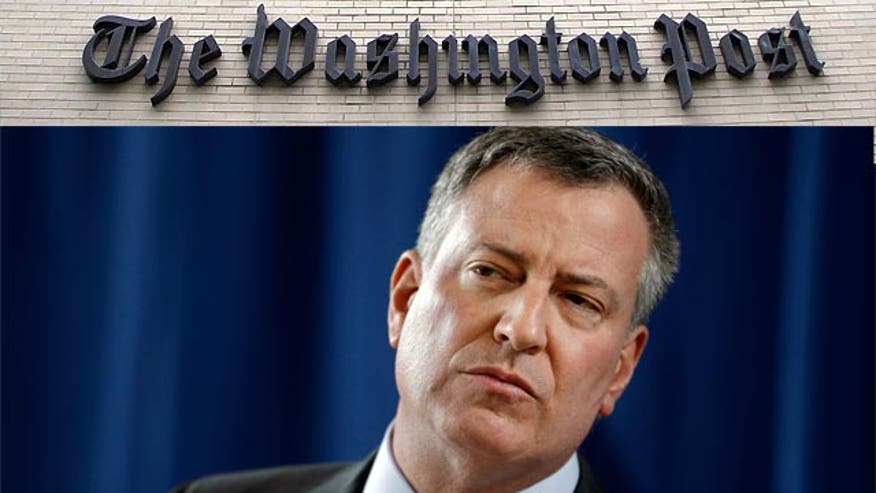 By Greta Van Susteren
Let's all go "Off the Record" for just a minute. Have you heard about the war on poor children? Chances are, if you read the "The Washington Post," that answer is no.
"The Post" published an editorial, but it sugarcoated what is happening to the poor children in New York at the hands of their pal, New York City Mayor Bill de Blasio. In my opinion, the New York mayor has now declared war on poor children by cutting back on their charter schools in order to coddle his teachers union base. "The Washington Post" editorial board, claiming to take on the issue, published a wishy-washy, politically-correct editorial. It only pretends to take on Mayor de Blasio's efforts to take on charter schools.
Instead, "The Post" uses weak and wimpy terms to describe what the mayor is doing. For instance, "The Post" says what Mayor de Blasio is doing is he is undermining charter schools, as though this is a war the mayor has declared on its buildings and not children, those poor children. Buildings don't suffer from this. Of course, children do. Of course, I have just told the mayor, I have seen this firsthand, the importance of a good education and meeting children, from Greta Home and Academy in Haiti, to my personal tour inside a New York City charter school.
So why did the "The Washington Post" even bother to speak out if it uses such weak words in its editorial? Maybe so its editorial board can say at some splashy Georgetown cocktail party, without offending Mayor de Blasio, that it really cares about poor children. So why does the "The Washington Post" refuse to say like it is? Mayor de Blasio is destroying the future for needy children.
That's my "Off the Record" comment tonight.