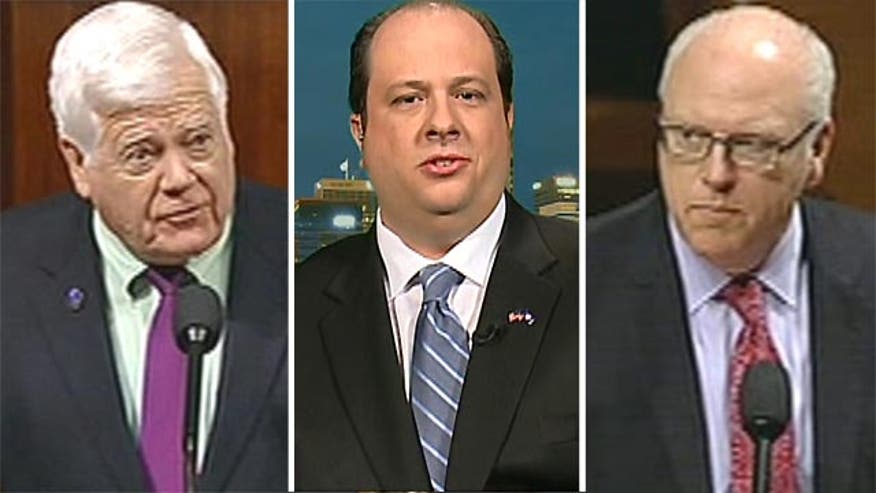 By Greta Van Susteren
OK, let's all go "Off the Record" for just a minute. This is the strangest things. Politicians who don't like FOX News talk about us all the time. They just can't help themselves.
I love it. Every time they get revved up about FOX, we get the free advertising.
(BEGIN VIDEO CLIP)
REP. JOSEPH CROWLEY, D-NY: We have all heard the outrage and the innuendo from my Republican colleagues and their chief mouthpiece FOX News.
REP. JIM MCDERMOTT, D-WASH.: Political theater crowd to make the producers at FOX television happy.
(END VIDEO CLIP)
And just last night, my colleague, Sean Hannity, taking on Democratic Congressional candidate Mike Dickinson over his silly generalized accusations about all of FOX News.
(BEGIN VIDEO CLIP)
MIKE DICKINSON, DEMOCRATIC CONGRESSIONAL CANDIDATE: You guys at FOX News are responsible.
SEAN HANNITY, HOST, 'HANNITY': Everybody at FOX News, all day long, 24 -- we have never told the truth ever on FOX. All we do is tell lies. We do nothing but tell lies. That's all we have ever done is tell lies?
DICKINSON: You tell lies there. You distort the truth. You promote hate.
(END VIDEO CLIP)
Even President Obama helps promote us here at FOX News, forever taking swipes at us.
(BEGIN VIDEO CLIP)
BARACK OBAMA, PRESIDENT OF THE UNITED STATES: You know, Uncle Jim, who is a little stubborn, and been watching FOX News. Somebody who said, well, I don't know, I was watching FOX News and they said it's horrible.
One television station that is --
(LAUGHTER)
-- entirely devoted to attacking my administration.
(END VIDEO CLIP)
And even just last night, President Obama was making a sneaky reference about FOX when he referenced Republicans watching, quote, "the wrong newscast."
Yeah, I know. The critics are not saying nice things about us, but that's their problem, not ours. Makes them sort of look petty, doesn't it? Sometimes like they are hiding stuff. Their cracks are helping us. They are giving us free advertising. Advertising we can't even pay for. They have been doing this for years and we have been number one since January 2002. So, thank you to the critics, and have at it. Keep it up.
And that's my "Off the Record" comment tonight. If you have an important story or issue you think I should take "Off the Record," go to GretaWire.com and tell us about it.