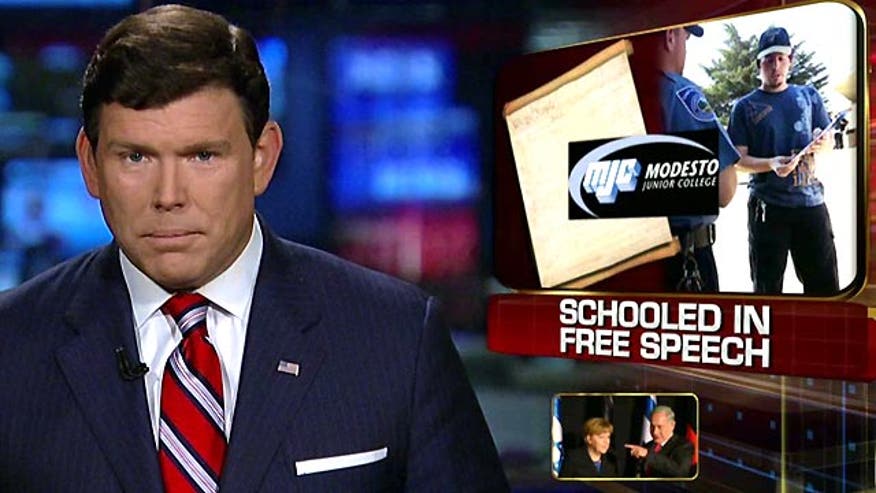 Now some fresh pickings from the Political Grapevine...
A Strong Word
Vice President Biden told a crowd Tuesday that laws around the country requiring voters to show ID are being driven by hatred.
(BEGIN VIDEO CLIP)
VICE PRESIDENT JOE BIDEN: Hatred never, never ultimately goes away. The one lesson we've learned, it seemed to me is the zealotry of those who wish to limit the franchise can't be smothered by reason.
(END VIDEO CLIP)
Well, that statement stirred up the Twittersphere with references to all the places you need an ID -- quote -- "Signing up for ObamaCare, racist? Buying alcohol, racist? Biden Says Voter ID laws evidence of hatred and zealotry."
Quote -- "No Mister Biden, it's about common sense and responsibility."
Then, in the same speech, Biden recognized Sacramento Mayor Kevin Johnson -- a former NBA player -- and issued a challenge to President Obama for a showdown on the court.
(BEGIN VIDEO CLIP)
BIDEN: And I told the president, next game I have him. Just remember, I may be a white boy, but I can jump.
(END VIDEO CLIP)
Schooled in Free Speech
The college that stopped a student from handing out copies of the Constitution has learned a $50,000 lesson on the First Amendment.
In September, we told you about the Modesto Junior College student who decided to spend National Constitution Day handing out copies of the document to his fellow students.
Well, the school made him stop because he was not in a designated area and did not sign up in advance.
Now, the school has agreed to pay that student $50,000 and revise its rules governing free speech.
Harsh Lighting
Finally, in public life, lighting can make a big difference.
That lesson came the hard way this week, when a simple finger point by Israeli Prime Minister Benjamin Netanyahu cast an unflattering shadow on German Chancellor Angela Merkel.
Merkel was there to receive the Presidential Medal of Distinction but one click of the shutter from another direction and everyone is talking about the picture's resemblance to a less popular German leader.
On Twitter -- quote -- "If at any point you feel unlucky today, just remind yourself you're not Angela Merkel -- unless you are Angela Merkel."
And from Al Arabiya English -- quote -- "Oh, heil no."