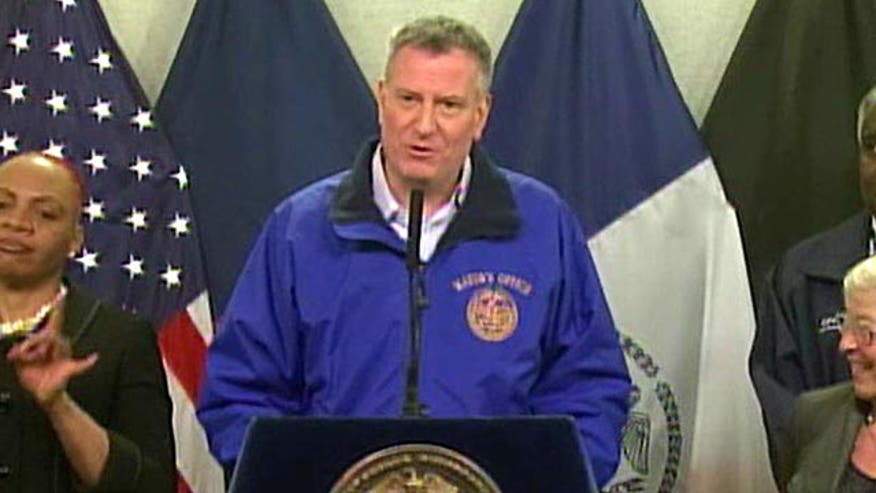 By Greta Van Susteren
Let's go "Off the Record" for just a minute. Has New York City's new Democratic mayor Bill de Blasio gone stupid? Real stupid?
It's one thing to fight with Republicans, but another thing to fight with the weatherman. Al Roker blasting Mayor de Blasio for keeping New York City schools open today, despite a brutal storm dumping nearly a foot of snow in the Big Apple. Roker tweeted "I knew this morning the New York City mayor's office and New York City schools would close schools. Talk about a bad prediction. Long range de Blasio forecast: One term. And New York City mayor's office says snow was faster, heavier than expected. No, Mr. Mayor, it came as predicted. Don't blame weather for your poor policy."
Ouch.
Well, Mayor de Blasio hit Roker right back during a news conference.
(BEGIN VIDEO CLIP)
BILL DE BLASIO, MAYOR OF NEW YORK CITY: I respect Al Roker a lot. Watched him on TV for many, many years. It's a different thing to run a city than to give the weather on TV.
(END VIDEO CLIP)
Ouch! Well, then Roker respondED with a scathing tweet posting "Mr. Mayor, I could never run New York City, but I know when it's time to keep kids home from school." And Mayor de Blasio isn't the only official raising eyebrows today. Here's New York City Schools Chancellor Carmen Farina's take on the weather.
(BEGIN VIDEO CLIP)
CARMEN FARINA, NEW YORK CITY SCHOOLS CHANCELLOR: It's totally stopped snowing. It is absolutely a beautiful day out there right now.
(END VIDEO CLIP)
Beautiful day? Chancellor Farina may not be in favor of a snow day, but maybe she should take a medical day and get her eyes checked. The snow is bad. But it looks like New York City's leadership, well, that's a real mess.
That's my "Off the Record" comment tonight. If you have an important story or issue you think I should take "Off the Record," go to GretaWire.com and tell us about it.