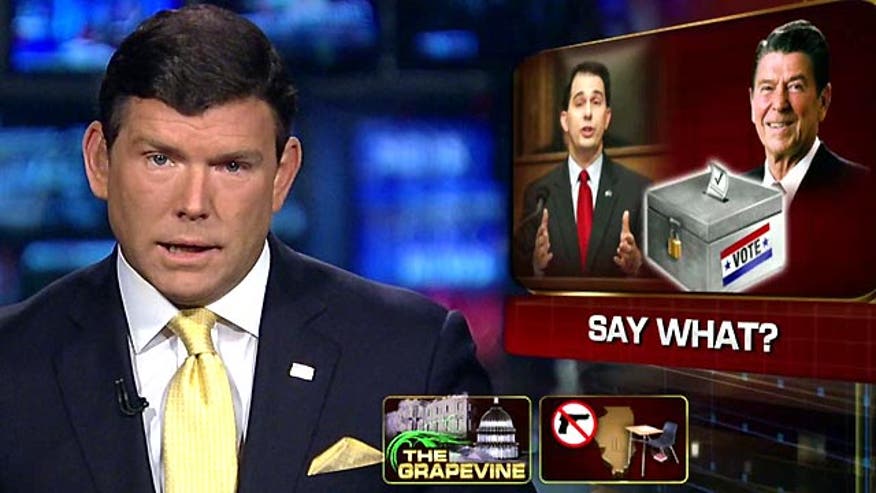 Now some fresh pickings from the Political Grapevine...
Do You Know the Way?
Of all the things that could go badly on a commercial flight-- ending up in the wrong place-- should not be one of them.
But research by the Associated Press finds-- it has happened at least 150 times over the past two decades.
Last month-- a Southwest Airlines plane nearly hit a ravine after landing on a short runway at a small Missouri airport-- that it mistook for the larger Branson Airport.
In November-- a cargo plane got stuck after landing at a small airport several miles from its intended target-- McConnell Air Force Base.
In most cases-- the runway was confused for one nearby.
The number may actually be higher than 150.
Records are based on pilots and airlines volunteering their own mistakes.
Say What?
A simple mistake caused quite a stir today-- after it appeared Wisconsin Governor Scott Walker lied-- about having voted for Ronald Reagan.
In a transcript posted by the blog Right Wing News, the Republican governor was quoted as saying--
"I was a teenager, had just become a teenager and voted for Ronald Reagan - limited government, you know, smaller government, lower taxes, strong national defense."
33 years ago-- when Reagan was first elected-- Walker was only 13 years old.
Four years later when he was re-elected-- Walker was still only 17-- not old enough to vote.
Several media outlets-- including Huffington Post, Gawker, and International Business Times-- picked up the story.
Turns out-- the person who typed up the interview misheard the governor.
(BEGIN VIDEO CLIP)
Gov. Scott Walker, R-Wis.: A vote for Ronald Reagan meant limited government, you know, smaller government, lower taxes, strong national defense. You knew what you were getting.
(END VIDEO CLIP)
It's a little fuzzy—the governor's campaign points reporters to the blogger's correction that Walker said-- "a vote for" Reagan-- not "I voted for" Reagan.
The blogger is apologizing for the error.
The Drawing on the Wall
And finally-- new signs appearing in Illinois schools-- declare the buildings gun-free zones.
You might think school officials would be in favor of this.
Apparently not.
Some are taking issue with these 4x6 inch stickers-- because they show a gun.
The principal of Tinley Park High School says it is "bothersome" to have the outline of a gun posted.
She told the SouthTown Star-- she's worried people might think guns used to be allowed.
She suggested something more subtle-- like a logo-- instead of a gun.