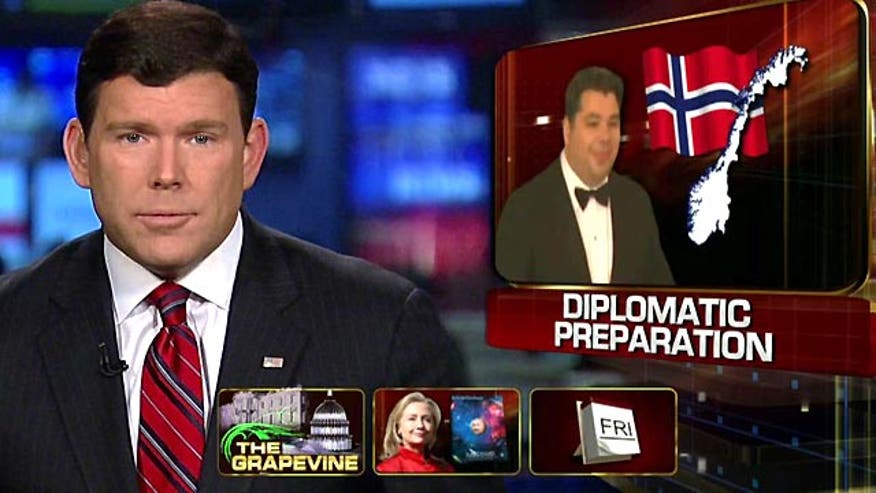 And now some fresh pickings from the Political Grapevine...
No Way
President Obama's nominee to be the next U.S. ambassador to Norway -- should have done some more homework for his confirmation hearing.
George Tsunis -- who raised nearly $850,000 for the President's re-election campaign -- was asked by Senator John McCain about the Progress Party.
(BEGIN VIDEO CLIP)
Tsunis: You get some fringe elements that have a microphone that spew their hatred
Tsunis: Norway has been very quick to denounce them
McCain: The government has denounced them? They are part of the coalition government?
Tsunis: I stand corrected, and would like to leave my answer that it's a very, very open society,
(END VIDEO CLIP)

Tsunis praised the openness of the government -- but mis-stepped when criticizing the Progress Party.
The party has third most members of parliament -- and one member is the finance minister.
Tsunis also mistakenly said Norway had a president -- which it does not.
Friday Follow-up
A Friday follow up -- it appears you will have to pay for the sex change operation -- of a convicted murderer in Massachusetts.
A federal court has ruled that the prisoner born Robert Kosilek-- has a constitutional right to necessary medical treatment -- even if it strikes some as unorthodox.
The inmate has already received publicly funded hormone treatments and laser hair removal.
Planet Hillary
Finally -- when the New York Times Magazine published a glowing article on Hillary Clinton -- it expected it to create some buzz.
But a picture is worth a thousand words -- and the cover photo has gone viral -- and not in a flattering way.
Even a Twitter account called Hillary in 2016 -- called the picture strange.
A Buzzfeed contributor put planet Hillary into the Star Wars universe -- replacing the death star.
One of our own All-star panelists -- Jonah Goldberg -- says it looks like a conehead.
The picture even made its way into children's literature with this clever creation -- a political rendition of "Good Night Moon."
Feel free to send the Grapevine your favorite meme of the cover -- @SRGrapevine.