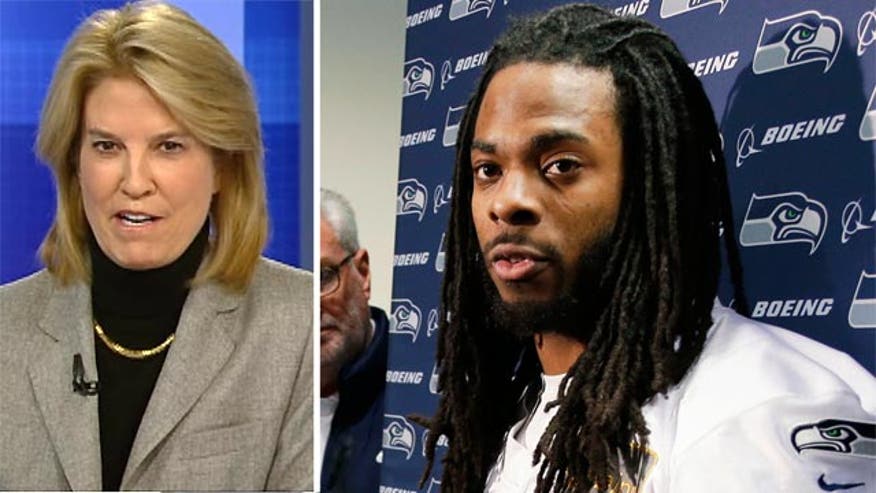 By Greta Van Susteren
OK. Let's go "Off the Record" for a minute. Now I was an independent going into the NFC championship game between Seattle and San Francisco. My team, the Packers, are out. I didn't have a favorite and I did admittedly hold some grudges. Years ago, the Seahawks stole former Packer Head Coach Mike Holmgren after he and Brett Favre won the Super Bowl. I didn't like that; still don't.
But Colin Kaepernick and the 49ers just eliminated the Packers this year. I didn't like that one, either. But on the good side, Seattle quarterback Russell Wilson played for my alma mater, the Wisconsin Badgers. That's a plus. But hold on: Kaepernick, he was born in Milwaukee. That's also a plus. So, which team, the 49ers or the Seahawks? A tough call.
Until, well, the game. A really bad ref call against San Francisco -- that wasn't fair, but I guess that happens. But how about the obnoxious behavior of the Seahawks fans? They think it's fair play to scream so loudly that the visiting quarterback's calls can't be heard and then they brag about it. But that's not all: Some fans responded throwing food at seriously injured 49er as he was being carried off the field. That's really lame.
But then the topper was Richard Sherman, reacting as he did after Michael Crabtree refused his handshake and pushed him in the face. Now I'm not defending Crabtree's bad behavior in doing that. Plus, Sherman got even with choking gesture towards Kaepernick.
But Sherman had a chance to collect himself and think before he made his statement on post-game TV. He could have been a strong role model for the NFL and instead, he was a jerk.
I'm no longer independent -- go Broncos! And that's my "Off the Record" comment tonight. If you have an important story or issue you think I should take "Off the Record," go to GretaWire.com and tell us about it.