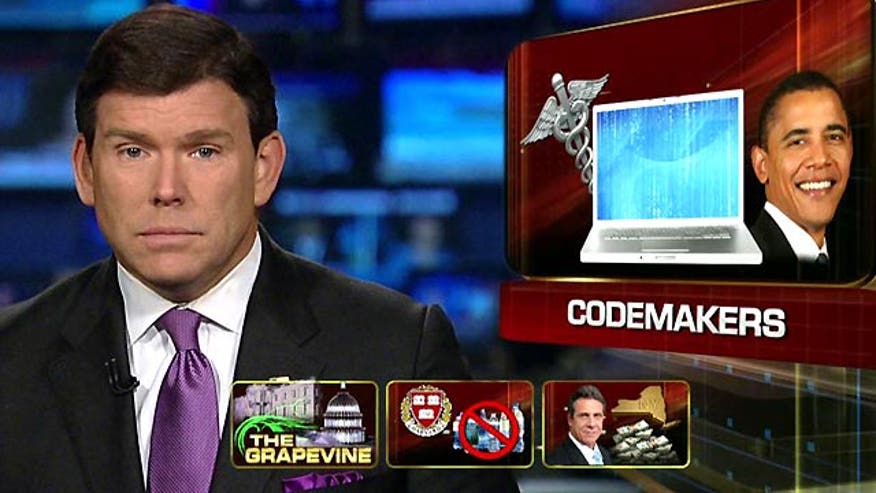 Now some fresh pickings from the Political Grapevine:
In the Matrix?
President Obama is sending a message to students across America: learn to code.
(BEGIN VIDEO CLIP)
PRESIDENT BARACK OBAMA: Don't just buy a new video game, make one. Don't just download the latest app, help design it. Don't just play on your phone, program it. No one is born a computer scientist, but with a little hard work and some math and science, just about anyone can become one.
(END VIDEO CLIP)
Well, when healthcare.gov failed to function properly on October 1st, a few ambitious coders stepped in with a subsidy calculator of their own called the HealthcareSherpa.com for free. Insurancequotes.com is another. And they are not alone.
The Obamacare website and its 500 million lines of code cost an estimated $600 million.
Best for Business?
Democratic New York Governor Andrew Cuomo has told a group of D.C.
donors that he's running, quote, "the least expensive state to locate your business." But the Tax Foundation says New York is dead last when considering the complexity of tax codes and tax rates.
An editorial in the New York post called Cuomo's comment "a real knee-slapper," suggesting if his political career sputters he can always do stand-up comedy.
We reached out to Cuomo's office for clarification but have not heard back.
Last Legs
Finally, the plastic water bottle may be on its last legs at Harvard University. Nearly two-thirds of students voted in a referendum there to ban the sale of plastic one-use bottles on campus. The referendum would also make drinking fountains more accessible.
Organizers of the ballot measure hope Harvard officials will comply, but the students' vote is non-binding.