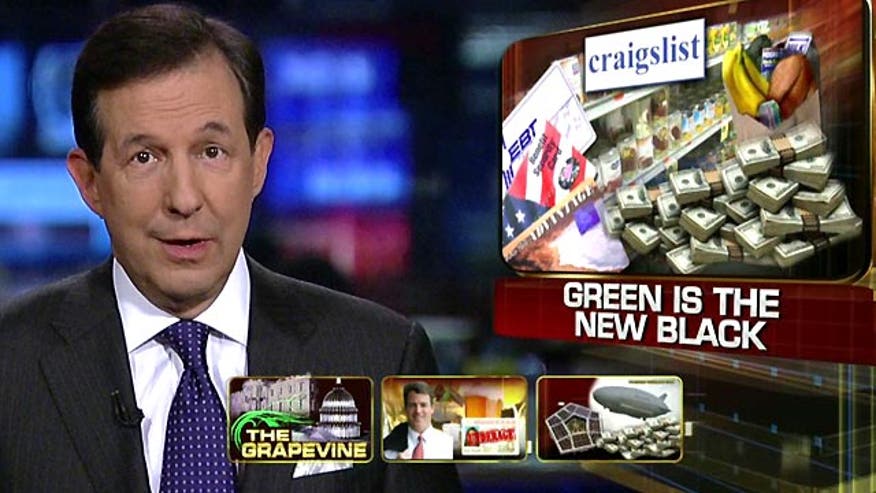 And now some fresh pickings from the Political Grapevine...
Green Is the New Black
It turns out there's a black market for buying and selling food stamps on Craigslist.
Foxnews.com found a number of postings on sites across the country offering deals like $500 in benefits for $350 cash.
The coupons are not supposed to be transferred and Craigslist specifically bars the practice.
But unless someone flags the post the site probably would not find out.
Air Out of the Project
Well, talk about letting the air out of a project.
The Pentagon spent almost $300 million developing this 7-story aircraft that was supposed to hover over Afghanistan for up to three weeks at a time beaming back intel.
But the British company developing the craft fell eight months behind schedule.
The blimp was 12,000 pounds overweight.
And in the end it was scrapped after only one flight.
So with the war in Afghanistan winding down, the craft was quietly sold back to the company for just $300,000.
The Army says it learned quite a bit from the technology.
The Free State
Finally, Maryland Democratic Attorney General Doug Gansler is his state's top cop, is running for governor and has publicly criticized underage drinking.
But now, photos have shown up of Gansler in a white shirt holding a cell phone amid underage partiers last June.
Gansler told the Baltimore Sun, he does not remember seeing any underage drinking at the house party his son attended. And it's not his responsibility to intervene as a parent or a law enforcement official.
At a press conference today, Gansler said he should have investigated. And while he did see kids drinking out of red cups -- quote -- "There could have been Kool-Aid in those red cups. It was probably beer."